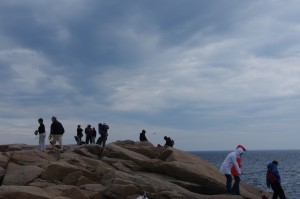 The Saint-Lawrence River is one of the best places in the world for whale watching.
The salty River meets the freshwater of the Saguenay Fjord creating an abundance of marine life, perfect for hungry whales. The combination of food and the depth and narrowness of the River make it easy to observe whales from the shoreline. The Minke, Beluga, Fin and Humpback whale all visit the River.
Stafford and I have been on the hunt for whales since we arrived in the Côte-Nord. Our hotel, the comfortable Auberge de la Baie, faces the water and we've been squinting at the River, holding our breath when a wave breaks or we think we see a sliver of black on the horizon. Today we got our first glimpse of the whales of the Saint-Lawrence River.
The Cap-de-Bon-Désir, a Parks Canada site, offers interpretative activities, on location naturalist guides and easy viewing for whales.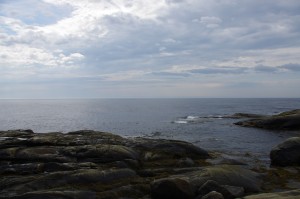 We arrived earlier in the morning, got a comfy seat on the rocks and waited. We saw a seal and a lot of seagulls. Ninety minutes later, 20 metres from shore, a Minke whale's shiny back emerged from the water. It was exhilarating!
Later that day, we saw a spout of water on the horizon. A Parks Canada guide told us that the smaller Minke and Beluga whale don't spout, so we had a good chance of seeing a Humpback or even a Fin whale, the second largest whale in the world.
Moments later a massive black back rose from the River. It seemed to stretch forever before silently slipping beneath the surface. A Fin whale! A rare sighting and an amazing end to an exhilarating day.
Contact info:
Auberge de la Baie
267, Route 138
Les Escoumins (Quebec) Canada
G0T 1K0
Cap-de-Bon-Désir
13, chemin du Cap-de-Bon-Désir
Bergeronnes (Quebec) Canada
G0T 1G0
Phone: 418 232-6751 (en saison)
Phone (2): 418 235-4703 (hors saison)
Fax: 418 235-4192
Toll free: 1 888 773-8888