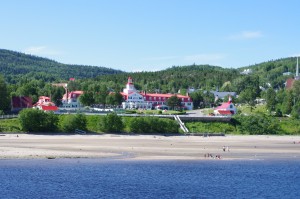 There are so many things to love about Tadoussac; the restaurants, the hotels, whales, beaches, hiking trails and a deep sense of history.
The Hotel Tadoussac sits overlooking the bay, painted a bright white and red, its vibrant green lawn is dotted with umbrellas and clusters of lawn chairs. It's easy to imagine this hotel a hundred years ago. There is something timeless about Tadoussac.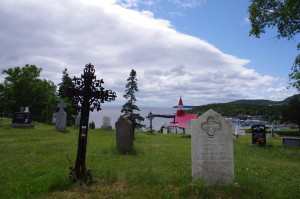 Jacques Cartier first arrived in the bay in 1535 and today the city is lovely, but small and contained existing to support the majesty of the Saint-Lawrence River and Saguenay Fjord. A short walk west or east of the town reveals hiking trails or beaches far away from the sound of traffic or power-lines.  The town itself is bustling with vacationers from all over the world. Our stay here felt like a holiday.
Our night at the Hotel Tadoussac was lovely. The Hotel is elegant and spacious. The staff is welcoming and accommodating. We dressed up for dinner and had cocktails overlooking the bay. It was a treat to stay here.
Our second night was at the funky La Galouine Inn and Restaurant. This bright blue building impressed us with its excellent restaurant and surprised us with our comfortable and pretty room. We relaxed on the patio and shared a local beer from the Lac St-Jean. The bright sunshine and smell of the ocean was a delight.
Tadoussac feels like a hopeful place. The Saguenay Saint-Lawrence Marine Park was created to protect the whales that come here to feed and the belugas that make it their year-round home.  The Marine Park status guarantees that the whales who visit are observed with respect and awe. Our visit to the Marine Mammal Interpretation Centre left me feeling hopeful about the future.
Thank you Tadoussac.
Contact info:
Hotel Tadoussac:
165, rue Bord de l'Eau
Tadoussac (Quebec) Canada
G0T 2A0
Phone: 418 235-4421
Fax: 418 235-4607
Toll free: 1 800 561-0718
info.hoteltadoussac@silverbirchhotels.com
www.hoteltadoussac.com
La Galouine Inn:
251, rue des Pionniers
Tadoussac (Quebec) Canada
G0T 2A0
Phone: 418 235-4380
Fax: 418 235-4888
info@lagalouine.com
Marine Mammal Interpretation Centre:
108, rue de la Cale Sèche
Tadoussac (Quebec) Canada
G0T 2A0
Phone: 418 235-4701
Fax: 418 235-4325
info@gremm.org
www.gremm.org