Matane–Baie-Comeau/Godbout Ferry: A Moment of Relaxation on the St. Lawrence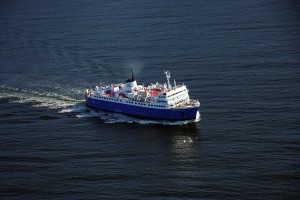 The ferries of the Société des traversiers du Québec (STQ) allow you to visit several regions of Québec maritime during a single trip without retracing your steps. Enjoy a relaxing break from driving during the crossing and admire unique panoramic views!
The M/V Camille-Marcoux runs from Côte-Nord – Manicouagan to Gaspésie in just over 2 hours throughout the year. When departing from Matane, on the south shore of the St. Lawrence, you have the option of two north shore destinations: Baie-Comeau or Godbout. The trip in the reverse direction is just as much fun!
Onboard amenities includes a restaurant, bar, video screenings, lounge and boutique. Accommodating up to 600 passengers and 120 vehicles, the M/V Camille-Marcoux runs up to 6 times a day in the summer. Note that reservations are required for vehicles and groups. Reservations are accepted up to 90 days in advance, but no less than 3 hours before departure time.
Did you know that…
The M/V Camille-Marcoux was named after a doctor from Côte-Nord, who was tirelessly devoted to his patients and active in the development of the region?
Practical information
Where to board
In Matane
1410, rue de Matane-sur-Mer
(400 km / 250 mi. east of Québec City via Highway 20 and Route 132)
In Baie-Comeau
14, route Maritime
(425 km / 265 mi. east of Québec City, via Route 138)
In Godbout
117, rue Pascal-Comeau
(480 km / 300 mi. east of Québec City, via Route 138)
Schedules and reservations: Visit the website of the Matane–Baie-Comeau/Godbout) ferry or m.traversiers.com, the new mobile site for smart phones (in French only).
New ferry in 2015
In 2015, the M/V Camille-Marcoux will be replaced by a bigger and more powerful ship. This new ferry, which will accommodate up to 800 passengers and 180 vehicles, will offer a new experience to travellers thanks to its modern and comfortable passenger areas. The spacious and functional vehicle areas will be designed to facilitate boarding and disembarking. In addition, to reduce its environmental footprint, the STQ has made environmental design choices, including liquefied natural gas propulsion, thereby demonstrating its commitment to sustainable development.
To plan your ferry crossings in Québec maritime, visit our website.
Top photo credit: Matane – Baie-Comeau Ferry  ©René Méthot / Société des traversiers du Québec