An Introduction to Whale Watching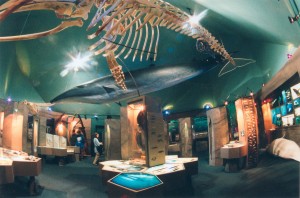 Who isn't fascinated by whales? Did you know that Côte-Nord is one of the best places in the world to observe them? An abundant food supply and the unusual geology of the seabed explain why this region attracts so many marine mammals. Want to know more about the whales? I definitely recommend a visit to the Marine Mammal Interpretation Centre (CIMM) in Tadoussac, one of 10 maritime museums in Québec.
The CIMM is the perfect place to become familiar with the world of the St. Lawrence whales. Located near the Tadoussac wharf, which is the departure point for many whale-watching excursions, this interpretation centre is worth visiting BEFORE you venture out on the water. Why? Because it provides a wealth of information about all the species, you may see and gives you several tips to help you identify each of them. If you don't have the opportunity to visit the CIMM before your excursion, it's still worth going afterwards to complete your whale-watching experience!
A visit to the Marine Mammal Interpretation Centre is also an opportunity to learn more about the habits of the St. Lawrence whales and their yearly migration routes. You can also see how big these giants of the sea really are thanks to the centre's large collection of whale skeletons.
Want to sing like a whale? The CIMM team is offering a completely new activity this year: a workshop on whale songs. Perhaps you'll discover a hidden talent?!
Take advantage of your visit to ask the naturalist guides on site about anything that intrigues you about cetaceans. For example, do they have navels? How much food do they eat every day? Where do they go during the winter? Don't be shy—no question is too trivial or too foolish to ask!
Once you've visited the centre, you'll be ready for a whale-watching excursion—your new knowledge will allow you to enjoy the experience even more!
For more information about other maritime museums in Québec, please visit the website of the Société des musées québécois.
Did you know that…
All of the St. Lawrence cetaceans have been named and are recognizable by certain distinguishing physical characteristics?
Top photo credit: Marine Mammal Interpretation Centre