My journey in Gaspésie: Falling for Auberge Les Trois Sœurs and La Maison Mathilde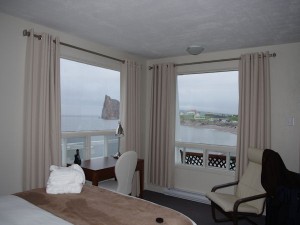 For my second night in Percé, I head for the east side of the village, in a lesser-known but just as charming area. People looking for quietness will fall for Auberge Les Trois Sœurs.
First interesting feature, it takes us closer to Percé Rock. From the village, we can see the hole of the rock. From here, we see its profile, imposing, and from much closer! From my room, the large windows provide me with a stunning view. If the sun was out today, I would have enjoyed some time on the beach just steps away from my room.
Auberge Les Trois Sœurs offers a variety of lodging options to its guests: rooms, suites, rooms with kitchenette, cottages, etc., and different packages! I will enjoy the Island Fever package that includes breakfast, a dining credit at La Maison Mathilde, a night at the inn and a cruise to Bonaventure Island and Percé Rock National Park. You can't go to Percé without experiencing the cruise that takes you to Percé Rock and around Bonaventure Island to watch its diversified wildlife!
Of all the favourites during my journey in Gaspésie, I must admit that La Maison Mathilde stands out. This restaurant is located in a pretty little house along Route 132. The dining room offers views on the garden and the sea in a friendly yet peaceful atmosphere. The diversified menu includes many courses celebrating regional products. Gourmets and gourmands alike will be delighted by this gem of a restaurant!
For more details:
77, route 132
Percé (Quebec) Canada
G0C 2L0
Phone: 418 782-2183
Toll free: 1 800 463-9700
http://www.quebecmaritime.ca/3soeurs