L'Isle Verte–Notre-Dame-des-Sept-Douleurs (Île Verte) Ferry: Discover an Oasis of Peace and Tranquility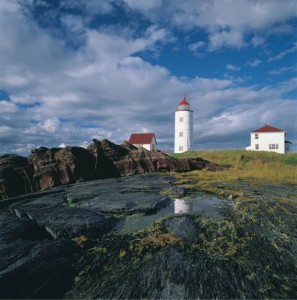 Île Verte* (Green Island) is one of the very few islands of the St. Lawrence that is inhabited year-round. The island is offshore from the village of L'Isle-Verte, in the Bas-Saint-Laurent region.
From late April to mid-November, visitors in search of peace and tranquility can board the M/V La Richardière, which will take them to the island in under 30 minutes.
Depending on what you're planning to do on the island, you can board the ferry by car, by bike or on foot. The M/V La Richardière can accommodate up to 49 passengers and 6 vehicles. Reservations are highly recommended if you want to travel with your car. The ferry schedule is dependent on the tides, so inquire about the times of departure before you set off.
Practical information
Where to board
In L'Isle-Verte
Rue du Quai
(230 km / 140 mi. east of Québec City via Highway 20 and route 132)
In Notre-Dame-des-Sept-Douleurs (Île Verte)
Route du Quai d'en Bas
Schedule and reservations
Visit the website* of the L'Isle-Verte–Notre-Dame-des-Sept-Douleurs (Île Verte) ferry. Reservations are accepted by phone only at 418-898-2843.
New ferry in 2013
In fall 2013, the Société des traversiers du Québec will replace the M/V La Richardière, which has been running for 53 years, with a bigger and faster ferry, designed and built in Québec. This new ship will accommodate up to 70 passengers, 12 cars and 20 bicycles. The crossing will take less than 20 minutes, and more daily crossings will be offered.
This new ferry will be the first in North America to use a green diesel-electric hybrid propulsion system, which means no greenhouse gas emissions. In addition, since the bow and the stern are identical, the ferry won't have to turn around for each trip.
To plan your ferry crossings in Québec maritime, visit our website.
*French only
Top photo credit: Isle Verte Lighthouse  © Claude Bouchard