My trip in Bas-Saint-Laurent: A Christmas visit at Auberge du Mange Grenouille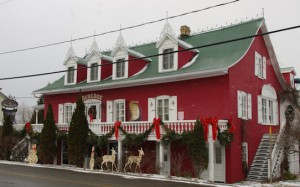 I arrive at Auberge du Mange Grenouille, located in the village of Bic, all excited to finally visit that lovely place I've heard so much about. Standing in front of the building, I'm impressed by the stately red frontage, but that's nothing compared to what's waiting for me inside.
As I walk in, I realize that the inn is much bigger than I imagined from outside. I immediately feel carried away in another world, where everything is just perfect, especially for someone who's looking for tranquility and a change of scenery.
The decor is fantastic and, as we are well into December, the dining room and La Buvette, the bar located in the inn, have put on their loveliest attire for the holiday season. The place is filled with little Christmas trees, loaded with lights and ornaments, each one nicer than the other. Numerous strings of lights cut across the ceiling, while others adorn the columns.
The beauty and details of the Christmas decorations show all the attention and care taken by Carole and Jean, the innkeepers, to greet their guests. After marvelling at the ground floor, I head upstairs to have a look at the rooms.
They are just amazing. Each room has different decorations and a unique style. Each piece of furniture, each drapery and each accessory is integrated to the decor to create a lovely space. I'm jealous of the people lucky enough to spend a night in one of those!
You will also fall for the charm of the common areas, with its comfy armchairs and many books, for the delicious cuisine designed to make you discover local products with plates that are true works of art, but, above all, for the contagious joie de vivre of Carole and Jean who will make you feel all their love for their inn, their region and their guests!
In my view, Auberge du Mange Grenouille is a truly magical place. It's a real gem in the heart of the picturesque village of Bic, and I'm sure it will charm you. Have I aroused your curiosity enough for you to try it out?
For more details:
Auberge du Mange Grenouille
148, rue de Sainte-Cécile-du-Bic
Rimouski (Québec) Canada
G0L 1B0
Téléphone : 418 736-5656
www.quebecmaritime.ca/mangegrenouille