. Whether you visit to enjoy the water and wind or to explore the rich culture of an island people surrounded by the sea, you will leave with wonderful memories and only one thought in mind: to come back for another visit!
, it makes sense to explore it island by island.
of getting around the archipelago. Depending on the length of your stay and your interests, you can choose your means of transportation and in what order you want to discover the secrets of each of these islands.
Cap aux Meules Island
(also known as Grindstone Island)
The island is divided into three sectors:

CAP-AUX-MEULES
Cap-aux-Meules is the commercial centre of the Îles de la Madeleine. Most services and businesses are concentrated here.

Enjoy a hike in Parc des Buck and admire the view of Cap aux Meules and other nearby islands.

Follow the Sentier du Littoral on foot or by bike to the lookout at the top of the cape and admire the impressive view.

Take a detour via Chemin de Gros-Cap to see some of the Islands' typical colourful houses. On the way, be sure to visit the Saint-Pierre de Lavernière Church, one of the largest wooden churches in North America and an island landmark.

L'ÉTANG-DU-NORD
Visit the Site de la Côte in L'Étang-du-Nord. This is a public park and lively meeting place where you will find a multitude of boutiques as well as an auditorium, a fishing harbour, walking trails and a friendly restaurant with a patio.

The L'Étang-du-Nord Lighthouse, located on Cap Hérissé, offers a tranquil view from late afternoon until sundown.

FATIMA
La Belle Anse (literally, "the beautiful cove") is surrounded by steep red cliffs that glow at sunset.

Havre Aubert Island
(also known as Amherst Island)
Havre Aubert Island is home to the archipelago's largest forest, a great place to hike and observe plant life.

From the village of Bassin, you can admire a panoramic view of the Anse à la Cabane Lighthouse and Millerand Harbour.

The historic site of La Grave is the liveliest area on this island—it teems with tourist attractions, shops, galleries, artisans and a multitude of activities.

Havre aux Maisons Island
(also known as House Harbour Island)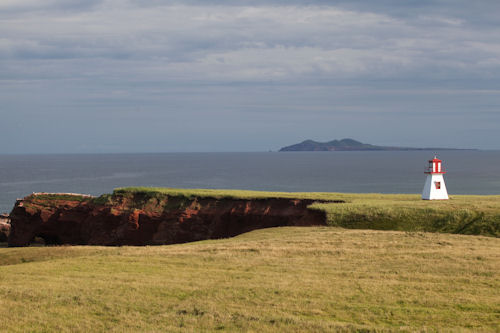 The La Pointe sector with its marina and wharves is a great place to watch sunsets.

Chemin de la Pointe Basse offers a magnificent view of the scenic landscape dotted with traditional, brightly coloured houses.

Follow Chemin des Échoueries to Cap Alright for a spectacular view over grey cliffs and the entire bay.

Continue along Chemin des Montants for a drive through rolling hills and one of the best views of Havre-aux-Maisons.

The Dune-du-Sud rest area gives you access to a serviced beach where the sea is calm and you have a striking view of the cliffs. You can also explore caves from here.

Pointe aux Loups Island
An oasis surrounded by sand dunes, Pointe aux Loups Island is ringed by beaches. To the east and west, respectively, are the Pointe-aux-Loups beach and the Dune du Nord beach, which was named one of Canada's top 25 beaches by Canadian Geographic. Both are popular but because of strong currents, swimming is not recommended in very windy weather. There is another beach on the north side of the island, as well as a small typical fishing harbour.

Grosse Île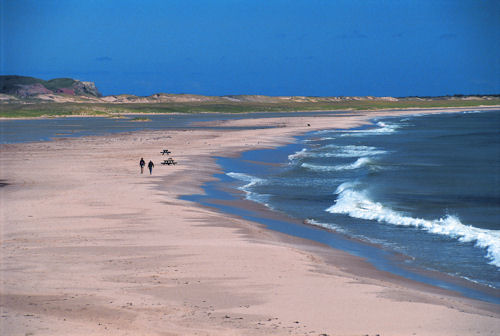 Scottish pioneers settled this island, which is still home to most of the archipelago's English-speaking inhabitants. Grosse Île is a perfect example of an area where a traditional fishing and farming way of life has been maintained.

Brion Island and Bird Rock can be spotted offshore—both islands are uninhabited but may be visited. Guided sea and hiking excursions are available.

At Old Harry, be sure to go for a stroll along the Grande Échouerie beach, which is one of the most beautiful beaches on the Islands. If you walk to the end of this long stretch of sand, you may even spot seals! This is a serviced beach, but you must be extra careful when swimming during strong winds.

To get to Old Harry, you have to cross through the East Point National Wildlife Reserve.

Grande Entrée Island
(also known as Grand Entry Island)
Grande-Entrée has been known as the lobster capital of Québec since 1994. It is the home harbour of over 100 lobster boats!

Hike to Boudreau Island for a fantastic panoramic view.

Grande Entrée Island is an ideal place to explore caves, hike, kayak and bird watch.

Entry Island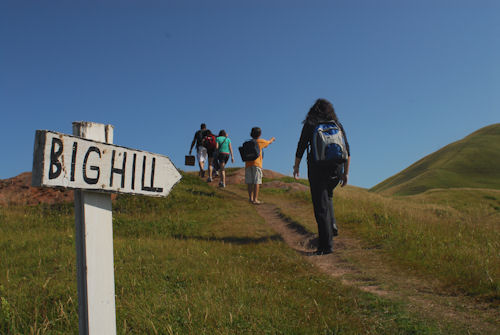 Entry Island is the only inhabited islands not connected to the rest of the archipelago by dunes. A ferry links it to Cap-aux-Meules Monday to Saturday. For more information, please call 418-986-3278.

Beautiful, unspoiled rolling green hills are one of the main attractions of Entry Island. At 174 metres (571 feet) above sea level, Big Hill is the highest point in the archipelago. From the top, you can admire the 360-degree view and breathtaking panorama.

Before you leave the island, be sure to visit the Anglican church and lighthouse.