The

Québec maritime Blog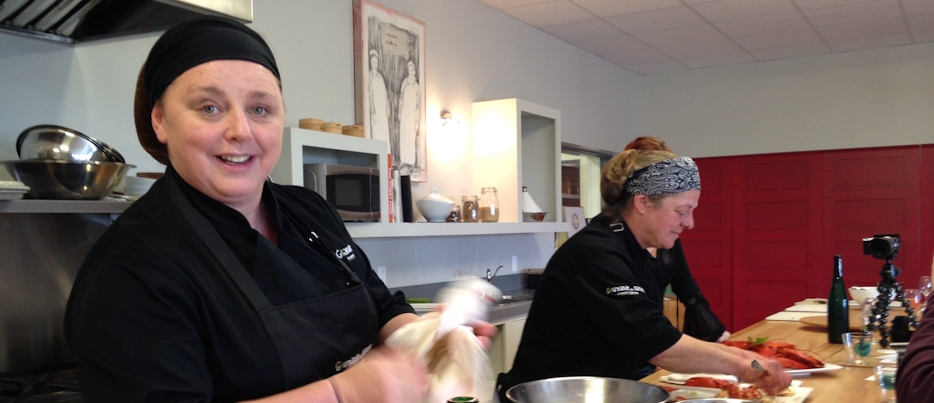 Johanne and Évangéline from Gourmande de Nature
Le Québec maritime
A Culinary Workshop with Gourmande de Nature in the Îles de la Madeleine
Since I'd already fallen in love with the Îles de la Madeleine, I was delighted to have another opportunity to visit this beautiful archipelago in the middle of the Gulf of St. Lawrence. It's truly impossible not to love these islands with their endless beaches and sand dunes, wildly colourful houses and the fresh sea air that fills your lungs as soon as you set foot here—not to mention the friendly people and the renowned seafood and other gourmet products.
I first visited the Islands in 2007, when I worked on the CTMA cruise ship. Every weekend on the archipelago was an occasion for adventure: I spent my days off lounging on the beach, discovering local artists and artisans, and admiring beautiful sunsets. I also took advantage of the opportunity to savour lots of seafood, which is featured on just about every restaurant menu on the Islands.
During my recent trip to the Îles de la Madeleine, I had the chance to participate in a cooking workshop given at Gourmande de Nature, a boutique dedicated to culinary delights. Gourmande de Nature offers 100% natural products made on site as well as a selection of local and international gourmet items. In addition, the boutique offers culinary workshops that focus on preparing specific delicacies such as lobster, wild mushrooms or scallops. During the workshop, participants are provided with everything they need to discover or rediscover these delicious local products.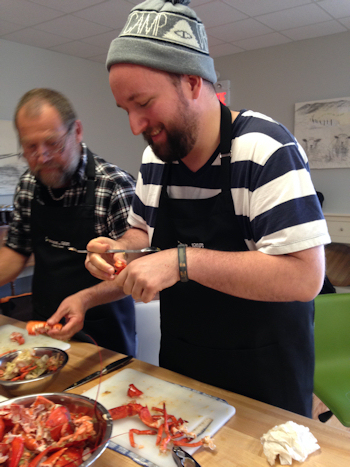 Taking apart lobsters...
© Le Québec maritime
As soon as I arrived in the boutique, I was warmly welcomed by the owner, Johanne Vigneau, who is also the chef at La Table des Roy (another place that's worth visiting!). Accompanied by her assistant, Évangéline Gaudet, and her translator, Sandra Lopez, Johanne proceeded to tell us all about lobster. The workshop was given in a large modern kitchen with the works of local artisans featured on the walls. Gathered around an imposing counter that was more than large enough for our group of 10 people, we all wore beautiful aprons as we listened attentively to Johanne's detailed instructions, translated into English by Sandra.* On the menu: lobster butter croutons, lobster bisque and lobster ravioli. I hadn't even seen a lobster yet and already my mouth was watering! The first step, of course, was to dig every juicy morsel out of the lobster shells. On the Islands and particularly in Johanne's kitchen, nothing is wasted—just about every part of the crustacean goes into one recipe or another. Johanne taught us which lobster parts are good to eat (and what to avoid) as well as what to do with each part. Gone are the days when I would only eat the body, the legs and the claws! Johanne explained the process clearly, giving us lots of time to ask our many questions. Given how inexperienced we all were, our hosts were very helpful and especially patient in assisting us with removing the meat from the lobsters and assembling our culinary masterpieces.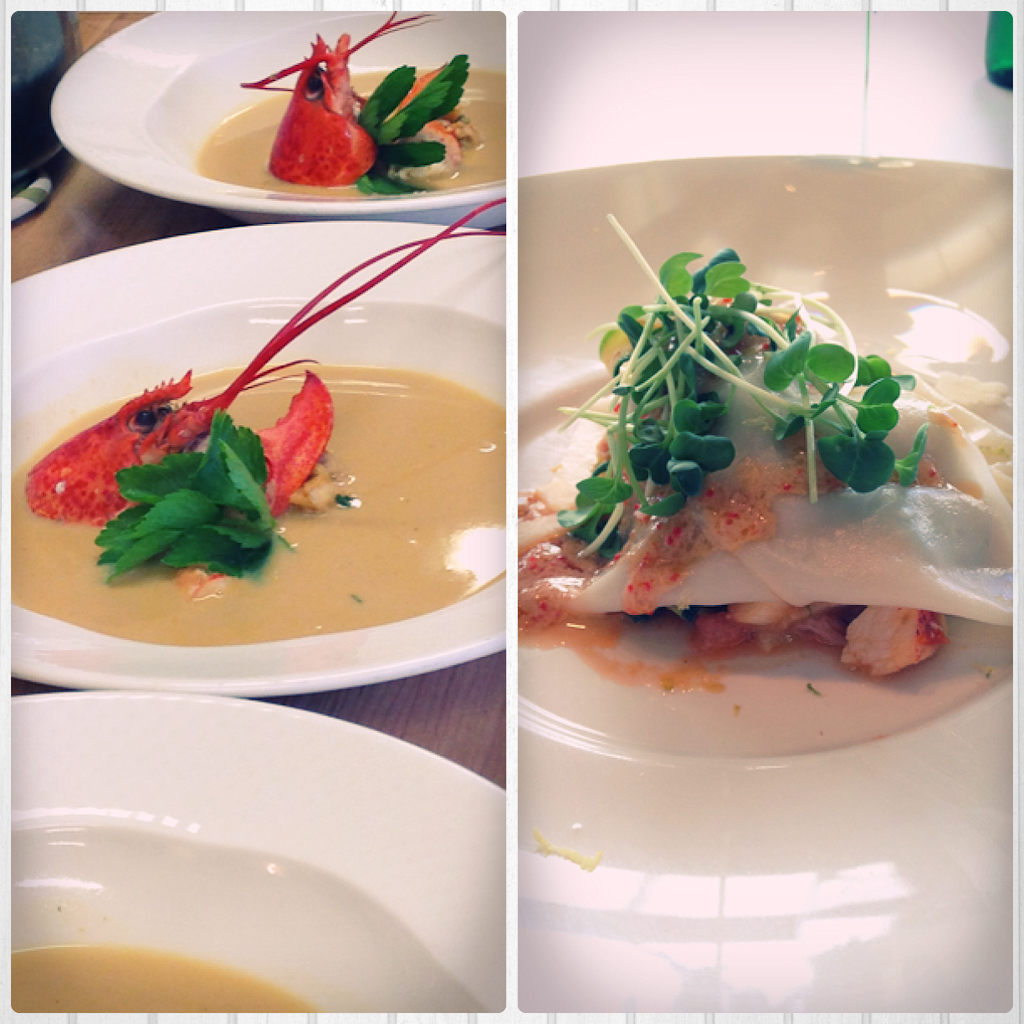 Lobster bisque and ravioli
© Le Québec maritime
The moment of truth, of course, was when we tried what we'd made. The delicious smells wafting through the kitchen as we cooked had made us impatient to get our first taste of lobster. The results were simply divine, and it was hard for us to restrain ourselves! The more eager among us ate their fill, while others were more careful to keep some room for the next course. We ate this first part of the meal casually, standing around the counter. When preparing the bisque, Johanne showed us how to garnish our plates and serve them, to appeal to both our eyes and palates. She then invited us to sit around a large family table seating about 15, so we could fully appreciate the rest of the meal. Johanne, Évangéline and Sandra then served us our carefully garnished bisque. They joined us for the rest of the meal, which gave us an opportunity to chat further with them. For a moment though, everyone was too busy savouring each bite to say anything at all, which is always a compliment to the chef(s)! The mix of flavours and ingredients was perfect, accompanied by a glass of wine (included in the workshop) that paired beautifully with our dishes.
The pièce de résistance, the famous lobster ravioli, was a real treat. Again, our taste buds were delighted, and many appreciative comments accompanied our lunchtime feast. We ate like kings!
Watch this video to get a taste of the workshop:
I loved this culinary workshop with Gourmande de Nature. Having participated in various activities and outings in the Îles de la Madeleine, I would say that it's a perfect complement to a stay on the Islands. The workshop was not only educational but also a gourmet adventure! In addition, it's an enriching activity that gives participants the opportunity to spend time with a generous and renowned chef. I already had great memories of my visits to the archipelago, but this experience was really a highlight for me. At the end of the workshop, Johanne gave all of us copies of the recipes we'd made. I really appreciated this touch, since it means I can make a superb meal at home that will remind me of my amazing trip to the Îles de la Madeleine!
*Although this particular workshop was translated into English, regular workshops at Gourmande de Nature are offered in French only.
If you liked this article, you might also like...