The

Québec maritime Blog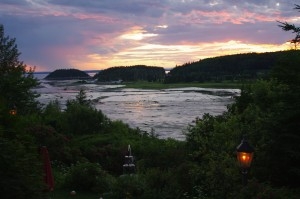 The view from the gardens of Auberge du Mange Grenouille
Le Québec maritime
A Fairy Garden and a Cabin in the Woods
Auberge du Mange Grenouille is surrounded by a garden. Lanterns hang in the trees and a little brook ran outside our hotel room door. Domaine Valga is a hand-built log cabin in the woods. A warm lake stretches in front of it and at night the silence of the trees is like a soothing balm. We stayed at both.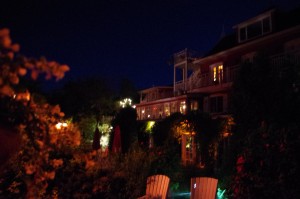 Twinkling fairy lights
Auberge du Mange Grenouille is a quirky, luxurious and sumptuous hotel. The dining room is renowned for its gastronomic tasting menu. Playful artwork, velvet covered furniture and deep colours give it a decadent, elegant feel. It's definitely luxurious, but at the same time there is something joyful about this place. Real birds live in a gold-painted three-foot-tall birdcage. Smirking stone frogs and garden gnomes peek from the garden.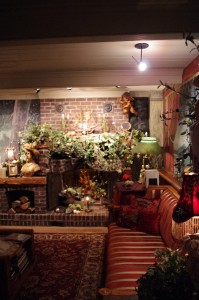 Auberge du Mange Grenouille
Our meal was dynamic, beautifully presented and maintained that sense of joyful expression. Exceptional! We walked back through the garden to our room and the twinkling lights in the trees could have been laughing fairies lighting our way home. We were transported.
Contact info:
Auberge du Mange Grenouille
148, rue Ste-Cécile
Le Bic (Quebec) Canada
G0L 1B0
Phone: 418-736-5656
Fax: 418-736-5657
admg@globetrotter.net
www.aubergedumangegrenouille.qc.ca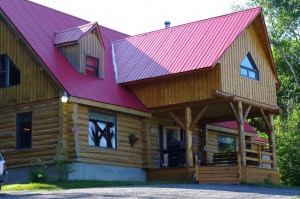 Domaine Valga Inn
Domaine Valga held a different kind of magic. Known internationally as "the cabin in the woods," it is recognized as the quintessential Canadian experience. The majority of summer guests are from France, seeking to experience the warm lake, quiet forest and rustic comfort of this hand-made log cabin.
We arrived in the afternoon and were immediately offered a tour of the cabin. It is massive! Its soaring ceilings and large windows made me wonder at the love that went into the construction of this place.
Our hosts, Chantal Vallée and Eric Gagné bought the land in 2002 and built the cabin by hand. Vallée and Gagné are welcoming, gracious and funny. We enjoyed sharing a delicious dinner with them.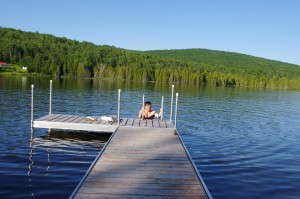 Stafford takes a dip
The cabin is open year-round with multiple seasonal activities.
Stafford and I went swimming in the clean and warm lake and I tested my balance on the aerial obstacle course, Forêt de Maître Corbeau, in the trees.
We both felt that these last two magical days have been the perfect way to end an amazing journey.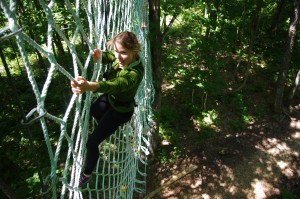 Meredith hanging in the trees
Contact info:
Domaine Valga
300, chemin des Écorchis
Saint-Gabriel-de-Rimouski (Quebec) Canada
G0K 1M0
Phone and fax: 418-739-4200
info@domainevalga.com
www.domainevalga.com
If you liked this article, you might also like...