Home »
Blog »
Adventure in Bas-Saint-Laurent: A World of Discoveries at the Musée Régional de Rimouski
The

Québec maritime Blog
Adventure in Bas-Saint-Laurent: A World of Discoveries at the Musée Régional de Rimouski
First off, I must confess that, despite having lived in the Bas-Saint-Laurent region for over four years, this was my first trip to the Musée régional de Rimouski. I regret taking so long to visit this regional museum, because I know I missed out on several really interesting exhibits.
The museum is housed in the city's oldest stone church. Built in 1823-1824, the building was turned into a museum in 1972. Ask one of the clerks at the reception desk: they will be happy to show you old photographs and tell you about the history and restoration of the building. I was captivated!
Exhibits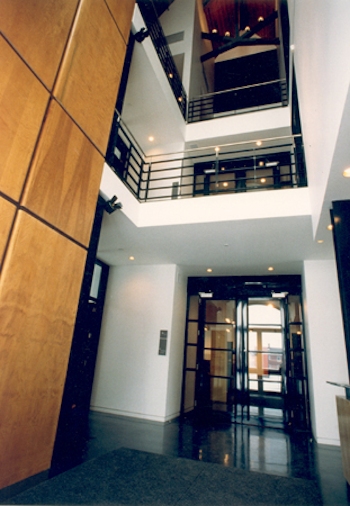 The entrance to the museum© Sylvio Gauthier
The mission of the museum is to present visitors with exhibits that focus on three themes: contemporary art, history and science. Because the museum is small, it doesn't have any permanent exhibits, despite its sizeable collection. It therefore showcases temporary exhibits that focus on each theme in rotation, with new displays installed about every three months. The museum also hosts travelling exhibits (such as the one I visited, "1950: Québec Through the Eyes of American Photojournalist Lida Moser," on loan from the Musée des Beaux-Arts du Québec). Others are created on site, curated either by contemporary art curator Ève De Garie-Lamanque or by collections archivist Nathalie Langelier.
When I was there, one of the museum's three exhibit rooms displayed works by Jean-Paul Riopelle, a multidisciplinary artist who had a significant impact on contemporary art in Québec. The exhibit focused on Riopelle's bestiary and was curated by the museum's contemporary art curator. She was able to draw upon the complete bestiary collection and thus present her interpretation of these works focused on animal imagery.
Activities
It's not always easy to get kids into a museum, but the Musée régional de Rimouski is working towards making contemporary art, history and science more interactive and more accessible to all. Family activities are offered in parallel with the exhibits, generally on weekends (in French only). Reservations are required, so consult the program of activities as soon as you know when you'll be in Rimouski.
Visitors to the Riopelle exhibit were invited to contribute to a collective fresco. The final product, which was very colourful, was then exhibited during a public market.
Special activities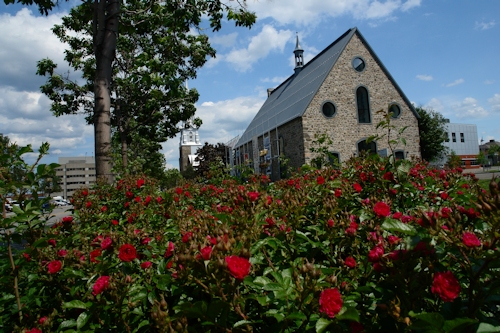 The regional museum is located in downtown Rimouski© Sylvio Gauthier
To make the exhibits more accessible to local residents and visitors alike, the museum also organizes evening open-house events. First there's the Grande Veillée d'été, during which activities take place until 11 p.m. Access to the museum is free during these evenings. You can also participate in a complementary evening program that includes concerts, book launches, guided tours, talks and more. Some of these activities, which are offered on Thursdays evenings from September to June, are free.
During your next visit to Rimouski, why not spend a few hours discovering history, art or science? You will be pleasantly surprised by the treasures you discover!
To plan your visit, consult the list of current and upcoming exhibits as well as the museum's program of activities.
If you liked this article, you might also like...