The

Québec maritime Blog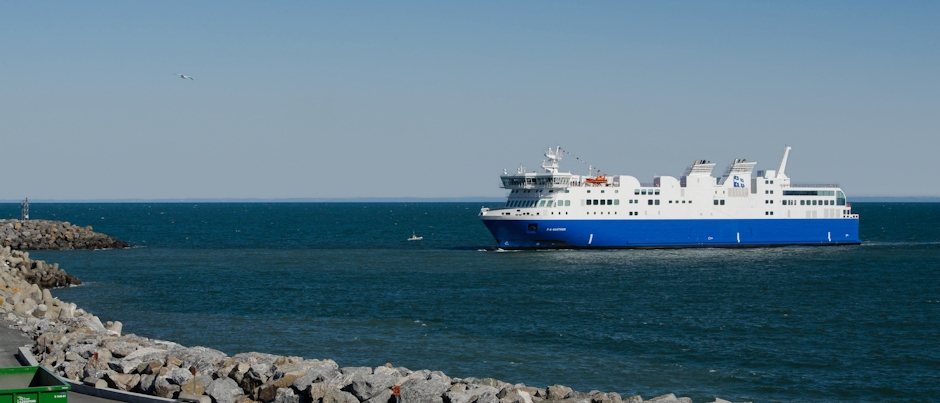 The MV F.-A. Gauthier, which runs between Matane and Baie-Comeau/Godbout
Carovukofoto / Société des traversiers du Québec
F.A.-Gauthier: The Newest Fleet Member of the Société des traversiers du Québec
The Matane–Baie-Comeau/Godbout ferry services one of Quebec's busiest maritime routes. This year alone it is expected to transport over 180,000 passengers and 85,000 vehicles. The MV Camille-Marcoux, which has been providing passage between the north and south shores for over 30 years, is being replaced by a brand-new ship in mid-July: the MV F.A.-Gauthier.
Built in Italy at the Fincantieri shipyards, the MV F.A.-Gauthier is the first ferry in North America to run on liquefied natural gas (LNG). In keeping with the STQ's green plan, this type of fuel will decrease greenhouse gas emissions by up to 25% compared to marine diesel. The new ferry will service even more passengers, with a capacity of 800 individuals and 180 vehicles.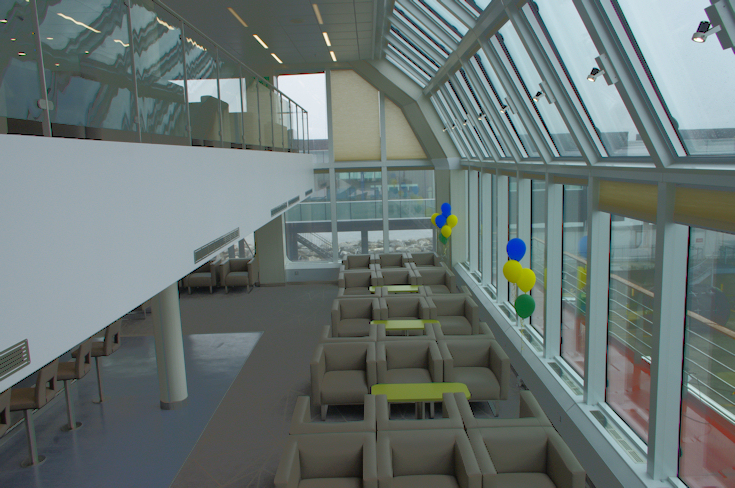 One of the passenger lounges on the MV F.-A. GauthierPhoto credit: Le Québec maritime
While the crossing time remains about the same, much thought was put into making it more comfortable with a bistro, cafeteria, game room for children, sheltered areas on the upper deck and passenger lounges offering a panoramic view of the St. Lawrence and its coastal landscape.
Origins of the Name
In 2013, the Société des traversiers du Québec invited Quebecers to suggest a name for the new ferry. Of the 700 entries received, F.-A. Gauthier was chosen in honour of Félix-Adrien Gauthier, an important businessman, entrepreneur and mayor of Matane from 1960 to 1963 who, in 1959, established the navigation company Traverse Matane-Godbout ltée together with a few other investors. The project was vital to the regions of Gaspésie and Côte-Nord. The passenger lounges bear the names of some of the other entries: the Captain Henri Piuze Lounge and the Captain Joseph Hovington Lounge, in honour of former ferry captains of the Matane–Baie-Comeau/Godbout line.
If you are considering a visit to both shores, why not take a trip aboard the MV F.-A. Gauthier? Or, if you feel more like exploring the ship, you can book a return trip the same day and enjoy a quick cruise!
For more information, visit https://www.traversiers.com/en/our-ferries/matane-baie-comeau-godbout-ferry/home/
If you liked this article, you might also like...