The

Québec maritime Blog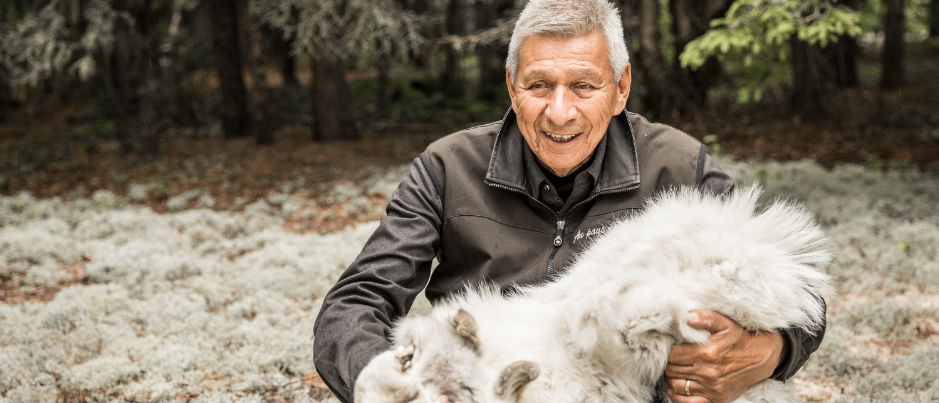 Wabush, an Innu Elder
Mathieu Dupuis
Meet Locals in Eastern Québec: 4 Characters from Our Regions
The maritime regions of Québec are home to many proud ambassadors you'll want to meet during your stay. Their love for their corner of the world will charm you as much, if not more, than the stunning locations they live in. Here are portraits of four of them.
Ben à Ben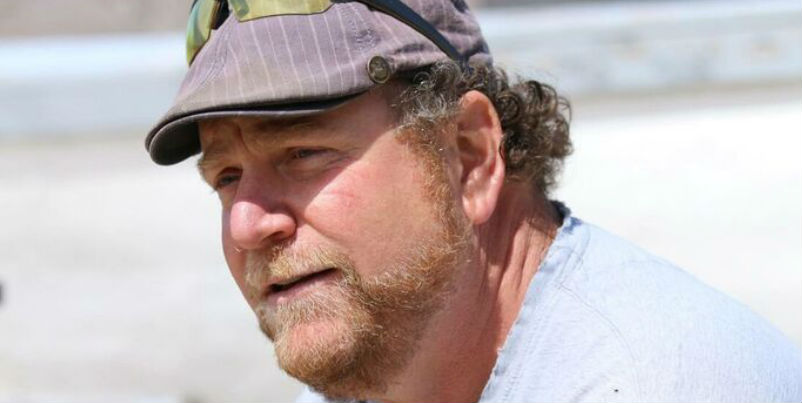 Benoit Arseneau, better known as Ben à Ben, is a genuine character, an expressive and colourful person. Exchanging only a few words with him is enough to give you the impression you've known him for ages.
With his heavy Madelinot accent, he talks about the sea as an essential part of himself. "When I'm away from the Islands, I miss my sea," he says with a laugh. "And here, it's not the St. Lawrence River anymore, it's the Gulf, a real sea. It's even more impressive!"
Born in Pointe-Basse, in Havre-aux-Maisons, Ben à Ben carries on the traditions of his forebears. You can meet him at the Fumoir d'Antan smokehouse, where he will introduce you to traditional techniques for smoking herring and share fascinating stories. He held us captive for 45 minutes, during which he paid tribute to the three generations that preceded him.
"Smoking herring in the Îles de la Madeleine was more than a preservation method to my ancestors," he says, "it was a way of life that ensured their survival."
As he points out, life can be precarious for those who live on islands, because of their geographical location. This is why ingenuity and cooperation are so prized by the locals. Not surprisingly, Ben à Ben is a tireless advocate for regional products and networking among local businesses.
A tip before your visit to the Islands: make sure you adjust to the slower pace of life. Follow Ben à Ben's advice: "The Îles de la Madeleine are meant to be savoured slowly—let them bring on your zen!"
Perle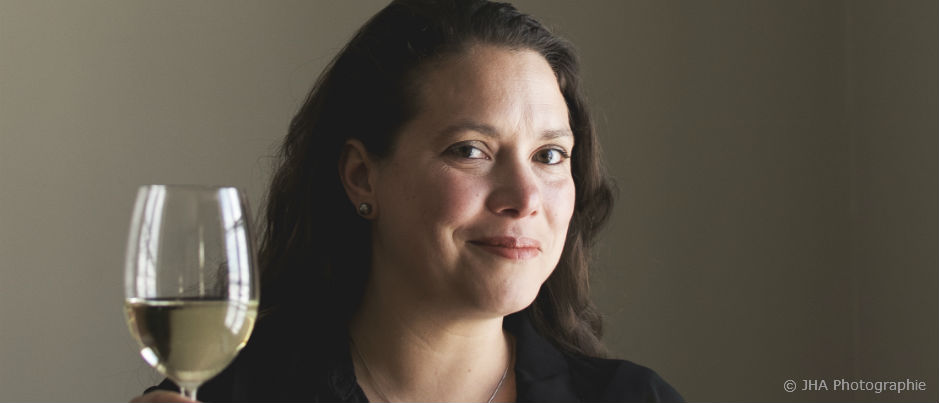 The daughter of a Bas-Saint-Laurent artist and a German baker and miller, Perle Morency comes by her creative spirit and passion for serving her guests good food honestly.
Perle was named after the mysterious Perle River (now renamed the Kamouraska River) that meanders through the area where she lives in Bas-Saint-Laurent. Her vivacious nature, imagination and open-mindedness all do justice to her beautiful name.
For the last few years, Perle has been the happy co-owner of Côté Est, a café bistro that she runs with tireless enthusiasm with her partner, the chef Kim Côté. Their business philosophy is based on a spirit of cooperation, family-friendly hospitality, creativity and innovation.
The café bistro is a product of this new generation of food artisans who are dedicated to local food. For Perle, there's a story behind every dish. With her degree in literature, she's inspired to tell the stories of the local food producers (whom she affectionately calls "her friends") whose ingredients appear on the café bistro's menu. It's clear that she has built more than business relationships with each of them.
Perle is one of the pillars of the Kamouraska community, contributing to making this region a magnet for foodies. Go meet her: you will be charmed by her infectious smile as well as by the beauty of her community.
Wabush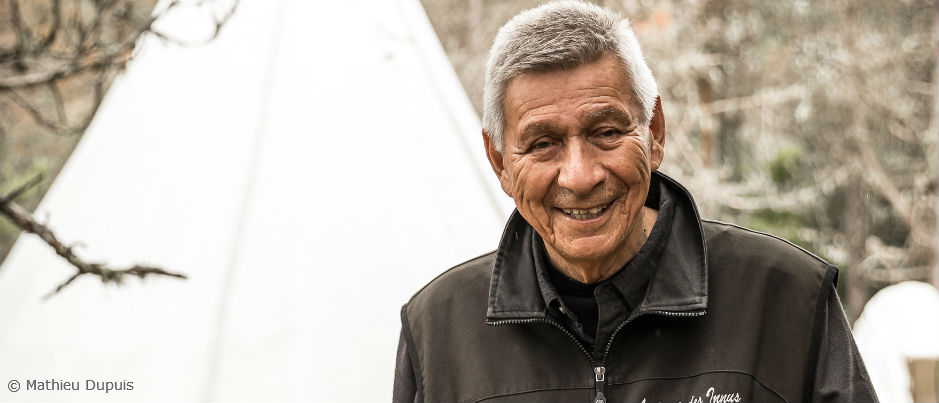 As soon as you meet Gilbert Hervieux, who is also known as Wabush, you will feel his warmth and compassion. This elder of the Innu community of Pessamit will take you back in time as he introduces you to his culture.
To meet Wabush and discover his world, head to Parc Nature de Pointe-aux-Outardes, in Côte-Nord. Wabush (which is derived from a word meaning Arctic hare in the Innu language) is a name Gilbert was given by his father, who taught him how to hunt and fish. For him, the forest is home: "It's the smell of the forest that keeps me healthy," he says.
Proud of his roots, he's pleased to transmit his knowledge of the traditional ways of life of his people during a tour where each stop along the way is an opportunity to share parts of his life with visitors.
"I tell my story for two hours," he says. "I talk about my life, explain traditional hunting and trapping techniques, take you on a guided tour of traditional dwellings, and prepare bannock, a traditional bread that I cook in the sand."
Wabush also shares an intimate chapter of his life during this tour, what he calls an unforgettable dream: "I invite visitors into a space I consider sacred," he says. This sanctuary brings back cherished memories of his late wife.
Committed to his community, he ends the tour by talking about the issues and challenges faced by Indigenous people today. Feel free to give him a hug before you leave: for him that's a sign of respect and a reward.
Clo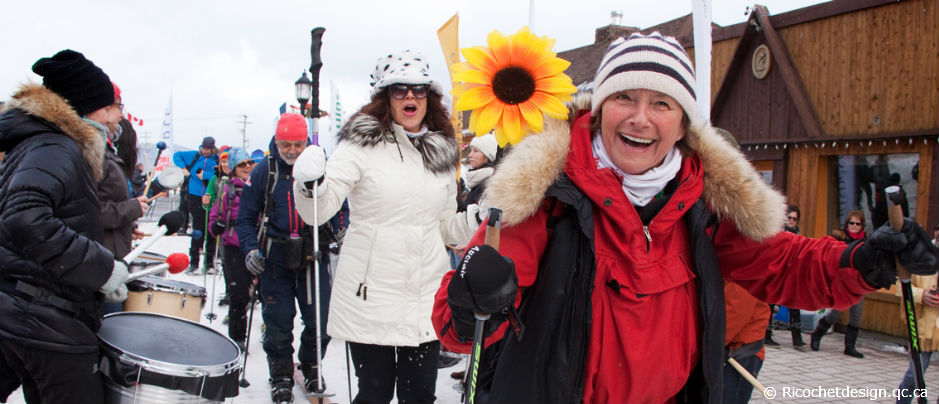 Born in Pointe-à-la-Frégate in Gaspésie, in a place that boasts exceptional sunrises, Claudine Roy (aka Clo) lights up the world with her sunny and vivacious disposition.
"I feel a deep love for my corner of the world," she says, referring to the Gaspé Peninsula.
Since she was young, she's been filled with a passion she has a hard time explaining. She has been called energetic, hyper, a go-getter—but whatever people say about her, everyone agrees that she's a force of nature.
For the last 40 years, she's been deeply involved in multiple projects to develop her region. Owner of the Brise-Bise bistro and bar for 30 years, she was also one of the instigators of the TDLG events. With her inexhaustible energy, she inspires everyone she meets to try skiing, hiking, dancing, singing… "I believe in celebrating life," she confides, "and I draw inspiration from everyone I meet."
She's also the friendly owner of Auberge sous les Arbres, in Gaspé, where she welcomes guests like family. Don't be surprised if she calls you mon amour ("my love") or ma chérie ("my dear"): she's known for her ability to forge bonds with people. "I want my guests to fall in love with Gaspésie," she says.
If you happen to cross her path, be sure to raise a glass "to life, which unites us all," as she likes to say.

Visit our regions and meet these four warm, welcoming and enthusiastic people who represent the locals so well!
And if you've already visited us, then we know you've met other interesting people during your trip to our regions, so please share your stories with us!
If you liked this article, you might also like...