The

Québec maritime Blog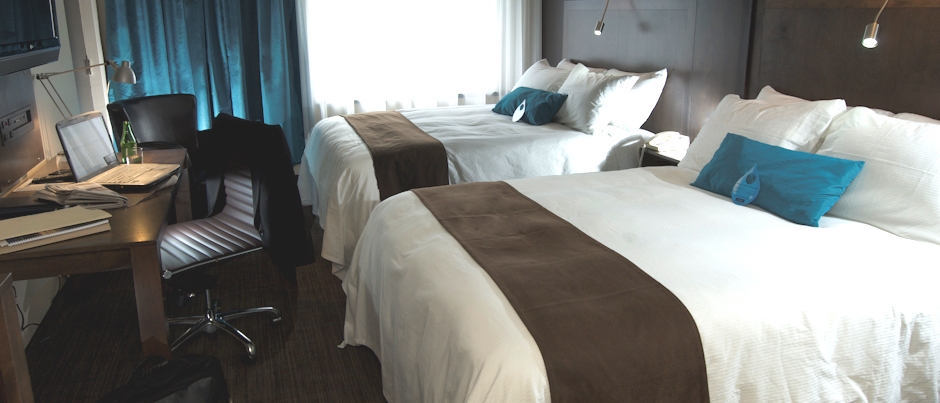 Riôtel Matane/Studio du Ruisseau
Planning Your Snowmobile Stay in the Maritime Regions of Québec
On October 24 to 26, 2014, I participated in the Toronto Snowmobile and ATV Show, one of the largest shows of its kind in the world. During the show, I had the opportunity to chat with many snowmobilers who wanted to know more about the network of trails available in the regions of Gaspésie, Côte-Nord and Bas-Saint-Laurent. In addition to specific questions about these trails, they also asked me about the accessibility and availability of nearby accommodations. Here are my answers to some of the questions I was asked that weekend.

Is it easy to find somewhere to stay along the trails?
In general, there are lots of lodging options in our regions. However, there are certain areas where your choices are more limited, so it's important to locate nearby hotels in advance. To help you plan your itinerary, our snowmobile trail maps clearly indicate where accommodations are offered along the trails.

I'm not sure how far we're going to travel each day. Is it absolutely necessary to book our rooms in advance?
Although you're not required to make reservations, I strongly recommend it. The snowmobile season is a busy period, and some establishments are smaller than others. I often point out to those who ask me this question that you can't sleep on your snowmobile and that there's nothing worse than having to ride after dark to the next hotel when you're tired and just want to rest. One option is to make your reservations in the morning for the coming night.
When you book your room, be sure to inquire about the establishment's cancellation policy. That way you'll know what to expect if you decide to modify your itinerary along the way.
Are lodging establishments ready to welcome snowmobilers?
Many establishments offer their snowmobiling guests parking spaces (which may or may not be fenced in) to leave their vehicles and trailers for the duration of their snowmobile trip. They also provide parking areas for snowmobiles (some under surveillance). In addition, many offer snowmobile packages. These vary but usually include one night, one dinner and one breakfast for $74 to $105 per person based on double occupancy. Take advantage of these offers—there's nothing better than having access to everything you need under one roof once you've stopped for the night!

Do you have any other questions about finding accommodations during a snowmobile trip in our regions? Post them in the comments below and I'll be happy to answer them and add them to this blog post. Happy trails!
If you liked this article, you might also like...