The

Québec maritime Blog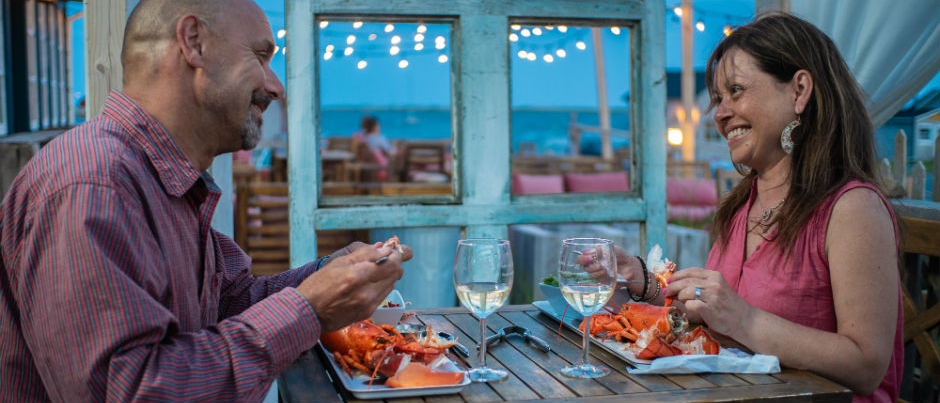 Nadeau Julien, créateurs de contenu
Savour the Îles de la Madeleine, a Unique Territory!
Imagine an archipelago caressed by sea breezes in the middle of the Gulf of St. Lawrence… A territory of about 200 km2 (80 sq. mi.) boasting 300 km (190 mi.) of beaches… Red sandstone cliffs, endless dunes, villages with colourful houses, picturesque lighthouses and harbours… A visit to the Îles de la Madeleine is a feast for the senses, one that will delight your palate thanks to the many gourmet specialties on offer in this unique corner of the world. Here's a taste of what awaits you on the Islands.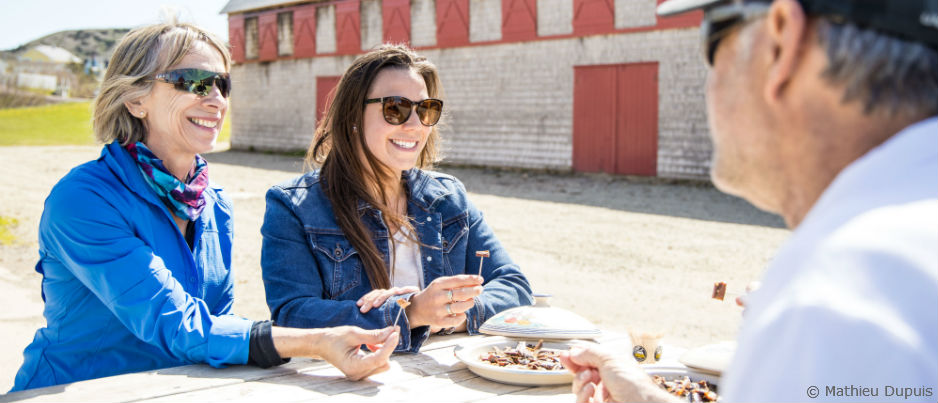 A foodie must in the Îles de la Madeleine is to savour the delicious bounty of the sea that is locally fished, hunted or farmed: crab, lobster, scallops, mussels, oysters, seal meat and algae, not to mention the famous smoked herring from the Fumoir d'Antan smokehouse. Be sure to visit their economuseum as well as taste their unique smoked products made on site. You can also go on a boat excursion with Les Cultures du Large to visit mussel- and oyster-farming sites at sea. If you don't have sea legs, explore the archipelago's fishing harbours, which will give you a glimpse into a fascinating world!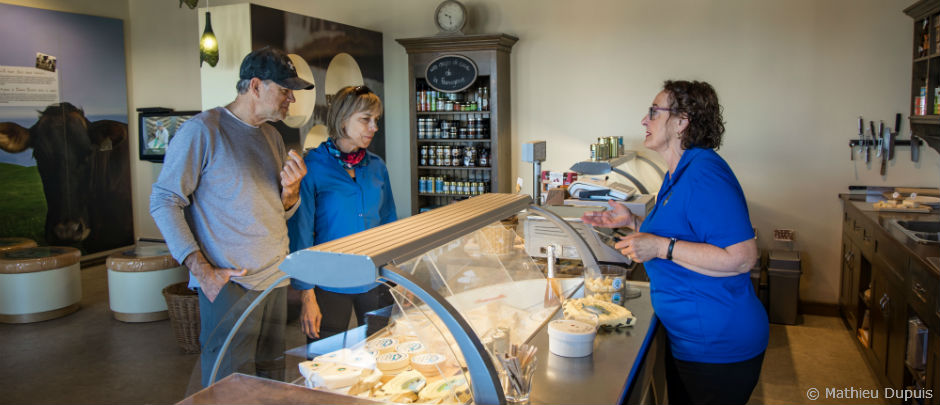 Not far from Le Fumoir d'Antan and Les Cultures du Large, the beautiful Canadienne cows of the Fromagerie du Pied-de-Vent cheese factory graze peacefully on the green hills of Havre-aux-Maisons. This heritage breed of cow, which is fed a diet influenced by the elements, gives a unique flavour to the milk and cheeses produced here. Fromagerie du Pied-de-Vent is one of only two cheese makers in Québec to have received the "Canadienne Cow Cheese" reserved designation. You can learn more about these cows and the cheese-making process during a tour of the facilities that will take you from the farm to the cheese factory via the economuseum… and includes tasting the exquisite cheeses made on site!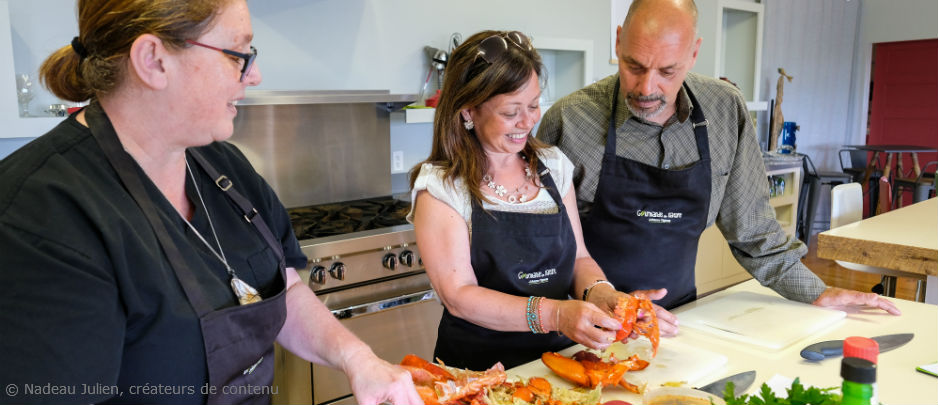 Foodies will also love Gourmande de Nature, which is entirely dedicated to culinary delights. In addition to offering cooking workshops on a variety of themes (in French only), the boutique is a multifunctional space that sells kitchen accessories and gourmet products from the Islands and elsewhere and also features a counter serving takeout and treats (be sure to try their gelato!). Pop in for lunch, which you can savour on site or take away. This is definitely a place you won't leave hungry or empty-handed!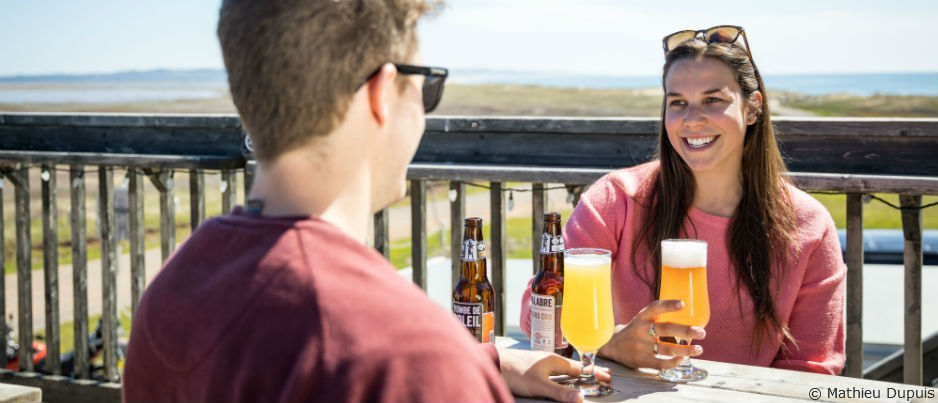 Feeling a bit thirsty? The À l'Abri de la Tempête microbrewery has been making craft beers inspired by the archipelago since 2004. These include the seasonal Palabre series (palabre is an island word meaning "rumour") as well as others that feature local ingredients such as smoked malt made in collaboration with the Fumoir d'Antan smokehouse, pulp from the fruit used to make jams and spreads at Gourmande de Nature, and wild-harvested ingredients from the Islands. À l'Abri de la Tempête beers are available throughout the region, but for the complete experience, savour them on the microbrewery's large patio overlooking the sea!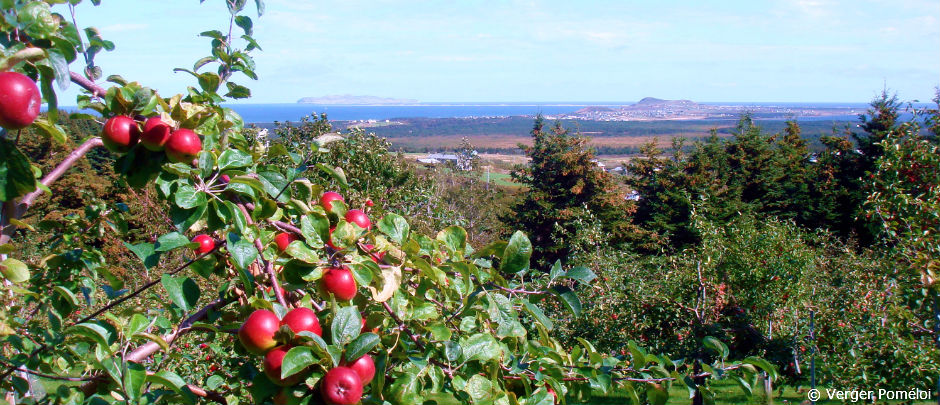 Established in the 1990s as an experimental orchard, Le Verger Poméloi , the only orchard on the Islands, has been producing ciders since 2008. Located on a hillside, the property is maintained using environmentally friendly methods and offers breathtaking views of the gulf. While you're there to taste their products, be sure to explore the grounds! Among the alcoholic beverages made from apple varieties adapted to the conditions on the Islands, La Poméloi, which features an apple grown inside the bottle, has tickled the fancy of many foodies over the years. Since 2019, the orchard team also makes two apple gins named Adam and Eve, which are worth discovering!
Foodies visiting the Îles de la Madeleine will also want to stop in at Fromagerie Les Biquettes à l'Air to admire the goats and taste their fresh cheeses. Guided tours and memorable tasting walks in the company of the goats and the farmer-cheesemaker will create delicious memories!
The archipelago's summer public market, called the Marché du Village, brings together many farmers and gourmet artisans, providing a golden opportunity to be inspired by local flavours while chatting with friendly food entrepreneurs and Islanders.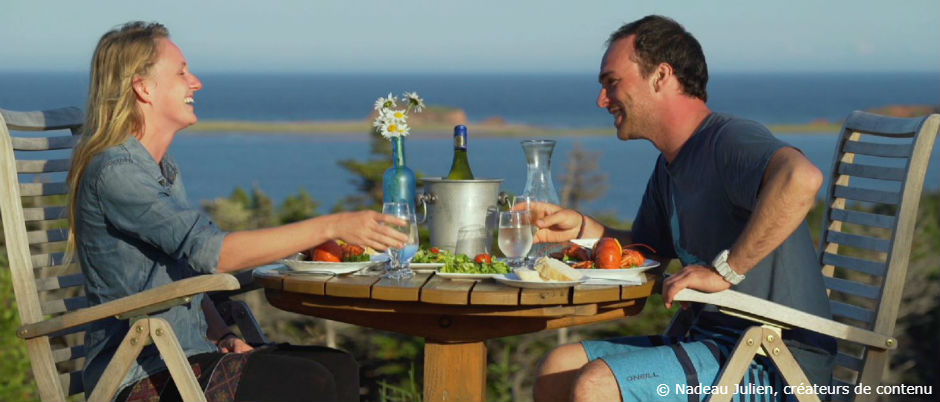 These suggestions are only a glimpse of what awaits you in the Îles de la Madeleine. Visit Le Bon Goût Frais des Îles de la Madeleine to find out more about the rich bounty available to you on this unique territory in the middle of the Gulf of St. Lawrence. When it's time to sit down to dinner, consider these options, which include La Table des Roy, Domaine du Vieux Couvent, Auberge La Salicorne and Auberge chez Denis à François.
Leaving the Islands is always a bit sad, but you're sure to go home with delicious memories of good food and friendly encounters. You'll probably also want to come back as soon as possible!
If you liked this article, you might also like...