The

Québec maritime Blog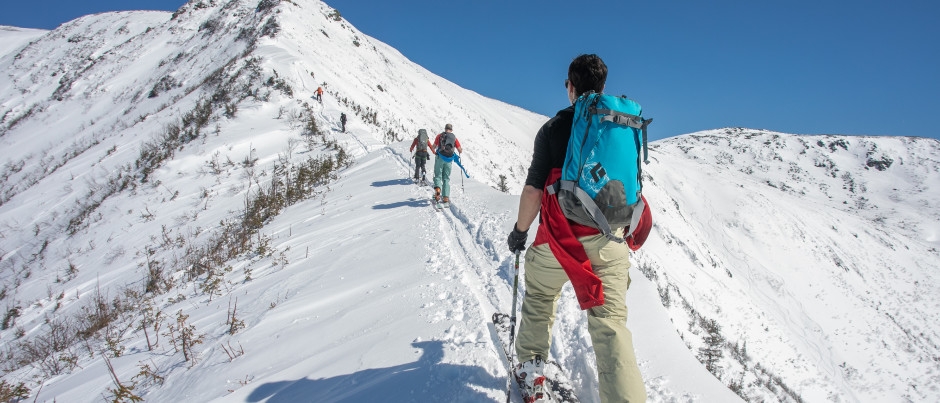 Ski Chic-Chocs: An Unforgettable Mountain Experience!
Are you a backcountry ski enthusiast? The Chic-Choc Mountains, in Gaspésie, are undoubtedly on your bucket list! Considered the largest accessible alpine area in Eastern North America, this destination is a dream come true for many. And there's no better way to explore these mountains than by calling upon the services of passionate and professional guides such as the team at Ski Chic-Chocs!
Given the current COVID-19 pandemic, the services offered by this company may differ from preceding years. Please contact Ski Chic-Chocs directly for more details.
Beyond skiing: A mountain immersion experience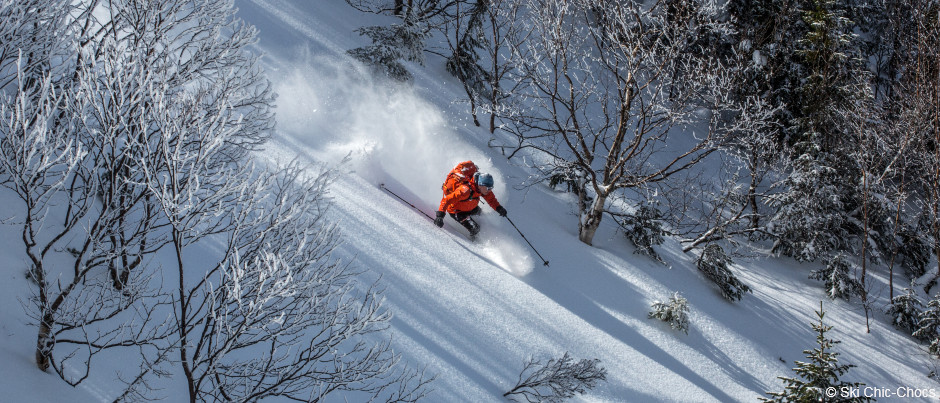 "Basically, we invite people to come and have an incredible mountain experience with us. This means adapting to whatever conditions are present, observing the landscape, learning how to explore the mountains and generally enjoying great skiing on top of all this," explains Gabriel Gagnon, a ski enthusiast and one of the co-owners of Ski Chic-Chocs. The guide services offered by this family-owned business are therefore private and personalized. Groups are small and are not paired with others. "Our goal is to respond to our clients' needs and requests, to adapt to their skiing level as well as to the experience they wish to have," he specifies.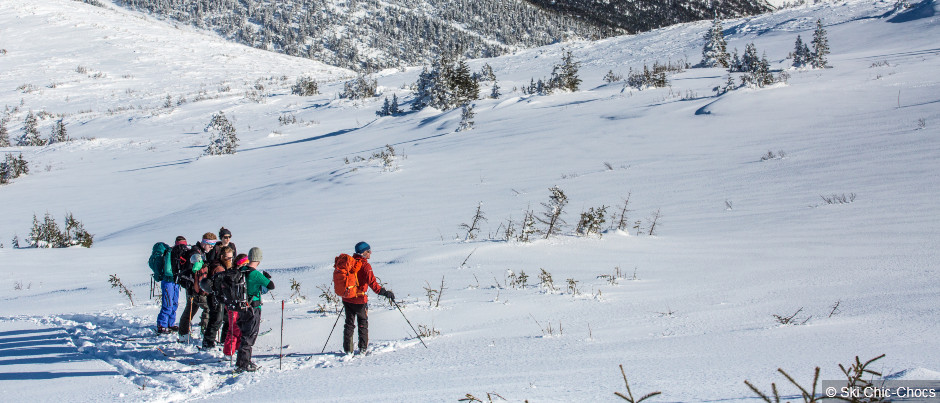 What does a typical day with the Ski Chic-Chocs team look like? You'll meet with your group at 8:30 a.m. at the Discovery and Visitors Centre in Parc national de la Gaspésie. The guides will check the weather and snow conditions as well as the stability of the snowpack, which will help determine the most suitable terrain for skiing. You'll be provided with avalanche safety equipment, and your guide will demonstrate how to use it. Once everyone is ready, your group will travel to the chosen ski area. Ascents (skinning only) generally take 45 minutes to 1.5 hours, and you can expect to enjoy two to five descents in a day, with vertical drops ranging from 300 to 600 metres (985 to 1970 feet), until about 4 p.m. "You must be prepared to spend a full day outdoors!" says Gabriel, since no huts or shelters are available, and you'll also be eating lunch outside.
Incredible snowscapes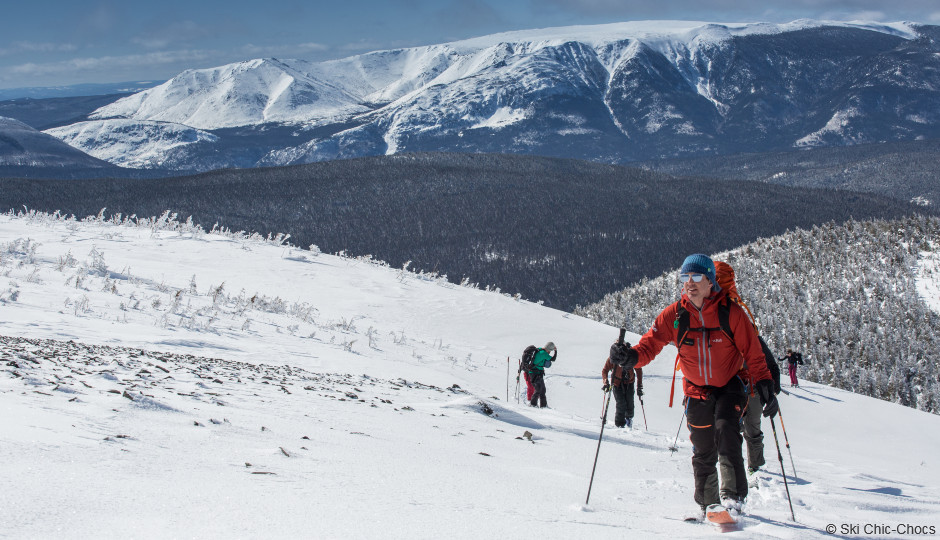 The winter playground available to Ski Chic-Chocs is vast since it includes the mountains in Parc national de la Gaspésie and the Réserve faunique des Chic-Chocs (including the Mines Madeleine area, which offers a variety of terrains and where the company is the only one to operate). Outings can also take place along the coast in Haute-Gaspésie, which offers sea and mountain scenery. "You can soak up breathtaking views of the St. Lawrence while skiing in this area," says Gabriel.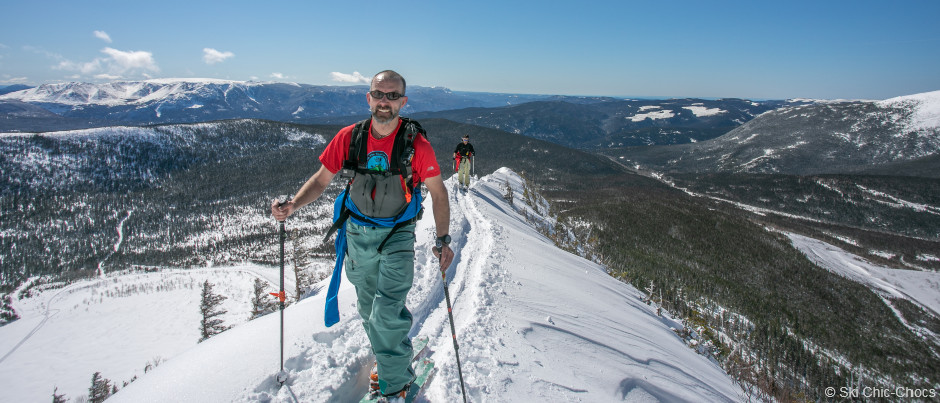 Ski Chic-Chocs is committed to finding the best snow conditions on any given day for its clients. "The coastal effect means that we have a climate that's favourable for precipitation. We really do ski until late April or early May," says Gabriel, for whom spring means beautiful mountain descents in Gaspésie. This is also the season for Corn and Crabs, which involves eating fresh snow crab in the mountains during a ski outing. This activity is of course inspired by the fishing season of this delicious shellfish, but also by the fact that the snow in spring becomes granular and is called corn. This event is an original way to combine sea and mountains!
Training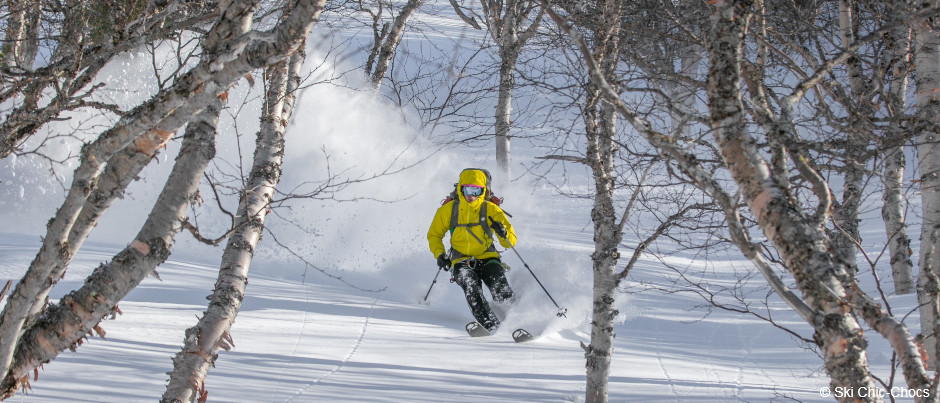 Ski Chic-Chocs also offers training: "We're developing expertise and a market niche for the guiding profession. We offer specialized training, all the avalanche safety training courses, the crevasse rescue and glacier travel course, as well as outdoor cooking and winter camping training," says Gabriel. Some courses are even available online in both English and French, which facilitates access to them.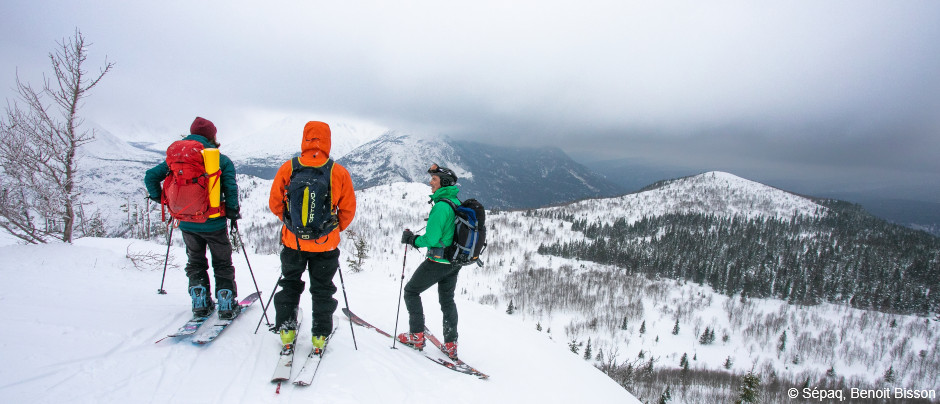 If you're don't have much backcountry skiing experience, the Ski Chic-Chocs guides can help you at the Parc national de la Gaspésie Mountain School, which offers an introduction to backcountry skiing. This is the perfect place to develop your skills and learn how to use the equipment in a safe environment.
An environmentally friendly approach
Conserving and protecting the environment is very important to Ski Chic-Chocs. The company is committed to offering services that support the long-term preservation of the local environment in which it operates. The fact that it does not offer any mechanized lifts, only skinning ascents, is an example of this.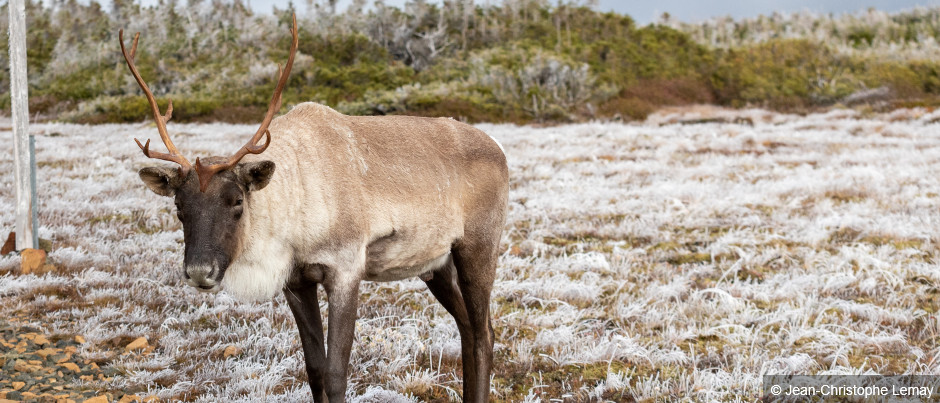 As Gabriel indicates, it's a privilege to visit the Chic-Chocs: the mountains and the species that inhabit them must be treated with respect. "We must protect the woodland caribou," he says. "The mountains are their home, and we must take that into account. We're in the process of creating a best practice guide to explain to people how to behave when they encounter an endangered species."
Does the Ski Chic-Chocs approach appeal to you? Please don't hesitate to contact them to discuss your goals and plan a future guided winter excursion in the mountains of Gaspésie!
If you liked this article, you might also like...