The

Québec maritime Blog
Visit Maritime Museums This Summer!
A Museum Experience: Explore the St. Lawrence includes ten maritime museums, eight of which are located in the maritime regions of Québec. These welcoming and imaginative sites offer a multitude of museum experiences for visitors to enjoy. Here's an overview of what awaits you this summer in our eight maritime museums:
Bas Saint-Laurent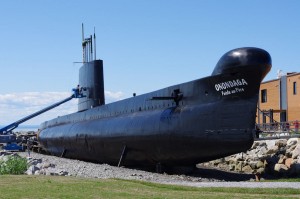 The submarine, the Onondaga © Le Québec maritime
In Pointe-au-Père, near Rimouski, visit one of the tallest lighthouses in the country, an exhibit on the sinking of the Empress of Ireland and the Onondaga, the only submarine open to the public in Canada—all on one site! New this year: to mark the 100th anniversary of the sinking of the Titanic, a multimedia show compares this tragedy with that of the Empress of Ireland. Come and meet stoker William Clark (played by an actor), who survived both shipwrecks.
Gaspésie
Visit this museum in Gaspé to learn more about the history of the Gaspé Peninsula and the various peoples who have settled here, from the Micmacs and the Acadians to the Jersey Islanders and the English.
Relive the great adventure of the two largest Jersey Island fishing companies to operate in Gaspésie in the 18th and 19th centuries, the Charles Robin Company and the LeBoutillier Brothers. Also watch traditional shipbuilding, net-mending, blacksmithing and barrel-making demonstrations.
Located in Nouvelle, Parc national de Miguasha is part of the SEPAQ network and is on the prestigious UNESCO World Heritage List. Visit the park and museum to discover fossils dating back some 380 million years.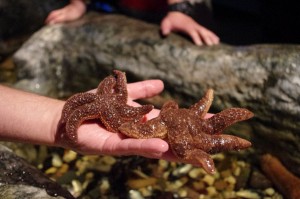 Touch tanks at Exploramer © Le Québec maritime
In Sainte-Anne-des-Monts, learn about marine life in the St. Lawrence with naturalist guides during a sea excursion and via touch tanks and aquariums.
Côte-Nord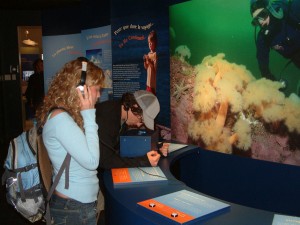 Marine Environment Discovery Centre
Take advantage of a trip to Tadoussac to learn more about the whales and prepare for your next whale-watching excursion. Don't miss the skeleton collection and the garden of indigenous plants.
In Les Escoumins, explore the depths of the St. Lawrence Estuary and learn more about marine organisms of all kinds without getting wet. The virtual St. Lawrence Live activity gives you an opportunity to dive into the St. Lawrence from the comfort of your seat!
For more information about A Museum Experience: Explore the St. Lawrence, visit www.maritime.musees.qc.ca/en/index.php
If you liked this article, you might also like...