The

Québec maritime Blog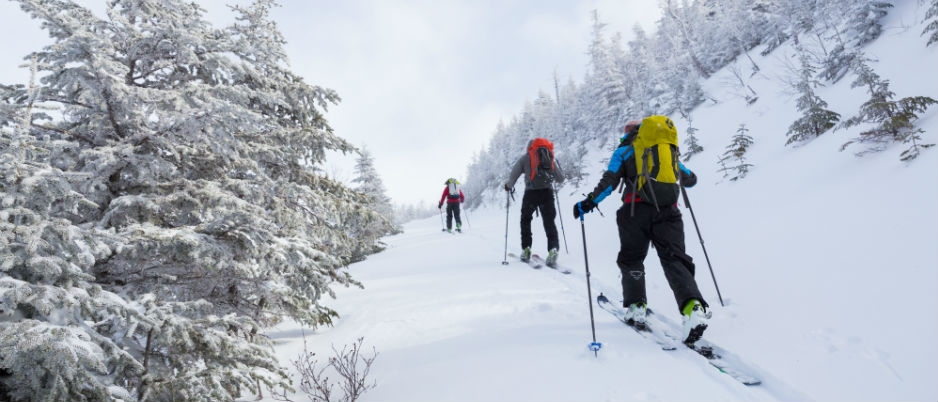 Parc national de la Gaspésie
Taylor Burk
Winter Souvenir Photos of the Maritime Regions of Québec
8 Great Instagram Pics of Winter in Québec
Whether you visit Gaspésie, Bas-Saint-Laurent, Côte-Nord or the Îles de la Madeleine, you'll find that winter offers many opportunities for fun and unforgettable experiences! To get a glimpse of what awaits you in our regions, just look at these Instagram photos…
Snowshoeing
There's no shortage of space for snowshoeing or cross-country skiing in Eastern Québec! Parc national du Bic offers several accessible trails and is a very beautiful place to explore.
Backcountry skiing
The Chic-Choc Mountains in Gaspésie are considered a mecca of backcountry skiing in Eastern Canada. The mountain peaks in this region receive an average snowfall of over 7 metres (23 feet)! For guided packages, contact the Chic-Chac team or head to Parc national de la Gaspésie.
Snowmobiling
6000 km of groomed and marked snowmobile trails await you in our regions! With services near the trails, including quality accommodations and restaurants, Eastern Québec is a paradise for snowmobilers.
Seal watching
In late February and early March, a unique phenomenon occurs on the ice surrounding the Îles de la Madeleine. Every year, tens of thousands of harp seals come to give birth here, resulting in memorable encounters with whitecoats and their mothers. Château Madelinot offers a package that includes lodging and transportation to the ice by helicopter.
Ice fishing
Ice fishing is a traditional activity that takes place on several bays and lakes throughout our regions. In a heated and equipped cabin, you can catch fish while meeting friendly locals and sharing your fishing stories!
A stay in one of Canada's most beautiful lodges
Located in the Réserve faunique de Matane, the Auberge de montagne des Chic-Chocs is perched in a remote area of the mountains at an altitude of 615 metres (2020 feet). In the company of experienced guides, you will have the opportunity to explore an incredible natural playground on alpine touring skis or snowshoes. Later, while savouring a delicious meal in the lodge, you can tell each other about the day's adventures. This is an enriching experience you'll remember for the rest of your life!
Dogsledding
Would you like to feel like a musher for a day? This is possible in several places in our regions! In addition to learning the basic techniques of dogsledding, you can also participate in taking care of the pack.
Stunning frozen landscapes to explore
In the winter, a completely different landscape appears! Snow and ice cover the ground, which sparkles with the sun's rays. In addition, a beautiful show awaits you at the end of every day as you can see in this photo taken on the cliffs of the Îles de la Madeleine.
What photos would you like to take during your next winter stay with us? Don't forget to capture your most beautiful moments and share them with us on social media using the tags #quebecbythesea and #quebecmaritime.
Our Instagram account: @quebecmaritime
If you liked this article, you might also like...