The Rivière-du-Loup–Saint-Siméon Ferry: Across the St. Lawrence in 1 Hour!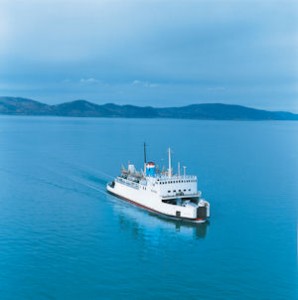 The M/V Trans-Saint-Laurent ferry will take you from Rivière-du-Loup, in Bas-Saint-Laurent, to Saint-Siméon, in Côte-Nord in just over an hour. Accommodating up to 399 people and 100 cars, this ship offers you a comfortable trip across the St. Lawrence.
Onboard amenities include a restaurant, bar & lounge, souvenir shop and daycare service. While on the exterior deck, be sure to keep an eye out for belugas, razorbills and even seals!
The Rivière-du-Loup–Saint-Siméon ferry operates from the Thursday before Easter to early January. Boarding is on a first-come, first-serve basis; reservations are accepted for tour bus groups only. In high season, arriving 90 minutes before departure time is recommended.
Practical information
Where to board
In Rivière-du-Loup
199, rue Hayward
(205 km / 130 mi. east of Québec City, via Highway 20 and Route 132)
In Saint-Siméon
116, rue du Festival
(177 km / 110 mi. east of Québec City, via Route 138)
Schedule and reservation:
Visit the website of the Rivière-du-Loup–Saint-Siméon ferry.
New facilities
The Société des traversiers du Québec inaugurated new facilities in both Rivière-du-Loup and Saint-Siméon this year. In Rivière-du-Loup, the new building containing the waiting area also has a new pedestrian walkway, which is 30 metres (100 feet) long and windowed on both sides. This means passengers can board the ferry directly and thus avoid being affected by inclement weather.
In Saint-Siméon, a modern hydraulic system has been installed on the vehicle ramp to facilitate adjustment of ramp height, depending on the tide. A pedestrian walkway is also going to be built in 2013.
To plan your ferry crossings in Québec maritime, visit our website.
Top photo credit: Société des traversiers du Québec