In Côte-Nord, the Gulf of St. Lawrence offers favourable environmental conditions for nesting
. Their brightly coloured beaks have earned these birds the nickname "sea parrot." Every year, the Mingan Archipelago National Park Reserve welcomes a population of Atlantic puffins that steal the spotlight from the many other seabirds found in the archipelago.
Côte-Nord (Manicouagan and Duplessis) is home to hundreds of species of birds. The following are a few of the region's most popular bird-watching sites.
____________________________________________________________________

Tadoussac dunes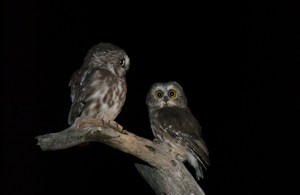 In Tadoussac, head along Rue des Pionniers towards the Maison des Dunes. Sixty metres (200 feet) above the St. Lawrence Estuary, the Tadoussac dunes are a unique observation and interpretation site. They are one of the rare sites located along the migration route of the boreal owl, a little-known bird of prey. You can also participate in nocturnal capturing and banding activities involving northern saw-whet owls and boreal owls.

Longue-Rive salt marshes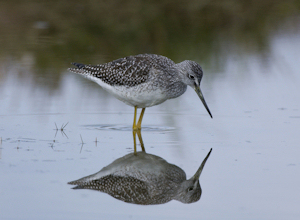 The second largest salt marshes in Québec are located on Route 138 in Longue-Rive. Take advantage of the raised decks to observe various migratory bird species including Canada geese, brants, snow geese and several species of ducks. Several threatened species can also be seen in this protected area, including sharp-tailed sparrows, peregrine falcons and short-eared owls.

Pointe-aux-Outardes
From Route 138 near Chute-aux-Outardes, turn on Chemin Principal to head towards Pointe-aux-Outardes. This sector along the St. Lawrence is known worldwide as an observation site for over 200 seabird species, including several that are threatened. Some of the rare species sighted here include golden eagles, pomarine jaegers, eastern phoebes, clay-coloured sparrows, Baltimore orioles and sandhill cranes.

Pointe-des-Monts
Several kilometres east of Godbout, on Route 138, turn onto Chemin du Vieux-Phare and head towards the St. Lawrence. At the very end of the road, in Pointe-des-Monts, you can admire the spectacular dives of osprey and northern gannets. Other species sighted here include mourning doves and common eiders.

Corossol Island (Sept-Îles Archipelago)
From the port located in Parc du Vieux-Quai in Sept-Îles, participate in a boat or sea kayaking excursion that circumnavigates Corossol Island. This is one of the best bird sanctuaries in Côte-Nord in terms of the number and diversity of species. Several seabird species can be observed here, including razorbills, black guillemots and murres.

Anticosti Island
Anticosti Island is accessible by plane from Montréal, Québec City, Mont-Joli, Baie-Comeau, Sept-Îles or Havre-Saint-Pierre. You can also travel there by boat aboard the M/V Nordik Express, which departs from Rimouski and Havre-Saint-Pierre. The island is home to some 200 bird species, including the largest concentration of bald eagles in Québec, with 40% of active nests.

Mingan Archipelago National Park Reserve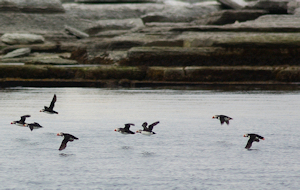 From Havre-Saint-Pierre, Mingan or Longue-Pointe-de-Mingan, participate in an excursion to the Mingan Archipelago. These islands are home to some 45,000 seabird couples, including the famous Atlantic puffin, the common eider, scoters and the long-tailed duck. Atlantic puffins nest on Maison, Calculot des Betchouanes and Perroquets islands. Besides seabirds, there are a number of woodland birds on the Mingan Islands, including warblers, buntings and some birds of prey.

Baie-Johan-Beetz marsh
On Route 138, at the mouth of Lake Salé, the Baie-Johan-Beetz marsh is home to American bitterns, green-winged teals, common goldeneyes, osprey and merlins. You can also observe several species of ducks and no fewer than 38 species of passerines.