serve as an extension of the road network. In addition to allowing you to
without retracing your steps, they are a novel way to travel and offer unique perspectives on the surrounding scenery and marine mammals.
link the north and south shores of the St. Lawrence in Eastern Québec. These sea routes increase your travel options. Depending on how much time you have, you can choose from the
scenic drives.
Note: All of these routes can be explored in either direction, clockwise or counterclockwise.
____________________________________________________________________

ESCAPADE
La Pocatière – Rivière-du-Loup – Saint-Siméon – Tadoussac
109 km + 65-minute ferry crossing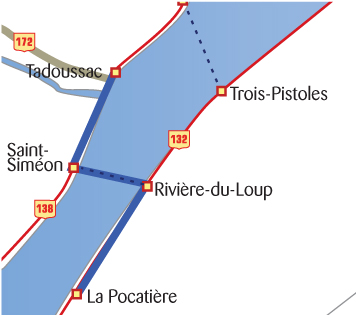 The Escapade is ideal if you have relatively little time to spend in our regions. Take advantage of your stay in Bas-Saint-Laurent to explore the coastal villages in the Kamouraska region or try rock climbing or sea kayaking at the SEBKA. You can also head inland and enjoy a host of activities in Pohénégamook or spend some time in the Témiscouata region.

On foot or by bike, explore the beautiful scenery that surrounds the north section and south section of the Petit Témis Interprovincial Park.

Many islands dot the St. Lawrence River off Rivière-du-Loup, some of which are accessible to the public. Rivière-du-Loup is also the departure point for several whale-watching excursions. Keep your eyes peeled and you may spot seals or belugas while on the ferry to Saint-Siméon!

Once on the north shore of the St. Lawrence, it is worth your while to head east to Tadoussac, a prime Côte-Nord destination that welcomes tourists from all over the world. They come to observe the whales, explore the Saguenay Fjord by boat and enjoy the festive atmosphere in one of Québec's most beautiful villages.

____________________________________________________________________

GETAWAY
(includes Escapade activities)
La Pocatière – Trois-Pistoles – Les Escoumins – Tadoussac
152 km + 90-minute ferry crossing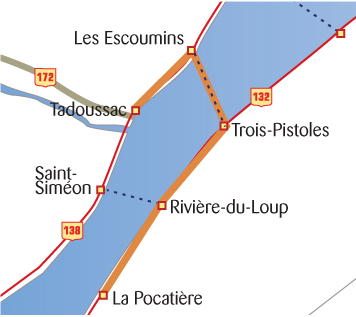 While heading towards the ferry in Trois-Pistoles, be sure to visit Île Verte (Green Island)—the rural charm of this area will remind you of a bygone era. The island is home to Québec's oldest lighthouse, built in 1809. If you are interested in legends, take part in the guided tour of Trois-Pistoles and its historic buildings, including Notre-Dame-des-Neiges Church, which dominates the landscape for miles. Its composite-style architecture and sumptuous interior make it well worth a visit.

The stretch between Les Escoumins and Tadoussac on the north shore is one of the best areas to observe whales, either during a sea excursion or from land. Visit the interpretation sites of the Saguenay – St. Lawrence Marine Park as well as the Marine Mammal Interpretation Centre (CIMM) to learn more about the whales of the St. Lawrence. While in Sacré-Coeur, which is 18 km (11 mi.) north of Tadoussac, stop in at the Ferme 5 Étoiles to discover its many activities or go on a sea kayaking excursion on the majestic Saguenay Fjord.


____________________________________________________________________

DISCOVERY
(includes Escapade and Getaway activities)
La Pocatière – Rimouski – Forestville – Tadoussac
273 km + 1-hour ferry crossing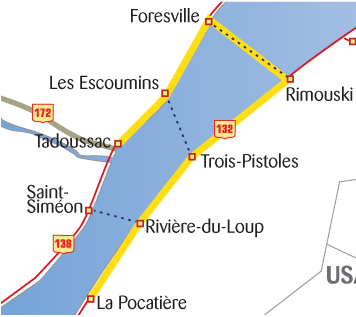 On the way to Rimouski, be sure to visit Bic National Park, which boasts magnificent coastal scenery. The park offers a multitude of activities. You can spend a night in a yurt or Huttopia tent, two "ready-to-camp" options that will please even the most delicate adventure seekers!

The Rimouski sector also offers attractions for every taste, including the only submarine in Canada open to the public at the Pointe-au-Père Maritime Historic Site, Québec's highest suspension bridge at the Canyon des Portes de l'Enfer ("hell's gate" canyon), an aerial park at Domaine Valga and more!

After spending a few days exploring the south shore, zip across the St. Lawrence in only an hour on Québec's fastest ferry!

On your way to Les Escoumins on the north shore, you will drive through the municipalities of Portneuf-sur-Mer and Longue-Rive, both of which are popular among birdwatchers.

____________________________________________________________________

EXPLORER
(includes Escapade, Getaway and Discovery activities)
La Pocatière – Matane – Baie-Comeau/Godbout – Tadoussac
524 km + 2-hour ferry crossing

Some 40 km (25 mi.) east of Rimouski, visit the Reford Gardens, which hosts the International Garden Festival every year. The festival presents contemporary gardens created by architects from all over the world, alongside Elsie Reford's historic gardens, which showcase some 3000 plant species and varieties.

In Matane, the Matane Salmon Observation Centre gives you the opportunity to observe salmon as they valiantly make their way upriver.

Depending on where you want to go and when you need to leave, you have two options when crossing the St. Lawrence: you can take the ferry to either Baie-Comeau or Godbout.

In Baie-Comeau, head north to visit the gigantic Manic-2 and Manic-5 dams.

On your way to Tadoussac, stop in Pointe-aux-Outardes, which boasts the warmest swimmable waters in Côte-Nord. This site is also a favourite among bird watchers.

This scenic drive is a great way to explore three of the maritime regions of Québec in one trip!