The

Québec maritime Blog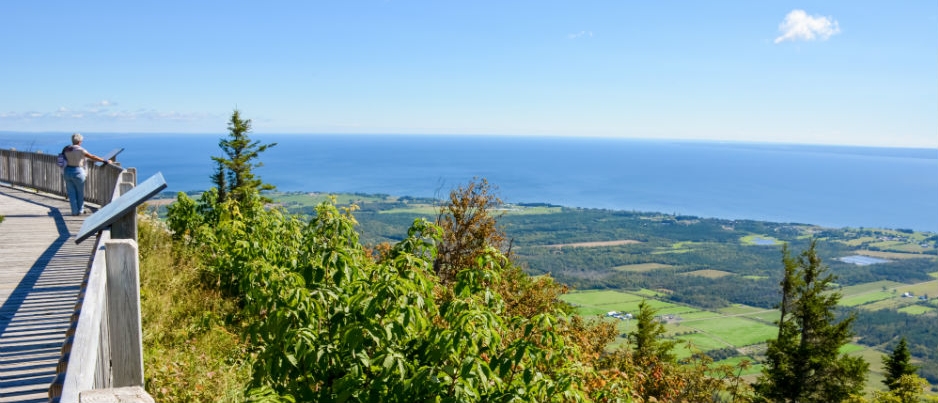 Carleton-sur-Mer
Nathalie Katinakis
Sweet Memories of Vacation in the Maritime Regions of Québec
The Stories Behind 4 Photos
Photos are always the best way for me to remember my vacations. At a single glance, I find myself transported back to the places where I took the photos: by looking at them, I can recall the precise moments, colours, sounds and smells associated with these places that I want to remember forever. Not surprisingly, I've been busy with my camera in the beautiful maritime regions of Québec. Among the hundreds of photos I've taken there, some, like the four below, evoke particularly strong memories…
Kamouraska, a perfect place to browse and admire the St. Lawrence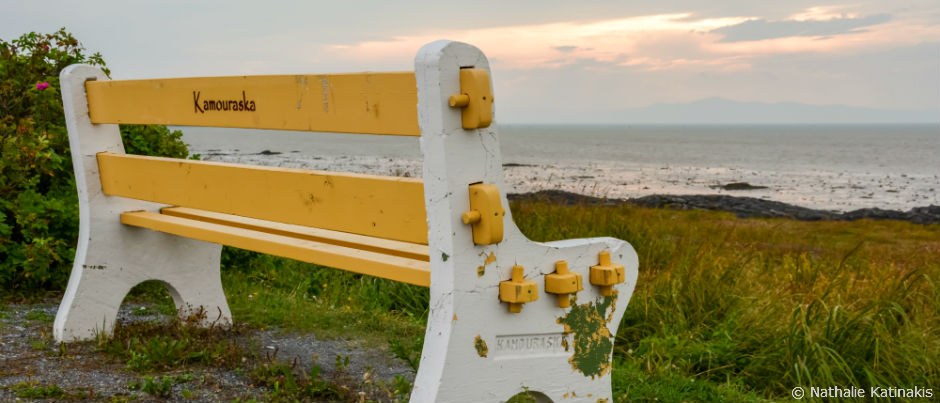 A bench overlooking the St. Lawrence River. But this is not just any old spot. This is Kamouraska, a real gem in Bas-Saint-Laurent that charmed me right away. I had long dreamed of visiting this picturesque village, which is officially recognized (with good reason!) as one of the most beautiful in Québec, and this dream finally came true in 2015. This photo takes me back to the sweet moments I spent admiring the St. Lawrence after walking along the shoreline and fantasizing about living in one of the village's heritage homes. I sat on this charming yellow bench to soak up the scenery before heading back to the village to browse the Magasin Général de Kamouraska (a general store), savour some delicious chocolate treats from La Fée Gourmande and shop in other lovely boutiques such as Quai des Bulles (an artisan soapmaker) and the Boulangerie Niemand bakery. It's easy to fall under the spell of Kamouraska all day long and then, as in this photo, admire the sunsets in the evening, which are a delight to the eye!
A long-awaited encounter in Parc national de la Gaspésie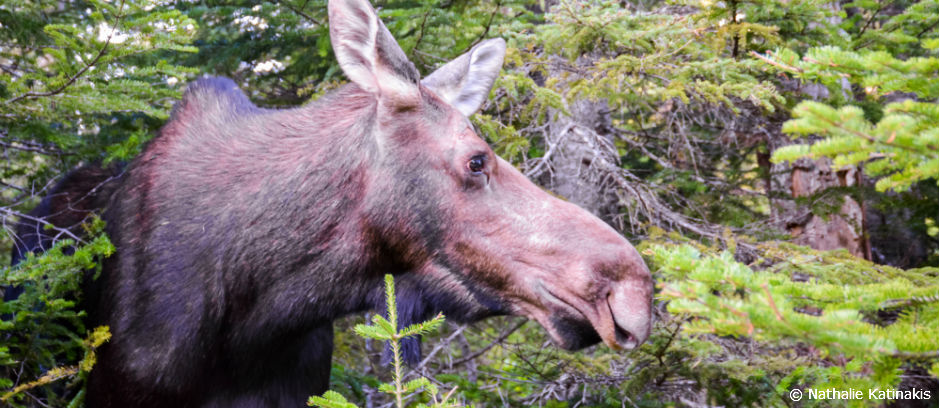 The maritime regions of Québec are home to many national parks where you can discover rich natural beauty. Parc national de la Gaspésie, for example, is a great place to hike and encounter wildlife. A few years ago, during a road trip in this region in September, I explored the Mont-Ernest-Laforce trail in the hopes of spotting the moose that live in the park's forests, where shrubs, birch and young fir provide them with abundant food. This trail is popular among hikers for this reason. All along the way, as I gently climbed the mountain, and from the lookout at the top, which provides a 360-degree panoramic view of the Chic-Chocs, I carefully scanned the horizon for moose, but unfortunately saw no trace of the largest member of the deer family. It was only on the way back, as I was approaching the beginning of the trail, that I unexpectedly ran into a gentle female ambling through the woods. She was moving quite slowly and passed very close to me, giving me lots of time to take a picture of her. Other hikers also stopped to admire her, which didn't seem to faze her at all. I was so surprised to see her—it's a moment I'll never forget!
The dazzling spectacle of whales in their natural environment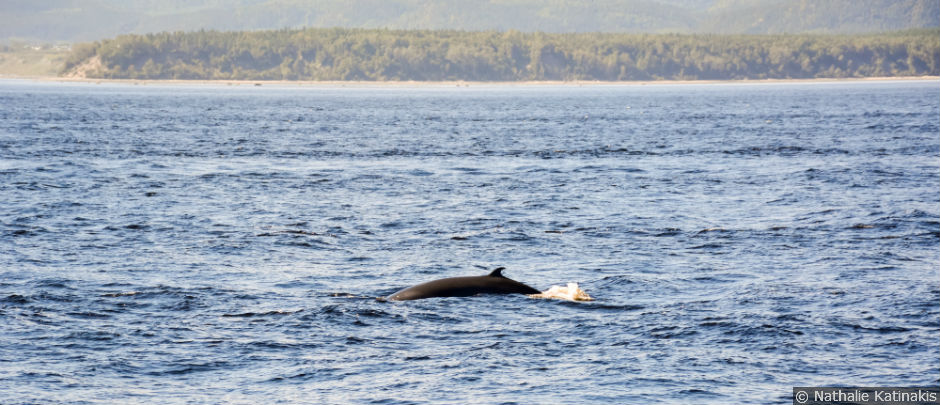 It's easy to see why Côte-Nord is such a popular whale-watching destination! Admiring the whales in the St. Lawrence Estuary is an exceptional experience, which you can enjoy from the shore or the water, in a sea kayak or aboard a sightseeing boat or Zodiac. For my first experience, I opted for a boat tour. Now, all I need to do is look at this photo to feel again all the excitement of my three-hour cruise from Tadoussac. I remember my amazement at the sight of seals and whales and can almost hear the waves and the exclamations of the other passengers, who were as impressed as I was. Looking at the photo, I can see the September sun reflected on the water again and I almost feel the sea air blowing in my hair… This was a moving experience that will remain engraved in my mind for a long time, all the more so because this photo keeps these memories alive.
La Martinique beach, a piece of paradise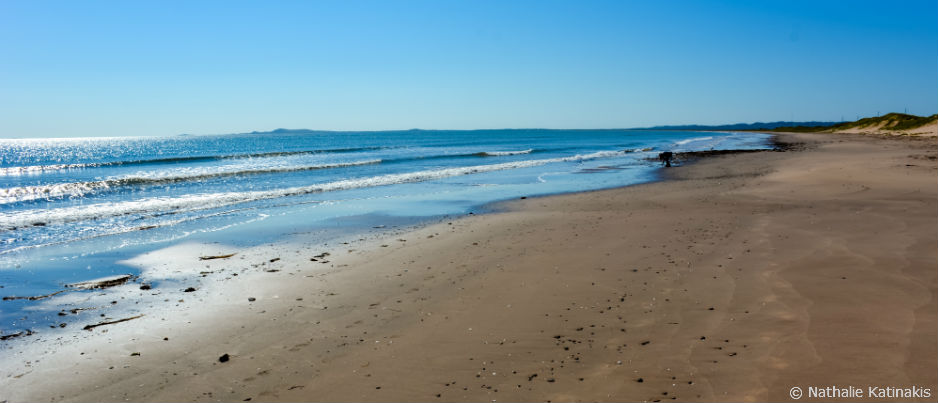 With over 300 km (190 mi.) of beaches, the Îles de la Madeleine are as idyllic as any other beach paradise in the world! The Islands are one of Québec's treasures, offering unique and authentic experiences as well as opportunities to enjoy peace and quiet. I had heard about this region since my childhood, but I had no idea it was so striking! What captivated me the most was the beauty of the coastline: the endless dunes and cliffs are so photogenic. Although every beach has its own attractions, La Martinique, which is located between Cap-aux-Meules and Havre-Aubert, has a special place in my heart because I found so many beautiful seashells there. How many places in the world are still so untouched? This photo reminds me of the wonderful moments I spent strolling along the beach, soaking up the sun and collecting shells, those gifts from the sea. I was amazed at how many sand dollars, razor shells and other seashells washed up along this 13-km (8-mi.) beach. If this place isn't heaven, it's certainly the next best thing!
I hope these four photos inspire you to want to see these sights in the maritime regions of Québec for yourself. And while you're at it, take your own photos as you explore these beautiful regions and enjoy memorable moments!