The

Québec maritime Blog
What to Pack for a Trip to the Maritime Regions of Québec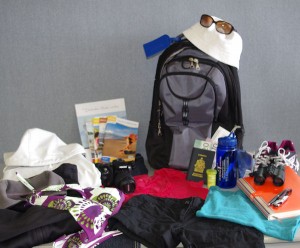 If you're planning your first visit to Québec maritime, you're probably wondering what to pack for your trip. Should you bring warm or light clothing? Dressy or walking shoes? Insect repellent? I have the answers to your questions!
Québec maritime is a vast region and its summer climate varies considerably. For example, there can be a wide temperature difference depending on whether you are on land or at sea, on the coast or inland, at sea level or in the mountains. Obviously what clothing and accessories you take with you will also depend on what activities you plan on doing and what you plan on visiting.
I recommend that you pack light clothing for the day and warmer clothing for cool evenings, activities at sea or hikes in the mountains. It's often a good idea to wear layers to make it easy to adapt to changes in temperature throughout the day.
Since few restaurants require "proper attire," you will mostly need casual clothing. Don't forget to bring sandals with you, as well as comfortable shoes!
Note that hotels usually provide basic toiletries such as soap and shampoo. A hairdryer and alarm clock are generally provided as well. You may want to call your hotel in advance to confirm what will be available in your room.
Here's a list of some of the things you should pack for your trip to Québec maritime.
Essentials
Passport and photo ID
Money: cash (in Canadian dollars), bank card, credit card or traveller's cheques
Medication (if applicable) in its original container so it can be easily identified
Plane, train or bus tickets (if applicable)
Travel insurance papers
Your itinerary
Phone card (available in convenience stores, pharmacies and grocery stores at various prices)
Seasonal clothing
Short-sleeved t-shirts and tank tops
Shorts and capris
Comfortable everyday sandals
Swimwear
Casual clothing
Warm clothing for cool evenings and sea excursions
Wool sweater or polar fleece
Comfortable long pants (jeans or hiking pants)
Raingear
Windbreaker
Comfortable hiking shoes
Practical items
Hat
Sunglasses
Binoculars for whale-watching
Camera and/or video camera
Sunscreen
Insect repellent
Small backpack for day excursions
Travel guides and maps
Travel journal (so you can write down all the highlights of your trip)
Bottle opener and corkscrew (what better way to end a day in the sun than by sharing a drink by the edge of the water?!)
Don't forget to pack your sense of humour too!