is a legendary scenic drive that loops around the huge Gaspé Peninsula.
.
. Route 132 will take you from Kamouraska to Gaspé at
.
____________________________________________________________________

La Pocatière to Rivière-du-Loup
69 km (43 mi.)
With an architecture that was influenced by shipbuilding, the villages in the Kamouraska region, are among the most beautiful in the province of Québec. Visit the many boutiques and art studios offering gourmet treats and handcrafted objects.

ALTERNATIVE
Take a short detour inland to enchanting Pohénégamook. Located next to the lake of the same name, Pohénégamook Santé Plein Air resort offers a multitude of outdoor activities. In the winter, you can also observe the 500 white-tailed deer that come here to feed.

Rivière-du-Loup to Rimouski
108 km (67 mi.)
Croisières AML offers whale-watching excursions that depart from Rivière-du-Loup. You can also observe an abundance of marine wildlife with Société Duvetnor or at the St. Lawrence Exploration Centre, among others.

Several islands in the St. Lawrence are accessible to visitors, including Île Verte (Green Island), which is home to Québec's oldest lighthouse.

As you continue eastward along the coast, you will reach Bic National Park. This easily accessible coastal park, where the land meets the sea, is an ideal place to come into contact with nature. Are you looking for a unique experience? Spend the night in a Huttopia tent or yurt!

Rimouski to Amqui
104 km (65 mi.)
Rimouski is an ideal home base for all kinds of adventures. If you are interested in nature (sea or mountains) or are a culture buff, you will find lots to see and do in this city and the surrounding area.

GETAWAY IDEAS
In Pointe-au-Père, the Pointe-au-Père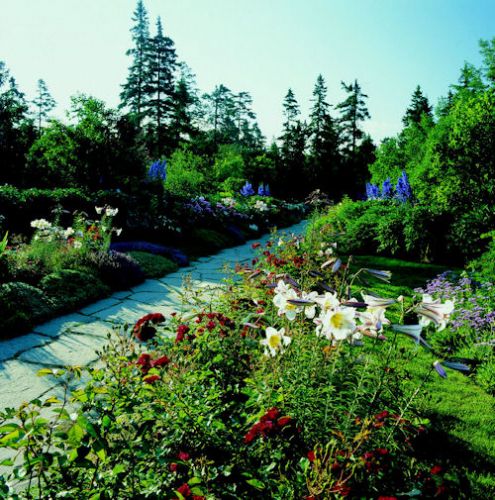 Maritime Historic Site presents the history of the Empress of Ireland, which sank in 1914 during the worst maritime disaster in Canadian history. While you are there, visit the lighthouse, one of the tallest in the country, and the Onondaga, the only submarine open to the public in Canada.

Head inland to explore the Rimouski backcountry via the Forêt de Maître Corbeau, an old-growth maple stand, or the Canyon des Portes de l'Enfer ("hell's gate" canyon).

About 40 km (25 mi.) east of Rimouski, visit the fabulous Reford Gardens where history meets nature and culture. Every year, the International Garden Festival held onsite presents contemporary gardens designed by architects and artists from all over the world.

Head next to the picturesque Matapédia Valley, which is renowned for its numerous salmon rivers and lakes as well as for its many churches, heritage homes and covered bridges.

Amqui to Bonaventure
212 km (132 mi.)
Route 132 will take you towards Chaleur Bay, a member of the Most Beautiful Bays in the World Club.

Stop in Nouvelle to visit Miguasha National Park, a fossil-rich site some 378 million years old that has been recognized as a UNESCO World Heritage Site.

Driving further east from village to village, discover Gaspésie's cultural mosaic: English Loyalists, Acadians, the Basque, the Irish, Jersey Islanders and Aboriginal peoples along with their vibrant cultures are still present in this region.

Bonaventure to Percé
134 km (83 mi.)
The region of Bonaventure offers a multitude of activities. Whether you are interested in strolling on a beach, hiking, fishing, kayaking on the Bonaventure River with Cime Aventures, visiting the Musée Acadien du Québec or learning more about local ecosystems at the Bioparc de la Gaspésie, there is something for everyone here!

ALTERNATIVE
Are you looking for a unique adventure? Hop on the M/V CTMA Vacancier in Chandler (which departs every Saturday evening) and enjoy a dream getaway in the Îles de la Madeleine.

Percé to Gaspé
69 km (43 mi.)
The village of Percé is a tourist attraction in its own right where you will enjoy discovering the local boutiques and art galleries. Why not spend a few days here: Percé has a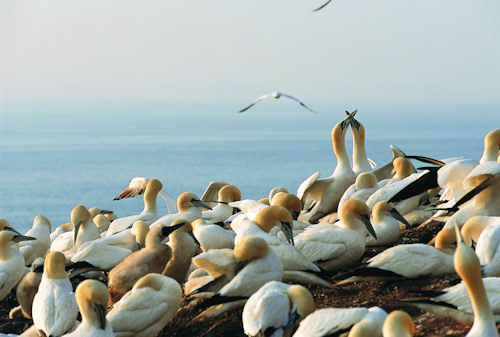 reputation for comfortable lodging and fine dining. And of course the region's star attraction is majestic Percé Rock!

Offshore, one can glimpse Bonaventure Island, which is part of Île-Bonaventure-et-du-Rocher-Percé National Park. Visit the island to observe over 300,000 seabirds, including 120,000 northern gannets in the world's largest and most accessible colony of these birds.

Gaspé to Sainte-Anne-des-Monts
207 km (129 mi.)
The tip of the Gaspé Peninsula offers magnificent scenery and activities for everyone. Spend a few days here to take advantage of all this area has to offer. Whale-watching excursions depart from Gaspé Bay.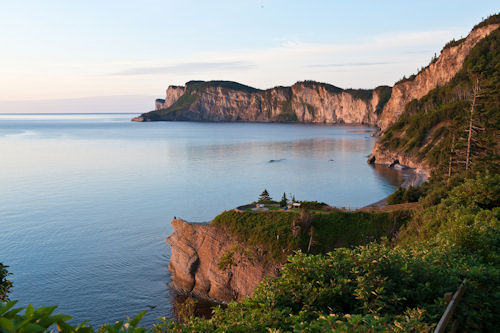 At the easternmost tip of the peninsula is Forillon National Park. In this breathtaking landscape, discover the gulf's rich ecosystems as well as local fishing history. Forillon is also home to Canada's tallest lighthouse, at Cap-des-Rosiers.

Past Forillon, the road curves back westward through spectacular sea and mountain scenery.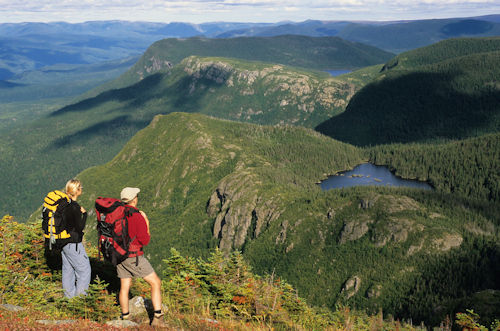 Driving from lighthouse to lighthouse, you will arrive in Sainte-Anne-des-Monts, the gateway to Gaspésie National Park.

ALTERNATIVE
Head south to Gaspésie National Park, where hiking enthusiasts can venture up Mt. Albert or Mt. Jacques-Cartier in search of the caribou that inhabit the arctic tundra at their summits.

Sainte-Anne-des-Monts to Matane
87 km (54 mi.)
In Cap-Chat, the landscape of sea and mountains is dominated by 133 wind turbines, in one of North America's largest wind farms at the Éole Cap-Chat wind energy interpretation centre. Here, you can visit the highest and most powerful vertical-axis wind turbine in the world.

Nature lovers will enjoy the activities offered by Valmont Plein Air. Kayak on the Cap-Chat River and try out all kinds of kites!

Matane to Rimouski
100 km (62 mi.)
A detour to the Matane Wildlife Reserve will give you the opportunity to encounter moose. Beach flats allow visitors to observe these magnificent animals in their natural habitat. Also visit the moose interpretation centre for more information about the king of our forests.

Now that you have completed the Gaspésie Tour, you might want to head south to explore the hills of Témiscouata in Bas-Saint-Laurent via routes 232, 185 or 289.

Another option is to explore the Whale Route. Hop on a ferry in Matane, Rimouski, Trois-Pistoles or Rivière-du-Loup to cross the St. Lawrence to the Côte-Nord – Manicouagan region.