The

Québec maritime Blog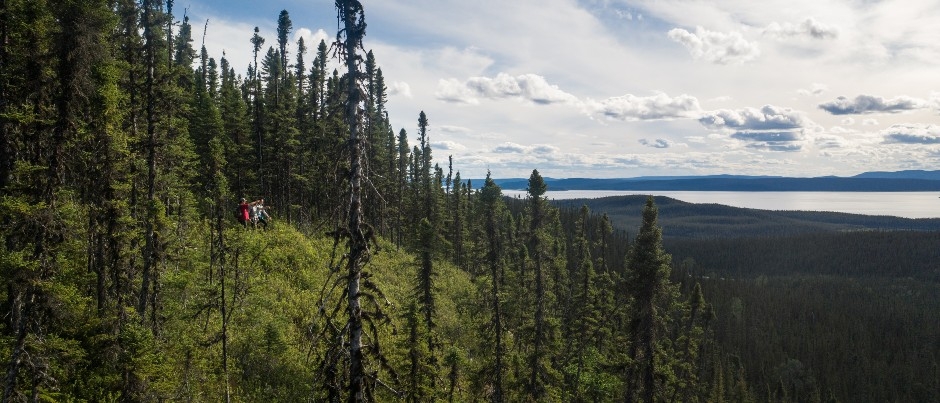 Mt. Provencher
Alexis Pageau
5 Mountain Hikes in Eastern Québec for Experienced Hikers
What Not to Miss in Gaspésie and Côte-Nord!
Gaspésie and Côte-Nord are popular destinations for outdoor lovers. And when it comes to hiking, these regions of Eastern Québec can hold their own when compared to some of the most renowned mountains in the world! Whether you want to stay on marked trails or set off on an off-trail adventure, these hikes will provide you with challenging and exciting experiences. Get your hiking poles ready!
Gaspésie: The Majestic Chic-Chocs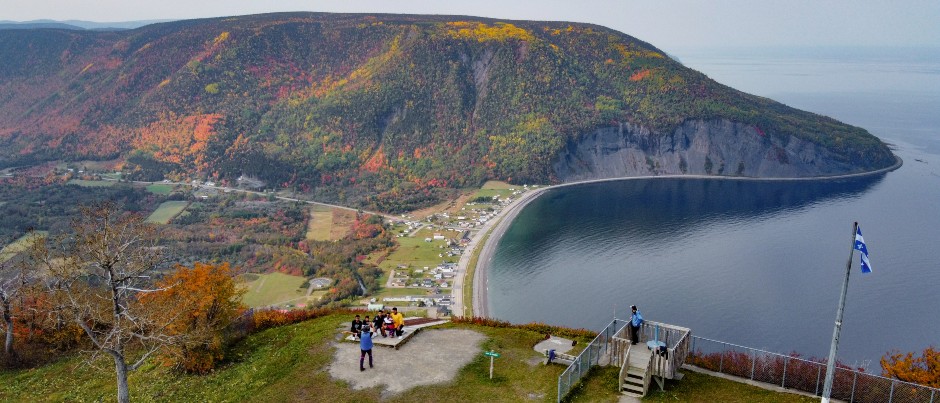 Mt. Vallières-de-Saint-Réal
Do you dream of walking along mountain ridges? You can enjoy this unique and unforgettable experience on Mt. Vallières-de-Saint-Réal in the Réserve faunique des Chic-Chocs. The trailhead is found on Route du Lac-Sainte-Anne, a dirt and gravel road accessible via Route 299. The hike is 12 km (7.5 mi.) long (round trip) with an elevation gain of 970 metres (3180 feet) in an environment that will take you through deciduous trees and then conifers before giving way to alpine vegetation.
Divided into several sections, the Vallières, as regulars call them, actually include five peaks, culminating between 840 metres (2755 feet) and 940 metres (3085 feet) in altitude. By the time you reach the first one, the lowest of the five, you'll have left vegetation behind; you'll hike on rocky ground all along these mountain ridges. Every step you take will give you another opportunity to admire the surrounding scenery, which is dominated by Parc national de la Gaspésie, home to 25 peaks over 1000 metres (3280 feet) high.
Please note that conditions along this trail may be difficult and changeable. Be sure you have the right gear in case of unfavourable weather. Winds can be strong, and rain can make the trail slippery. But don't let this discourage you. The most challenging part of the trail is what made you want to climb these mountains in the first place! The unique experience offered by the Vallières is that they'll make you feel like you're literally walking on the top of the world! Keep heading uphill while being mindful of the slopes on either side of you, which can be very steep.
Please note: This site is accessible year-round, except during hunting season (sometime in September and October). You can therefore do this trek in hiking boots or enjoy a beautiful snowshoe outing in the winter!
Mt. Jacques-Cartier
Mt. Jacques-Cartier is the highest accessible mountain in Québec. Named after the French explorer who was the first European to navigate the St. Lawrence, this mountain offers an 8.2-km (5-mi.) difficult hike (round trip), which includes an elevation gain of 465 metres (1525 feet) and will take you to the plateau at the mountain's summit, which is 1268 metres (4160 feet) above sea level.
To reach the trailhead for this challenging journey, you must board the shuttle in Parc national de la Gaspésie ($). Please note that this area is home to unique and fragile flora and fauna, including woodland caribou, an endangered species. Note also that Mt. Jacques-Cartier is only open to the public from July to early October.
Since you're arriving by shuttle, you'll start out this hike with a group, which will fan out on the trail. If you're a solo hiker and want to be alone on this climb, wait a few minutes before you set off to allow the group to get ahead of you.
The first part of the hike is through a deciduous forest on a relatively wide trail. Keep your eyes peeled since many species of birds are found in these woods, including friendly chickadees. The climb will be fairly gradual for the first kilometre before becoming steeper and maintaining a similar incline until you reach the plateau, about 3 km (2 mi.) after your departure. As you gain altitude, the vegetation will change in reaction to the increasingly difficult climate. Several areas will allow you to admire the rocky sides of the surrounding mountains.
Shortly before you reach the plateau, you can enjoy a well-deserved rest on one of the benches provided for that purpose. From here, you can follow a secondary path to the edge of Lac à René, a few hundred metres away.
Once you reach the plateau, you'll see small lakes formed here and there in the surrounding basins. Stay on the trail marked with cairns (small piles of stones) to get to the observation tower. On a clear day, you can see the St. Lawrence beyond a sea of mountains. You'll also feel a great sense of accomplishment now that you can boast that you climbed the second highest mountain in Québec!
Please note: From Mt. Jacques-Cartier, you can continue your hike on a marked (difficult) trail all the way to Mt. Xalibu, for a total trek of 24 km (15 mi.) (one way).
Mt. Saint-Pierre
Although you can take a shuttle up to the top of Mt. Saint-Pierre, if you're athletically inclined, you'll want to hike this 4.2-km (2.5-mi.) intermediate trail (round trip), which includes an elevation gain of 430 metres (1410 feet), with some sections that are quite steep.
After parking at the foot of the mountain, you'll begin your hike on a dirt road that's also used by the Carrefour Aventure shuttle bus. At the first hairpin bend, you'll veer off the road to follow a path through the woods. Your ascent will begin in earnest as you cross a brook that features a small wooden fountain built to direct the water flow. You'll continue to gain altitude for several kilometres under a canopy of birches, maples and conifers. In several places, you'll be able to admire the cliffs on the other side of this glacial valley. Your uphill journey through the woods will end at a wooden staircase that will take you back to the dirt road you followed at the beginning of this hike.
Stop at the huge iron cross built on the hillside and take a moment to soak up the beauty of the surrounding landscape as well as rest your legs. You'll be facing the immense St. Lawrence Estuary, which is over 100 km (60 mi.) wide at this point! Be sure to bring your binoculars to admire this giant body of water—you may even be lucky enough to spot a whale or two! On your right, you'll see the valley heading inland, towards the majestic Chic-Choc Mountains.
The last part of your journey will also be the most technically challenging. Fairly stiff boots with a good grip are strongly recommended as you'll be walking on unstable rocks on the mountainside. However, if you're less experienced or don't have the right gear, you can also follow the road to the top of the mountain. If you decide to hike on the trail, you'll have to climb single file, given how narrow it is. Don't hesitate to hang onto the rope handrail strung between wooden posts, which will help secure you.
Once you reach the summit, you can take in an incredible view of mountains, the glacial valley and the St. Lawrence! Depending on the time of year, you may well see hang-gliders and paragliders leaping out over the water. Several picnic tables are located here, where you can rest a moment before heading back down.
Please note: Trekking fans can extend their adventure by following the International Appalachian Trail (IAT-QC) all the way to Mt. Jacques-Cartier.
Côte-Nord: Wilderness mountains and an impact crater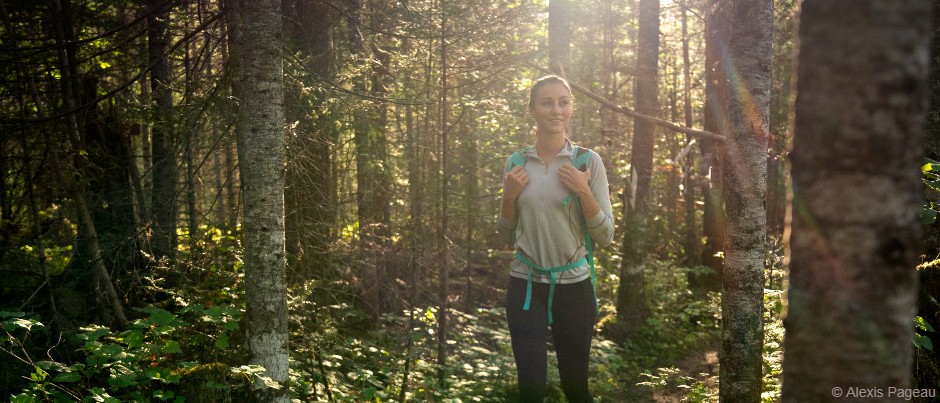 The first thing to note about hiking in the mountains in Côte-Nord is that the trails are not always marked, and they're located in remote areas where access to help is difficult. If you plan to hike these trails, mountain experience is strongly recommended as is a solid knowledge of orienteering. Also keep in mind that proper planning and the right gear are essential in these wilderness areas and that humility in the face of nature could save you a lot of trouble. Be sure to order a hiking map* of these mountains; even if you use a GPS, you should have a paper copy. Finally, keep in mind that there can be snow in these mountains from October to June and that temperatures can drop very quickly.
Mt. Provencher
Mt. Provencher is one of the 30 or so peaks in the Uapishka (Groulx) Mountains that's over 1000 metres (3280 feet) high. To reach this less well-known summit in Québec, you'll first have to drive nearly 340 km (210 mi.) north of Baie-Comeau on Route 389.
Your base camp, which will provide food and lodging, will undoubtedly be the Uapishka Station, on the edge of the Manicouagan Reservoir. The trailhead is located right next to the lodge, with a parking lot at Km 335. Note, however, that guide services are not provided.
Once you've put on your hiking boots and grabbed your hiking sticks, you'll be ready to embark on this challenging 15.9-km (10-mi.) hike (round trip), with an elevation gain of 615 metres (2015 feet), which will take you to an altitude of 1016 metres (3335 feet). Hiking to the top of the mountain and back will take you about 7.5 hours in the summer, but much longer on snowshoes in the winter (about 13 hours).
At the beginning of this hike, you'll be walking through a forest of conifers, which will become more and more stunted as you gain in altitude, ultimately giving way to alpine vegetation. As you ascend the mountain on a narrow path with a steady incline, you'll hike through a unique landscape that's wild and pristine. The presence of humans is barely perceptible here, other than in the signs and cairns that mark this sector of the Uapishka Mountains.
You'll then reach a nearly horizontal section of the trail where you can proceed with less effort through breathtaking scenery, until you hit the second, steeper slope. This final climb to the summit is very exposed to the elements. The fairly stark scenery will remind you of the immensity of the territory you're travelling through, with the mountains cutting into the horizon and René-Levasseur Island in the middle of the Manicouagan Reservoir in the background. From the top of the mountain, you can admire the best view of this island, which is the second largest in Québec (after Anticosti). The lake that surrounds it was created by a meteorite that struck the Earth 214 million years ago; the resulting crater was then filled by rising waters following the construction of the Daniel-Johnson Dam (Manic-5). The highest point of this hike will also offer you a view of the surrounding Uapishka Mountains, which cover a territory of approximately 5000 km2 (1930 sq. mi.).
Before you begin your descent, be sure to hike all the way to Quintin Lake, not far from the mountain summit, which is found at the end of the marked trail.
Please note: The hike described here follows the marked trail. However, unlike in other hiking areas in Québec, hiking off-trail in the Uapishka Mountains is permitted. Before you do so, please make sure you are properly prepared.
Mt. Jauffret
The trailhead for Mt. Jauffret is located about 30 km (20 mi.) north of the Mt. Provencher parking lot. You can park your vehicle at Km 365 to begin your adventure.
The hike to the top of Mt. Jauffret and back is 11.1 km (7 mi.) long with an elevation gain of nearly 980 metres (3215 feet). The summit is at an altitude of 1065 metres (3495 feet). This mountain, along with Mt. Provencher and Mt. Harfang, are the only ones in the Uapishka Mountains to offer marked trails to their summits. As when hiking on Mt. Provencher, please make sure you have the right gear as well as a hiking map of the area.
This trail will also take you through vegetation that's typical of these latitudes. Keep in mind that these mountains are located north of the 51st parallel. For the first 4 km (2.5 mi.) or so, you'll be hiking through the boreal forest. As you do so, keep an eye out for any wildlife that may be hiding in the conifers!
As the trees become scarcer, you'll find yourself in an enchanting and wow-provoking landscape. Rocks and grasses are the main features of this territory that's been stripped by the elements. Those who are familiar with this type of terrain will feel right at home, surrounded by rocky peaks, mountain ridges, valleys and mounds as far as the eye can see. Keep your eyes on the summit: it will contrast beautifully with the summer sky, no matter the weather!
Once you've made your way to the top, you can admire a breathtaking view of a landscape marked by a meteorite impact, which will make you consider your place in the natural world. You'll also want to soak up the beauty of the rounded Uapishka Mountains that extend for miles around you.
Please note: Here too, you can discover many alternative routes by leaving the trail.
Are you drawn to the magic of nature? The immense territory of the maritime regions of Québec offer many other exciting hikes, for all levels!
*Note that this site sells only one map of the Uapishka (Groulx Mountains), for a minimum donation of $15.
If you liked this article, you might also like...