The

Québec maritime Blog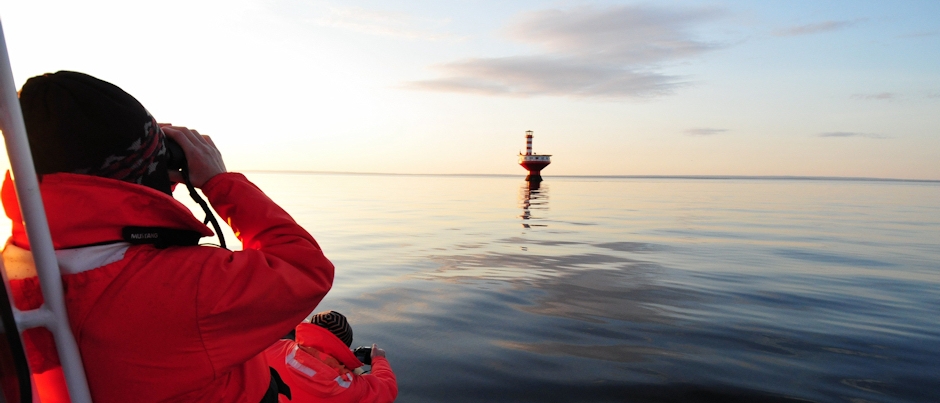 Haut-fond Prince Lighthouse
Parcs Canada / J.-L. Provencher
Explore Marine Life in the Saguenay–St. Lawrence Marine Park
The meeting point of the Saguenay River emerging of its spectacular fjord and the St. Lawrence River turning into an estuary offers a scenery larger than life, magnificent backdrop of a region boasting a rich culture and a rich history. It's to preserve the unique marine life of the area and to promote educational and recreational activities that the Saguenay–St. Lawrence Marine Park has been created.
It's without a doubt one of the best locations for whale watching and discovering a rich and fascinating marine environment. Parks Canada manages three interpretation centres to help you deepen your knowledge in an entertaining way. They are the Pointe-Noire Interpretation and Observation Centre, located on the West side of the mouth of the Saguenay River; the Cap-de-Bon-Désir Interpretation and Observation Centre close to Les Bergeronnes, and the Marine Environment Discovery Centre.

The St. Lawrence Live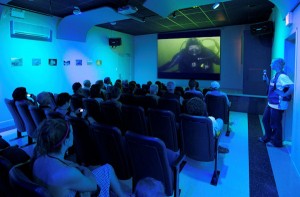 Marine Environment Discovery Centre © Robert Baronet / Société des musées québécois
Located just outside Les Escoumins, the Marine Environment Discovery Centre proposes a one-of-a-kind activity, "St. Lawrence Live". It allows you to get an underwater view of the St. Lawrence River to explore its diverse life and flora as if you were there, while remaining totally dry!
What's the trick, you might wonder? Divers-interpreters equipped with cameras transmit images live on the big screen in the centre. With their special mask, they can hear you, talk to you and answer the questions you might have. You can even ask them to look for a special organism while they are at it. That's great service, isn't it?

Feel Like Diving
And if the activity arouses your curiosity, you'll be interested to know that the centre boasts one of the most fully equipped diving bases in Québec. You can rent all the equipment and dive with professional divers. Experienced divers will enjoy the three access points to the water, air filling station, hot showers and water tank to rinse your gear.
Exploration awaits; it's all yours to enjoy!
For more details:
www.quebecmaritime.ca/milieumarin
If you liked this article, you might also like...