The

Québec maritime Blog
D. Poitras / Tourisme Côte-Nord - Duplessis
The Whale Route in Québec
The Whale Route is the evocative name given to Route 138 from Tadoussac to Kegaska. This road will take you through the region of Côte-Nord, all along the north shore of the St. Lawrence River and Estuary. It's called the Whale Route because up to 13 species of whales are found in the St. Lawrence, particularly along the north shore.
If you're planning a trip to Eastern Québec and you want to see something completely different, Côte-Nord is the place to visit. Driving along the Whale Route is the road trip of a lifetime: breathtaking scenery will unfold before your eyes every day. In addition, you may see many different wildlife species. This is also an opportunity to immerse yourself in a rich maritime culture, meet fascinating people and have adventures that you will still be talking about for years to come!
Before you leave, a few tips…
Drive the entire Whale Route (or as far as you plan to go) on your first day. This may seem counterintuitive, but it means you put in the most miles when you're feeling rested and full of enthusiasm. You can then take your time on the way back, dividing your return journey into easily manageable segments.
Plan to drive no more than 250 km (150 mi.) per day for the rest of your trip. This means you'll have half-days to explore the region and can avoid spending all your time in your car.
A possible itinerary:
I'm presuming that you're leaving from Québec City and will spend your first night in Tadoussac (217 km / 135 mi., 3h15), and then start exploring the Whale Route the following day. The rest of your trip could look something like this:
Day 1: Tadoussac to Natashquan (796 km / 495 mi.) or Kegaska (44 km / 27 mi. further east)
Day 2: Natashquan to Havre-Saint-Pierre (154 km / 96 mi.)
Day 3: Havre-Saint-Pierre to Sept-Îles (219 km / 136 mi.)
Day 4: Sept-Îles to Baie-Comeau (230 km / 143 mi.)
Day 5: Baie-Comeau to Tadoussac (199 km / 124 mi.)
You can decide as you go how long to stay in each location. I'm warning you right now that you could easily spend a few days in every one of the towns above… not to mention various others nearby!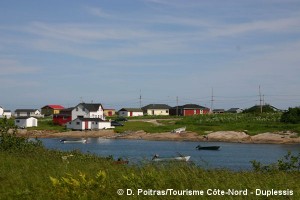 The village of Kegaska in Côte-Nord – Duplessis
Read and follow my colleague Olivier's tips to prepare for this trip: bring lots of good music to listen to (take advantage of this opportunity to discover some Québécois artists!), fill up every time you see a gas station, talk to the locals and ask them for tips on what to see and do, and be sure to soak up all the beautiful scenery!
Order the free Côte-Nord official tourist guide. Use them to plan your trip but also take them with you. They're filled with useful information you can be sure you'll want to consult along the way.
On the road…
Now that you've figured out your itinerary, here's a brief overview of what awaits you on the Whale Route.
Nature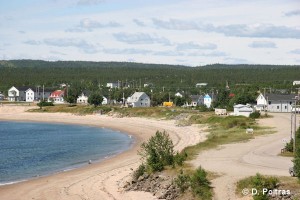 The beach near Godbout in Côte-Nord
One of the main attractions of Côte-Nord is the region's natural beauty. At the risk of repeating myself: the scenery is truly spectacular! The region will give you numerous opportunities to take postcard-perfect photos against the backdrop of its many rivers (for example, the tumultuous Rivière au Tonnerre, literally Thunder River), dense conifer forests that line the road or long sandy beaches along the St. Lawrence. Outdoor lovers will want to immerse themselves in nature by hiking, sea kayaking or wildlife watching.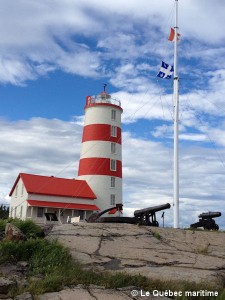 Pointe-des-Monts Lighthouse near Baie-Trinité
Lighthouses and maritime heritage
Of the more than 40 lighthouses found in the maritime regions of Québec, 14 are in Côte-Nord and 7 of those are accessible to the public. Of these, five offer activities that will introduce you to the lives of the lightkeepers and the maritime history of this area. At some lighthouses, you can even spend the night in the lightkeeper's house. Order our Lighthouse Trail brochure, which includes a map to help you locate these lighthouses.
Food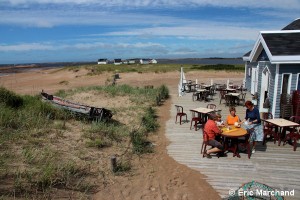 L'Échouerie Café in Natashquan
Foodies will be in seventh heaven in Côte-Nord, particularly if they are seafood lovers. Many of the towns and villages along the Whale Route have their own fishing harbours, which supply fish and seafood to the local fish markets. Be sure to enquire about what's in season—it's the best way to sample local products such as Stimpson's surf clams or Northern shrimp. You can pick up ingredients to cook up on your trip or ask the locals to recommend their favourite restaurants.
People
One of the joys of travelling is meeting new people, which is something you'll want to do while driving the Whale Route. Each town you visit, from Tadoussac to Havre-Saint-Pierre to Kegaska, has its own particularities; you'll find people's stories are even more varied. You may notice the Acadian accent of the residents of the Minganie region and want to know more about their family origins. You will probably cross paths with at least one fisherman who will be happy to share his fishing tales with you. Along the way, you will also come across handicrafts made by local artisans, including many Aboriginals, and you may be able to meet some of them. One thing is certain: the people you meet along the Whale Route will enrich your trip!
Whales!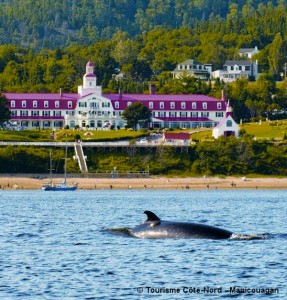 A whale swimming near Tadoussac
It goes without saying that if you're going to drive the Whale Route, you'll want to experience the thrill of seeing these magnificent marine mammals! So be sure to keep your eyes peeled whenever you find yourself with the St. Lawrence in view, since 13 species of whales can be spotted along the north shore. You never know what surprises the river has in store for you!
To really make the most of your visit, plan to take part in a guided whale-watching excursion (on a sightseeing boat, Zodiac or sea kayak) in the Saguenay–St. Lawrence Marine Park, Sept Îles Archipelago or Mingan Archipelago. This will increase your chances of spotting a minke whale, humpback or even blue whale! Several interpretation sites also give you the opportunity to learn more about these animals as well as the marine environment of the St. Lawrence, which is home to many other living things.
For your next vacation, treat yourself to a complete change of pace, to spectacular natural beauty and to some of the best that Québec has to offer by driving the Whale Route in Côte-Nord!
For more information, visit the following sections of our website: the Whale Route and Côte-Nord – Duplessis.
Happy driving!
If you liked this article, you might also like...