The

Québec maritime Blog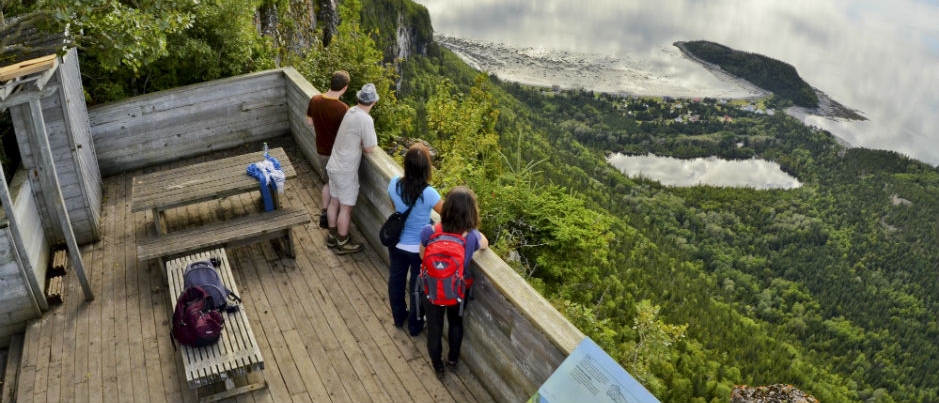 Parc national du Bic
Marc Loiselle
Hiking Spots in the Gaspésie and Bas-Saint-Laurent Regions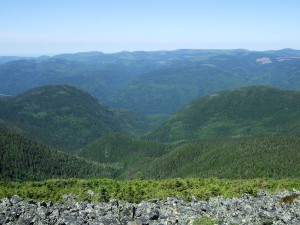 At the Mont-Albert summit © Tanya Paquet
With its wealth of forests and mountains, the Gaspésie and Bas-Saint-Laurent regions have much to offer to hikers, in particular the famous Chic-Choc Mountains, but also the national parks that ensure preservation and accessibility. Here are some suggestions based on my personal experiences. If you are planning a trip in one of these areas, you may want to add one of these hiking trails to your list of places to discover.
Gaspésie
In itself, Parc national de la Gaspésie has over 100 kilometres (60 miles) of hiking trails. It features 25 peaks soaring over 1000 metres on a vast inhabited territory of about 800 square kilometres, making it the mecca of destinations for mountain hikers in Québec.
A group of friends, avid hikers, first introduced me to the Parc national de la Gaspésie. I was immediately smitten with the Gaspésie region on that first trip. For our first hike, we had chosen the Mont-Albert trail, one of the most difficult but also one of the most impressive.
I thoroughly enjoyed my hike because you can measure your progress as you go along, stopping at the many viewpoints along the trail. All efforts to reach the summit, peaking at 1,070 metres, are worth it, because once at the top, the mountain panorama is truly breathtaking and stretches all around to near infinity. You feel on top of the world!
No need, however, to take on the Mont-Albert trail to access magnificent views. The park offers trails for all types of hikers. I'm thinking of La Chute-Sainte-Anne trail (easy) that runs along the river and provides access to the fall, or the Lac-aux-Américains trail (easy) where you can see the marks left by the glacial erosion. If you are tempted by the journey of the Mount Albert, but do not want to walk the entire loop of 17.2 kilometres, you can always try La Saillie (intermediate), La Serpentine (difficult) and La chute du Diable (intermediate) which are sections of it.
Hiking buffs might want to push further and take on "La Grande Traversée" which runs through the park on 110 kilometres (70 miles). This stretch is part of the International Appalachian Trail (IAT), which extends from Mount Katahdin, Maine to Cape Gaspé in Forillon National Park, and stretches over 850 kilometres in the Gaspé Peninsula.
If I was completely charmed by Parc national de la Gaspésie, Forillon National Park left me absolutely speechless.
The huge cliffs stretching into the Gulf of St. Lawrence are what first impressed me. The rock face is impressive, and I could not help thinking that this is the tip of our continent.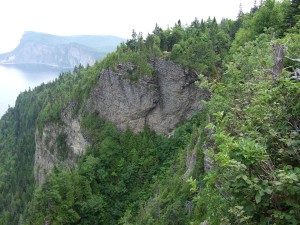 Forillon from the Mont-Saint-Alban trail © Tanya Paquet
I was also struck by the history witnessed here in Forillon. It's hard to imagine that this wild territory was once home to hundreds of fishermen in the 19th and early 20th century. A visit to the heritage site of Grande-Grave is a must to learn more about their unusual lifestyle.
In order to get a closer look at Forillon, or should I say a look from above, we chose the Mont Saint-Alban trail. It leads to an observation tower that allows you to take in the scenery from 360°. One can thus see the extent of Forillon Park, the boundless sea and on a clear day, you can even see the Percé Rock and Bonaventure Island! What a great reward after the 280 metre climb to the summit.
Whether you're a history buff or love beautiful scenery, you will certainly enjoy several trails! Some trails follow the same paths as the IAT: Les Lacs, Les Crêtes, Les Graves and part of the Mont-Saint-Alban trail. The first two are advanced and are usually covered in more than one day. These trails therefore provide hikers with a special experience which entails spending the night in the forest, in one of the park's backcountry campsite.
The ultimate goal of hiking on Bonaventure Island is generally the observation of the northern Gannet colony. It's simply a must! On the island, the four paths lead to the observation site, but the shortest trail is the one called Les Colonies.
One thing that really gets to you is hearing the birds' scream become louder and louder as you approach the observation site. Once there, thousands of birds await you and welcome you in a breathtaking spectacle.
On the way back, I recommend that you take a different trail such as:
• Les Mousses gives you access to lookouts where you can admire the coast of Gaspé;
• Le Chemin-du-Roy runs along the cliffs and beaches giving you the opportunity to see various birds and hopefully, whales;
• Le Paget crosses the island and allows you to discover its vegetation and its unique geological formation.

Bas-Saint-Laurent
Parc national du Bic has a charming quality which is in part due to its small size: only 33.2 square kilometres, including 14.4 in the marine environment. While walking through it, one discovers a park steeped in human history; a rich ecosystem for the wildlife that inhabits it, and above all, amazing landscapes comprised of headlands, islands, islets, shores and the St. Lawrence. The Parc national du Bic has about thirty kilometres of trails that lead to different viewpoints revealing the many great beauties of this coastal park.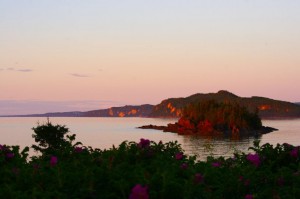 View from the Chemin-du-Nord trail © Le Québec maritime
On my first visit to Parc national du Bic, I had an appointment with seals! The observation of seals in their natural habitat is one of the park's major attractions. After studying the tides, we headed in the Cap-Caribou area, one of the better places for observation at low tide, via Les Anses trail.
I often say to anyone who will listen that a visit to Parc national du Bic is an excellent way to introduce children to the outdoors. Many of its interpretation activities specifically target young people, and several of the hiking trails that criss-cross the park are short and easy. It's also a great opportunity to see different species of animals that commonly live there (seals, deer, moose, fox, fisher, hare, squirrel, etc.).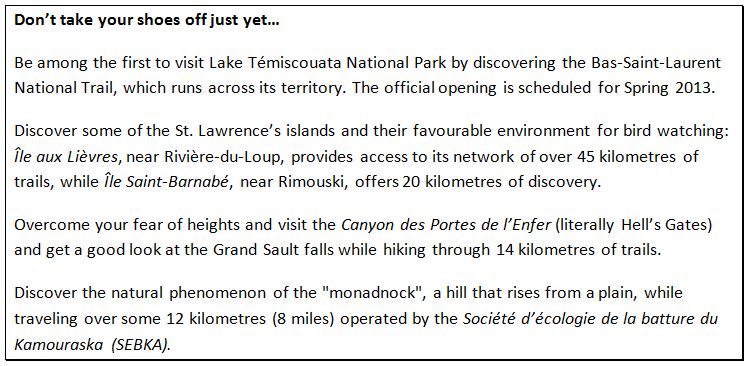 So what are you waiting for? Lace up your boots and start exploring all of these trails. For more information or to plan your trip or stay, visit our website.
If you liked this article, you might also like...