The

Québec maritime Blog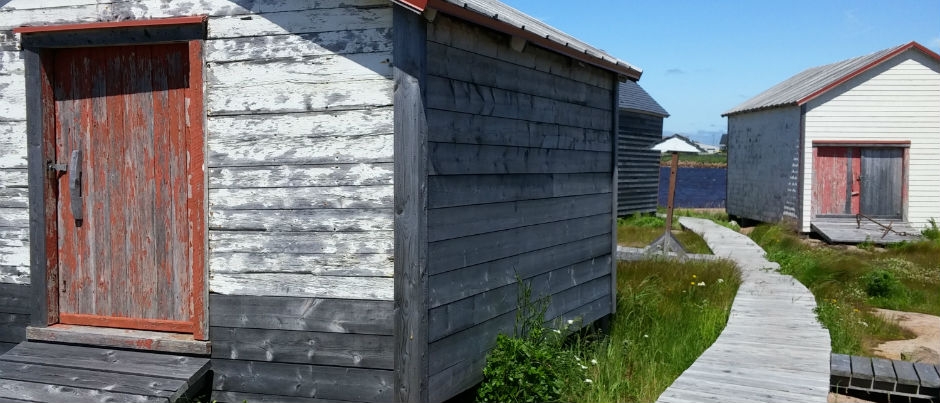 These unique buildings once stored salted fish that was dried on fish flakes
Olivier Pierson
Keeping the History of Natashquan Alive
Clinging to the rocks of the Lower North Shore, Les Galets in Natashquan are vestiges of a time when fishing was the economic mainstay of the whole region, particularly this charming village in Côte-Nord.
"Les Galets are our Eiffel Tower!" proclaims Bernard Landry, who is probably not the only one to feel this way. The Natashquan native, who recently wrote a booklet about Les Galets with Paul Charest,* has a passion for these wooden buildings, which have been designated a heritage site since 2006. Despite the distance that separates him from his native village (he now lives in Baie-Comeau), the former accountant religiously keeps watch over these warehouses, which were restored in 2012 by a company from Île d'Orléans. The determination of the local residents to preserve the site demonstrates their attachment to these unique buildings, which once stored fishing gear and salted fish that was dried on fish flakes (a type of drying rack).
A long restoration process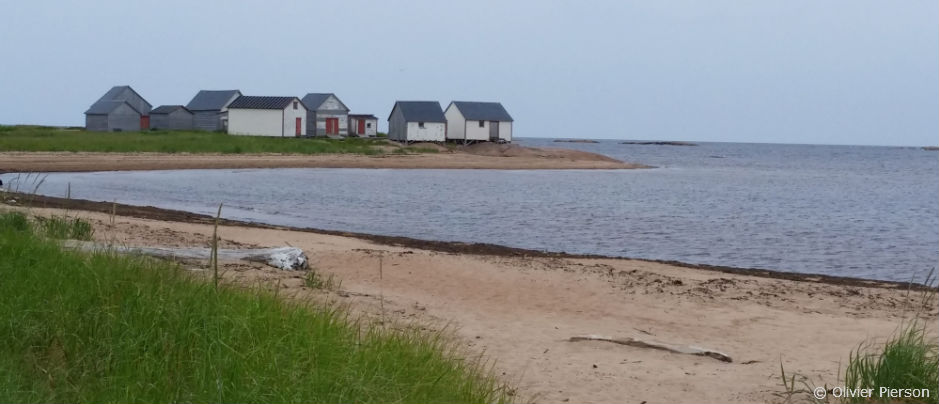 Painting these buildings white with red trim is entrusted to the residents who own them. Six families own the 12 buildings that are still standing; two belong to famous local poet and singer/songwriter Gilles Vigneault, who was one of the people who spearheaded the movement to protect them. Originally, there were over 30 buildings, including those at the La Grave site, all of which were mainly used to store fish. Before the restoration work done in 2012, the site had been partially restored in the 1970s, but the work was limited due to lack of funds. In the 1990s, it became clear that a major effort was required, as the buildings were deteriorating rapidly. However, it took another two decades before they were finally restored to their former glory.
Fishing in the summer, hunting in the winter...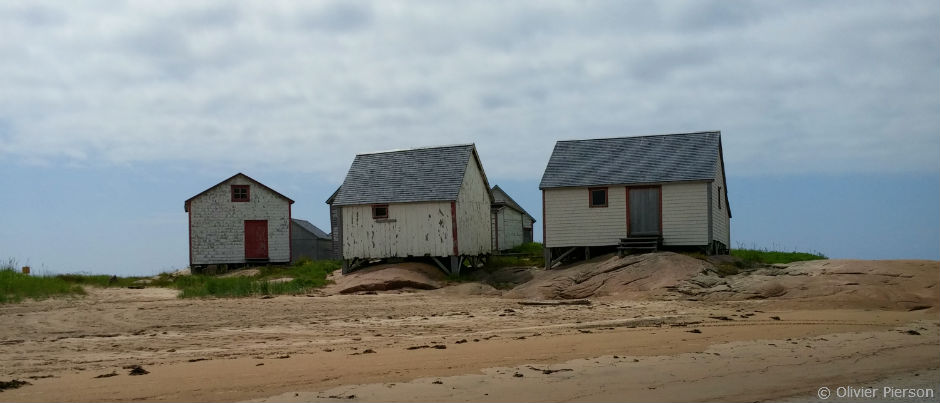 Built when Natashquan was founded in 1855 by Acadians who came from the Îles de la Madeleine, Les Galets are vestiges of the flourishing past of this Côte-Nord village of 300 residents where time now seems to stand still. At the time they were built, fishermen were setting off aboard schooners, trawlers and barges to fish mainly for cod, which they followed all fall. In its heyday, the cod fishery was the mainstay of the local economy. In addition to cod (before the fishery collapsed in the 1980s), local fishermen caught the more lucrative Atlantic salmon as well as herring and even seal in the spring. In the winter, their main activity was hunting.
A teacher turned storyteller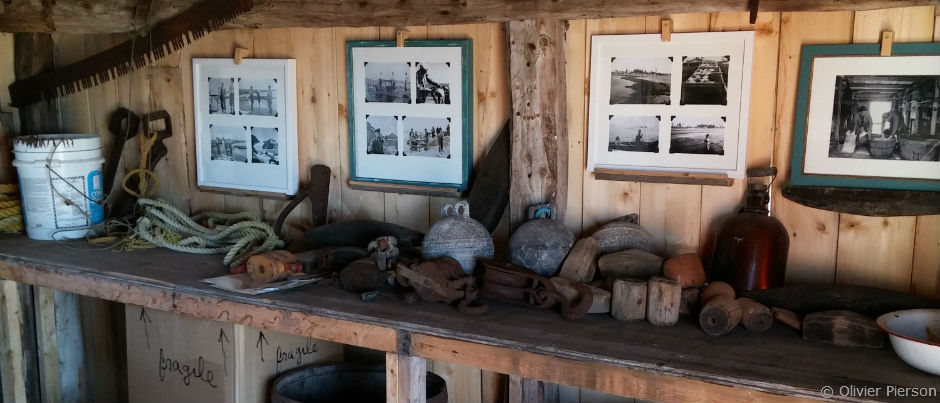 To find out more about the history of these buildings and through them that of the village, you can listen to the stories of Jacques Tanguay. For some 20 years, this retired teacher, who lived for a long time in Sept-Îles before returning to his native Natashquan, has morphed into a storyteller to entertain tourists or perform at special events. A keeper of local history, Tanguay is Bernard Landry's second cousin and keeps an eye on his Galet, which has been turned into a small museum housing local artefacts and archival photos. "This building had a different purpose from the others because it used to belong to the general storekeeper," says Tanguay. "Because of its isolated location, it even served as a storehouse for dynamite at one point," he adds with a smile on his lips.
Another building, smaller than the others and located across from Bernard Landry's Galet, draws the eye. "It was an ice house where they kept snow to store salmon," explains Tanguay. At the time, most fishermen would have had one, but this is the only one left. Like most of the locals, Jacques Tanguay has many childhood memories that feature this rocky outcrop of 100 square metres, including that of a huge 200- to 300-pound halibut, which dragged on the ground when held up by its tail. He also recalls many gatherings on this site, which becomes an island at high tide. "When the weather wasn't good enough for fishing, the fishermen would make the most of it by repairing their gear, changing the brine on the fish or simply having a drink while telling stories..." Life went on, in other words.
A place of contemplation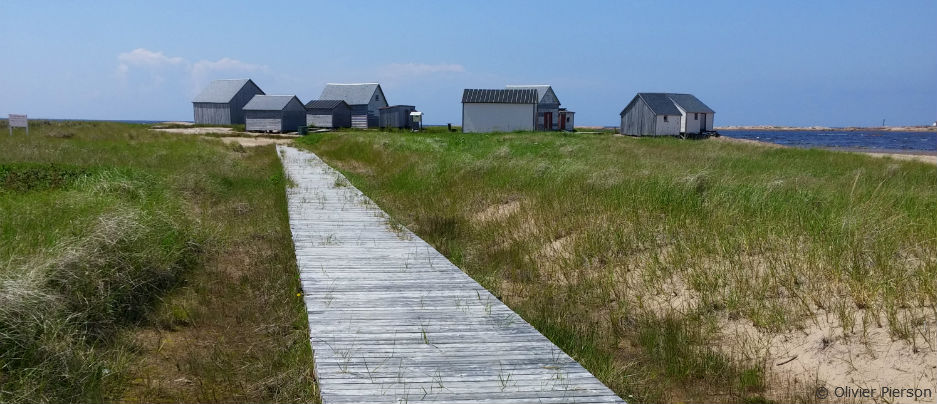 For a moment, you can feel the presence of the ghosts of Natashquan on this rocky island, as Gilles Vigneault called it in one of his poems (which prefaces the booklet co-written by Bernard Landry). An island that witnessed many of the joys and sorrows, labours and loves of the people of this village. In a picture-perfect landscape where the houses are linked by wooden sidewalks, Les Galets have lost none of their charm. They draw the eye no matter what colour the sky is and are impervious to the squalls that sometimes blow through this small corner of paradise. Standing between sea and sky, they are a perfect place to contemplate nature, as the wind stirs your imagination...
*The booklet entitled Le site patrimonial des Galets de Natashquan : son histoire, ses fonctions, ses caractéristiques is available in French only at the Copacte Natashquan tourism office.
If you liked this article, you might also like...