The

Québec maritime Blog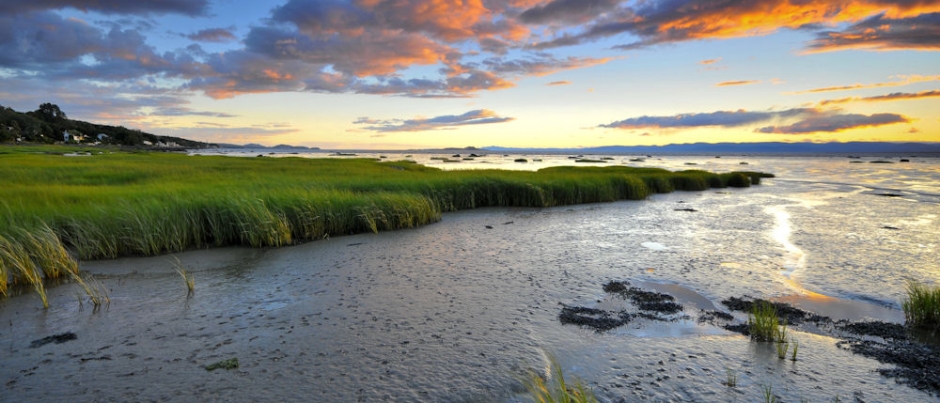 St. Lawrence Road Trips
Depending on your tastes and preferences, there are many ways to explore the regions of Québec maritime. When I participate in events or am active on social networks, I'm often asked about the best scenic routes in our regions. This is a bit like asking a mother to choose her favourite child! However, for the sake of this post, I will introduce you to some of my favourites, the St. Lawrence Road Trips.
Why choose these scenic drives?
The St. Lawrence is without a doubt the main attraction of the maritime regions of Québec. This majestic waterway flowing through the heart of Québec is the origin of many of the rich natural and architectural features of our regions. It is no coincidence that the main roads of Eastern Québec follow this waterway, offering us some of the most beautiful panoramas in the province.
So what's the draw of the St. Lawrence Road Trips? They combine travel by sea and by land, which not only gives you the opportunity to visit several regions but also provides you with front-row seats to admire all the beauty of the St. Lawrence and observe the rich flora and fauna to be found here.
Escapade scenic drive
South shore: La Pocatière to Rivière-du-Loup
Whatever scenic drive you choose, be sure to explore the Navigators' Route (Route 132), starting in La Pocatière. As you drive alongside the river, this route will take you through the charming villages of the Bas-Saint-Laurent region. Take the time to browse art galleries, artists' studios, bakeries and museums, or explore the surrounding countryside and encounter local wildlife. Read my blog post about the Navigators' Route for more suggestions.
Rivière-du-Loup – Saint-Siméon ferry
Boarding the Rivière-du-Loup – Saint-Siméon ferry is on a first-come, first-serve basis, so be sure to arrive early. During the crossing, you can admire the islands of the St. Lawrenceand if you're lucky, you may even spot seals!
North shore: Tadoussac
For sure Tadoussac is all about whale watching, but there are also lots of other things to do in this historic town. It's easy to get around the village on foot and as you browse you're bound to find souvenirs to take home as gifts.
Getaway scenic drive
South shore: La Pocatière to Trois-Pistoles
After driving from La Pocatière to Rivière-du-Loup, you'll travel through the village of Cacouna, with its heritage homes, as well as L'Isle-Verte, which is an important bird-watching site. Trois-Pistoles, where you will board the ferry, boasts a rich Basque heritage, which is showcased throughout the village. Before your crossing, take the time to discover the history of this area.
Trois-Pistoles – Les Escoumins ferry
I recommend you book your crossing to Les Escoumins in advance, since the L'Héritage I ferry has a limited capacity for vehicles. Dress warmly enough to stay outside during the crossing and keep your eyes peeled for breaching whales!
North shore: Les Escoumins to Tadoussac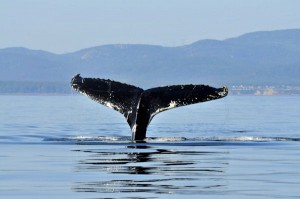 Tail of a humpback whale © Marc Loiselle
The region of Côte-Nord – Manicouagan is home to many sites where local fauna can be observed. From majestic black bears to farm animals, you'll have plenty to choose from. Still, marine mammals are definitely the stars of this region. Several interpretation centres reveal the mysteries of the St. Lawrence and the species that inhabit it, while giving you access to spectacular land-based observation sites.
Discovery scenic drive
South shore: La Pocatière to Rimouski
Once you've visited the sectors presented above, plan a stop in Parc national du Bic. In addition to participating in outdoor activities, be sure to go for a short walk in the middle of this park where you'll find a charming tea shop that offers a stunning view of the St. Lawrence.
Downtown Rimouski bustles with activity year-round. There's lots to do before you board the ferry: excursion to Barnabé Island or the Canyon des Portes de l'Enfer, browsing the boutiques on Rue Saint-Germain, tour of the Pointe-au-Père Maritime Historic Site and more!
Rimouski – Forestville ferry
The CNM Évolution catamaran is Québec's fastest ferry. It crosses the St. Lawrence at 55 km/h (30 knots), reaching the other shore in about an hour. It is highly recommended to book your crossing in advance, especially during the summer. You wouldn't want to miss the boat (not available in 2023)!
North shore: Forestville to Tadoussac
Before arriving in Les Escoumins and Tadoussac, you will pass through the lesser-known villages of Forestville, Portneur-sur-Mer and Longue-Rive, all of which are worth a visit. Hiking, beaches, sand banks, salt marshes (ideal for bird watching), fish markets and small restaurants await you here.
Explorer scenic drive
South shore: La Pocatière to Matane
After taking you through Bas-Saint-Laurent, this scenic drive will briefly introduce you to the region of Gaspésie. On the way to Matane, you will spot a giant Adirondack chair, which marks the entrance to the Reford Gardens, a national historic site that's definitely worth a visit. Once in Matane, you may want to walk along the Promenade des Capitaines boardwark, which runs along the river right downtown, or visit the Matane Salmon Observation Centre.
Matane – Baie-Comeau (or Godbout) ferry
This ferry is popular with both visitors and locals, which makes for a fun ambiance. Because this crossing is so popular, it's a good idea to book ahead—you may do so up to 90 days in advance.
North shore: Baie-Comeau to Tadoussac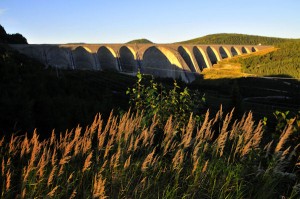 The Manic-5 hydroelectric dam © Marc Loiselle / Tourisme Côte-Nord – Manicouagan
If you're interested in impressive man-made structures, a visit to the Manic-2 and Manic-5 hydroelectric dams is worth the detour. Keep in mind that, including travel time, this adventure will take at least one whole day.
Immerse yourself in nature in Ragueneau, Pointe-aux-Outardes and Pointe-Lebel, where you can enjoy hiking, seaside activities and wildlife observation. This is a great way to experience the many charms of the St. Lawrence before you resume your journey towards Tadoussac.
What about the Islands?
Unless you fly to the Îles de la Madeleine, the only way to get to the archipelago is by sea. The M/V Madeleine ferry runs from Souris (Prince Edward Island) to the Îles de la Madeleine several times a day in high season. Book your crossing as soon as possible because the archipelago is a popular destination. Several dining options are available on board and you can also take advantage of the ship's many amenities. A limited number of cabins is also available.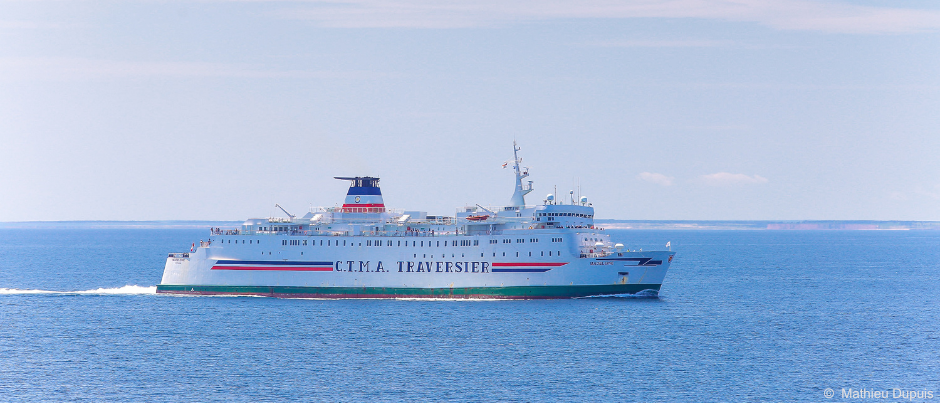 Don't think of ferry crossings as just something to get you from one place to another, but rather enjoy them as travel experiences in their own right. During the crossing, you can admire the surrounding scenery, observe birds and marine life, enjoy a bite to eat, meet fellow travellers and relax before you set off to explore another of our maritime regions. Why not plan your St. Lawrence road trip today?
If you liked this article, you might also like...