The

Québec maritime Blog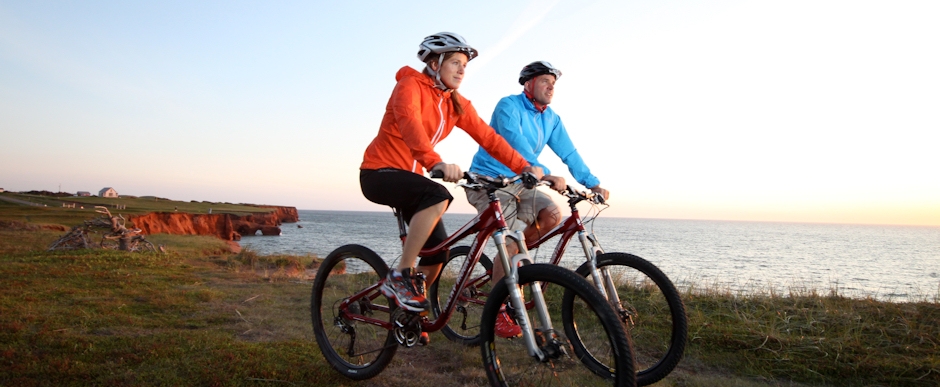 Cycling on the Îles de la Madeleine
Eric Marchand
My Cycling Trip on the Îles de la Madeleine
From mid-June to late September, a CTMA cruise can take you to the Îles de la Madeleine from Montréal every week. Since I was going to cycle around the Islands, boarding the ship with my bicycle was easy and affordable. Another option is to take the CTMA ferry from Souris, Prince Edward Island, a five-hour journey.
Sunday – Day 1 – Arrival on the Islands
I arrived at the Cap-aux-Meules harbour at 11 a.m. on a lovely Sunday with clear blue skies. I was finally on the Islands, which had almost become mythical in my mind since I'd spent so much time dreaming about them. I inquired about how to get to the campground I was staying at for the next week and then hopped on my bike and pedalled towards Parc de Gros-Cap. Most of the 6-km (4-mi.) journey from the harbour to the campground is along the Sentier du Littoral, a coastal trail reserved for cyclists, pedestrians and in-line skaters. This was a perfect introduction to the archipelago's scenery, since the trail runs alongside magnificent white-sand beaches and red cliffs. I'm sure I don't have to tell you that I was grinning from ear to ear as I went along! I met up with some kitesurfing friends at the Parc de Gros-Cap campground, which is the most popular campground on the Islands and offers several types of lodging. I recommend reserving in advance. I had opted to tent and was given what I thought was the best campsite of all, located at the tip of the cape, near a cluster of stunted trees that provided some protection against the Islands' famous wind—I can assure you it lives up to its reputation! My trip had gotten off to a great start!
However, since there was no wind that day, kitesurfing was out of the question, so we opted for sunbathing instead. My friends and I finally decided to spend the afternoon on the Dune du Sud Beach, a 22-km white-sand beach on Havre aux Maisons Island. Looking around me, I had a hard time believing I was still in the province of Québec!
After several hours of dipping our toes in the water and dozing on the beach, we headed to Bistro du Capitaine for a pre-dinner drink. This friendly restaurant offers a splendid view of the fishing harbour. I got to taste summertime in a glass: strawberry and raspberry wine made by Le Barbocheux. We then had dinner at Pizza d'la Pointe, a charming restaurant that offers a wide selection of delicious homemade pizzas. Not to be missed!
By now I'm sure you've figured out that I love food! And what better way to end the day than sitting around a campfire, with the sound of lapping waves in the background?
Monday – Day 2 – Cap aux Meules to Gros-Cap – 50 km (30 mi.)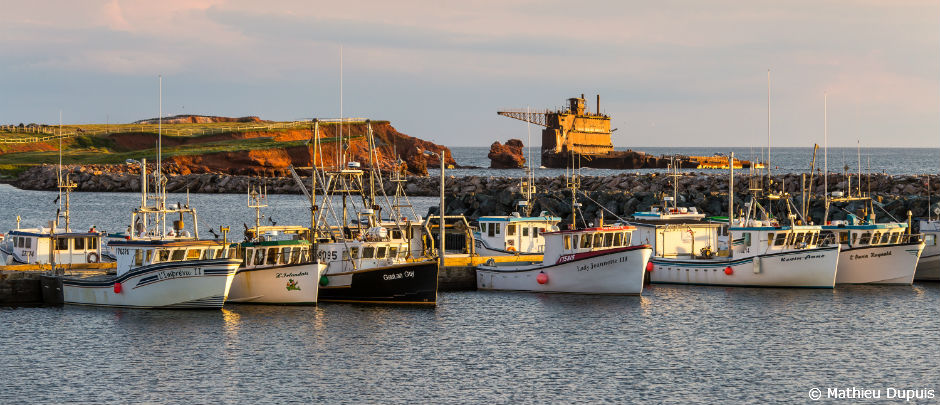 It was time to explore Cap aux Meules Island! I used the map in the Îles de la Madeleine Official Tourist Guide to locate scenic roads and opted for a loop ride from L'Étang-du-Nord to the Site de la Côte, Cap Hérissé, Belle-Anse and Fatima. It was an incredible ride, with lots of stops and wow-provoking scenery. I drank it all in, savouring every second. A few must-sees:
Because a day of cycling works up an appetite, we headed to the Pas Perdus restaurant for dinner, where we savoured fried calamari, coconut-curry mussels and a generous plate of linguine carbonara made with Pied-de-Vent, a famous local cheese. Needless to say, we slept like babies after such a feast...
Tuesday – Day 3 – Cap aux Meules to Grosse Île – 60 km (35 mi.)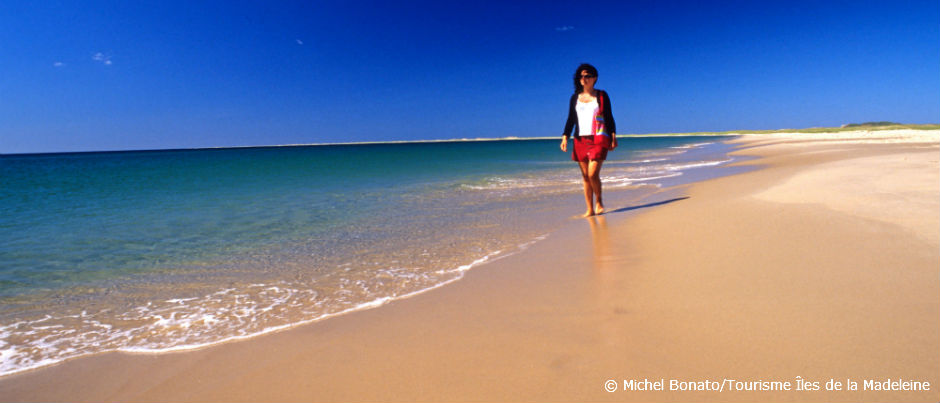 A friend suggested a ride that would allow me to take advantage of the island wind. On the agenda: a visit to Grosse Île, which is located at the northeastern tip of the archipelago. With flat terrain, the wind at my back and the sun shining, I couldn't have asked for better cycling conditions! I stopped for lunch on Pointe aux Loup Island, where kitesurfers congregate. Although this sport is fairly popular in Gaspé Bay, near my home, I was impressed to see so many kites dancing in the sky at the same time.
Travel mishaps are bound to happen—I was only about halfway to my destination that afternoon when I realized I had a flat tire. This slowed me down enough that I wasn't able to make it to the very tip of Grosse Île as I had hoped. Instead, I met my friends at the Grande Echouerie Beach (Old Harry Beach), which was a fine consolation prize since this is one of the archipelago's most beautiful beaches. The sand squeaks when you walk on it, probably because of the quartz in it.
As night fell, a stop at the Dune du Nord Beach made for another magical moment on my trip. On our way there, immense sand dunes surrounded us, which was an incredibly exotic experience. As soon as we dipped our toes into the water, we realized how warm it was. The sun had just set; the sky was streaked with orange and violet; the sea, black; the waves, white-capped and impressive. We threw ourselves into the water—this was my first real swim on the Islands—and shrieked and played like children. This impromptu dip reinvigorated us enough for us to make a detour to the À l'Abri de la Tempête microbrewery, where I fell in love with La Belle Saison, a blonde beer with citrus and floral notes made with local wild herbs—it tastes like a mouthful of sunshine! The brewery is well worth a visit. In addition to offering lots of charm and a warm ambiance, one section is reserved to explaining how craft beers are made. On the second floor, a huge patio provides a fantastic view of the surrounding area, which is both stark and stunning.
Wednesday – Day 4 – Cap aux Meules to Havre aux Maisons – 40 km (25 mi.)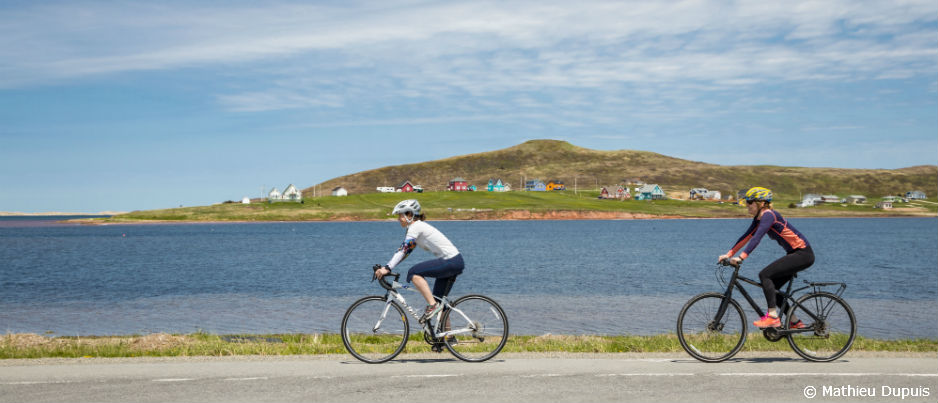 Each of the islands that make up the archipelago has its own distinctive features. Havre aux Maisons is characterized by valleys and rolling hills—and is also my favourite. The scenic road took me to the Fromagerie du Pied-de-Vent cheese factory and the Fumoir d'Antan smokehouse. Both are members of the Économusée network and are really worth a visit. If you're a foodie like me, you'll especially love the experience. Having purchased a hunk of bread, smoked scallops and cheese curds, I hopped back on my bike to resume my journey.
My second stop of the day was back at the Dune du Sud Beach, this time to explore the "Petites Sheg," blazing red cliffs and caves that are easy to observe at low tide. On my way back, I rode into the wind and cycled via the Butte à Mounette hill to take in the vast and impressive view.
Thursday – Day 5 –Havre Aubert – 30 km (20 mi.)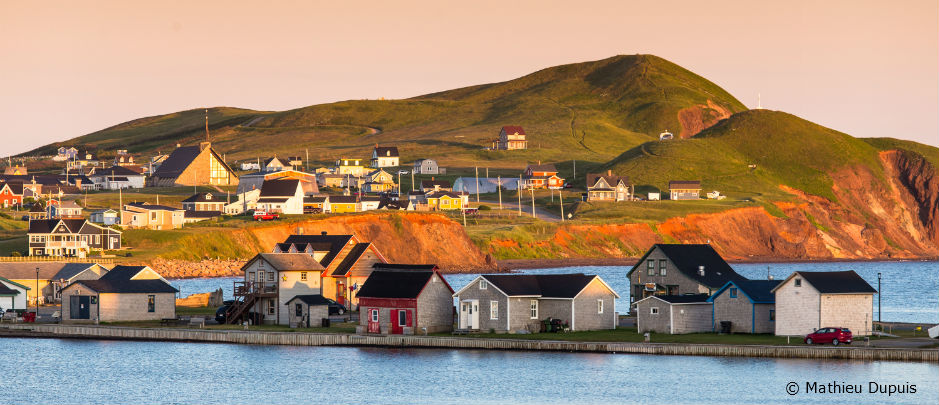 Since it was raining when we got up, we opted to go shopping. We headed to Havre Aubert Island with the bike on the car—hoping that the weather would eventually clear up. Browsing the La Grave heritage site was a trip back in time—the architecture of the charming shops along the main road, which are full of great finds, is reminiscent of that of the Maritimes. If you're creative, be sure to visit the Limaçon studio-boutique, where you can make your own pendant using stones from the Islands. The 3-hour workshop is accessible and affordable, and you can take home a unique souvenir to keep or give as a gift.
The sun finally showed up in the afternoon, so I got the chance to explore the rest of Havre Aubert Island on my bike. This appears to be the greenest and most forested island and is dotted with small ponds. On my way back, I met up with my friends at the Café de la Grave, a former general store that's been transformed into a family-run coffee shop. The place was jam-packed and had a festive, family-friendly atmosphere: everyone was chatting and laughing. On summer evenings, local musicians put on a show for the patrons. That night, the duo Les Mémères played familiar tunes. I really had the impression I was experiencing a typical night on the Islands!
Friday – Day 6 – Windstorm and goodbyes
On my last day on the Islands, the archipelago was hit by a windstorm, so cycling was not an option. Since we were leaving early the next morning to take the ferry to Souris, Prince Edward Island, I took advantage of the time I had left to go for a stroll and say a proper goodbye to the Islands. I first visited the L'Étal shop, which sells products labelled Le Bon Goût Frais des Îles de la Madeleine (which means they are locally made with local ingredients). I bought a few items to take home with me.
I then said goodbye to the archipelago from the top of Cap-aux-Meules, where, with my mind full and a light heart, I felt I could breathe more easily. The Islands had transported me and engaged all my senses through the smell of the sea and the fields, the constant sound of the wind and waves, the sun and sea air on my skin, my feet in warm sand, the flavours of local dishes, the accents, the colourful houses... Everything added to the magic of my visit!
I sincerely hope that everyone has the opportunity, at least once in their lifetime, to visit this jewel in the Gulf of St. Lawrence, this Québec treasure. Visit the Îles de la Madeleine section to start planning your trip today!
If you liked this article, you might also like...