The

Québec maritime Blog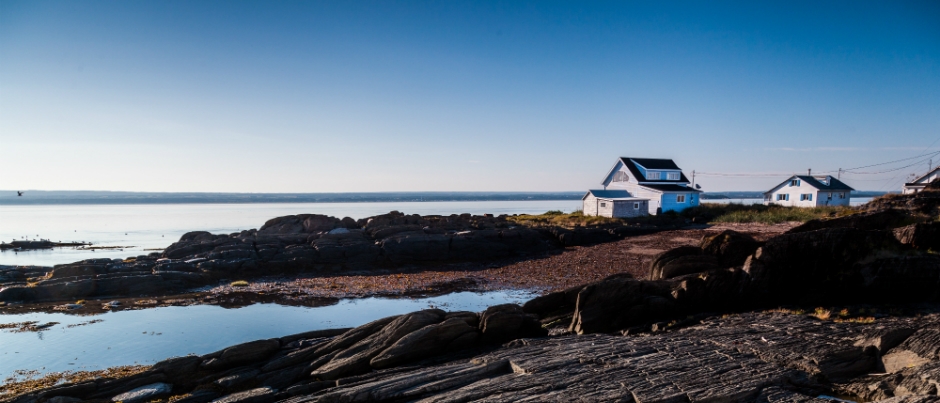 Discover the sandy coves and multi-coloured rocks of Île Verte
Nicolas Gagnon / Tourisme Bas-Saint-Laurent
Tranquility and Natural Splendour on Île Verte
... in the distance
through the salt mist
the lighthouses
bright-eyed jewels
briefly speak
flare
fade
the River is in the words
the silence glows
– Yves Préfontaine*
For the last week I've been letting my trip settle: 3700 kilometres (2300 miles) of road and salty St. Lawrence sea air, which left me happy and tired in the best possible way—the first part of our #RoadTripQM. A week of sorting through the notes I scrawled in notebooks and on scraps of paper or hastily typed into my phone. I found so little time to write during our trip and there were so many moments of beauty and wonderful encounters with people that are now jumbled up in my mind. So much richness and splendour offered by the maritime regions of Québec that I don't know where to start... Maybe with my all-time favourite, which was in some ways beyond my wildest dreams...?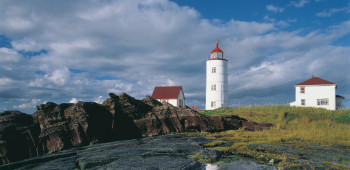 Île Verte Lighthouse© Claude Bouchard
I'd been dreaming for a long time of spending the night in a lighthouse. A childhood dream, from another era... A dream of those lighthouses that have been the eyes of the St. Lawrence for decades and have so often prevented ships from crashing into reefs... Lighthouses and lightkeepers that were isolated and sometimes provided shelter to shipwreck survivors...
And then there I was, visiting the oldest lighthouse on the St. Lawrence, built between 1806 and 1809, which stood before me in the midst of wild roses...!
The air smelled so good. And everything was so beautiful.
I discovered the lighthouse, but also, especially, its island home. Île Verte (Green Island) is an island beyond time. An island where the artist in me felt at home and where I could easily find inspiration and tranquility. I'd been suffering from insomnia for months... and finally deep sleep found me that first night, tucked into my bed, as the lighthouse beam swept over the St. Lawrence River.
I had fallen in love with the Îles de la Madeleine... So much so that I was reduced to tears the first time I left the archipelago. But Île Verte, which is so named because of the green sea grasses found on its shores, soon held a special place in my heart. Not so long ago, I'd never even heard of this island; now just knowing it exists is somehow reassuring.
A place where wild beauty is protected by the tides… And where their constant ebb and flow provides reassurance and encourages reflection...
For relationships too must be like islands. One must accept them for what they are here and now, within their limits—islands, surrounded and interrupted by the sea, continually visited and abandoned by the tides. One must accept the security of the wingèd life, of ebb and flow, of intermittency.†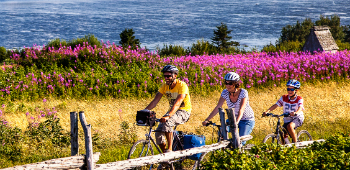 To fully experience Île Verte, bring your bike with you© Nicolas Gagnon / Tourisme Bas-Saint-Laurent
Île Verte smells of fresh and saltwater, of wild roses and irises, which bloom in profusion everywhere. The rocks, which turn pink and orange with the setting sun, inspire relaxation, reflection, long walks and writing... The main road runs along the southern side of the island for 13 kilometres (8 miles) from one end to the other. On the northern side, there are 9 kilometres (6 miles) of wild and uninhabited shoreline between the lighthouse and the western point where seals and whales are regularly sighted. And only about 2 kilometres (1 mile) separate the two shores.
I felt such a surge of joy being there.
An elegant red and white tower dominates the northern tip of the island: its silhouette stands out against the horizon. Every few minutes, the landscape changes as the light shifts, reflecting the changing moods of Mother Nature...
Île Verte is the only island in Bas-Saint-Laurent with permanent residents: 28 people live there year-round while another 100 or so come for the summer. Because of the tides and the infrequent ferry, it's impossible to live on the island and commute to work on the mainland or vice-versa. Several families have left Île Verte for this reason. Others persist, despite the lack of a school, gas station or convenience store.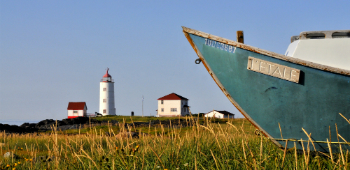 The authenticity and peaceful surroundings of Île Verte will captivate you© Marc Loiselle
Whenever you discover this type of natural treasure, you always face the same dilemma: it's tempting to say nothing about it, so it remains untouched by tourism. But tourists, cyclists, photographers and others all contribute to the preservation, subsistence economy and vitality of Île Verte. They are the ones who stop in chez Collette to admire her old smokehouses and purchase her smoked scallops and salmon. Who keep the Entre Deux Marées motel and restaurant open in the summer. Who contribute to the bustling atmosphere in Café d'Alphé and fill the many rooms available in homes turned into guest houses for the summer season. And who bring to life the lighthouse for the duration of a guided tour, a sunset or a breakfast...
When we left, the charming Blandine, who keeps the lighthouse inn with her partner, Jocelyn, hugged my daughter, Roukie, and asked: "Do you promise to come back to the island to eat Blandine's crepes again?"
"Yes," agreed Roukie, holding a pail of sand in one hand and a piece of driftwood she'd found along the shoreline in the other. (We took the driftwood home to give our little house a taste of the sea...)
Early that morning, taking advantage of a rare moment of solitude, I had gone for a walk along the shore, coffee in hand. I'd imagined my daughter playing in the sand and along the rocks near the waterline as I read or wrote nearby under the watchful eye of the lighthouse. I was feeling contemplative and happy to have found this place out of time only a few hours from Montréal, where tranquility and nourishing solitude abound.
Truer words were never spoken, dear Roukie…
And once again, we'll fly kites in the wind…
Practical information
To sleep in the lightkeeper's house at the Île Verte Lighthouse, contact Blandine. Rooms are $120/night, based on double occupancy, breakfast included. If you want, a shuttle can pick up your bags at the ferry.
Don't forget to buy groceries before heading to the island if you're planning to stay for a few days. Other than the fish market, there are no grocery stores on Île Verte. You can use the kitchen in the lightkeeper's house in the afternoons and evenings.
Be sure to check the ferry schedule, which is dependent on the tides. There are 2 or 3 crossings a day, sometimes quite close together and sometimes farther apart.
To fully experience Île Verte, I recommend you explore it slowly over several days. Bring your bike with you!
---
*Translated by the Office of the Governor General of Canada (except for the last line)
†This quote from Anne Morrow Lindbergh's beautiful book, Gift from the Sea, has been following me for years—I've must have read it hundreds of times.
Loose translation of "Quiétude, splendeurs et tonalités colorées de l'Île Verte" by Marie-Ève Blanchard
If you liked this article, you might also like...