The

Québec maritime Blog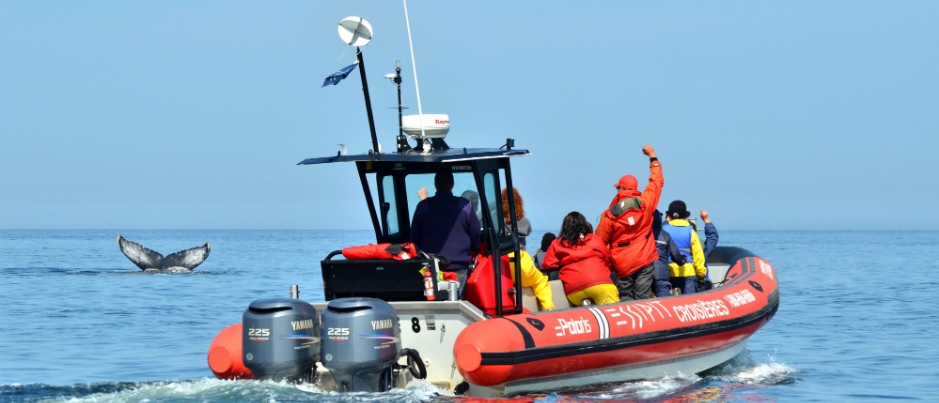 Each Essipit cruise is a personalized adventure aboard a 12-passenger zodiac
Croisières Essipit
Vacationing in Côte-Nord: Whale Watching by Zodiac with Croisières Essipit
The sun was beaming when I arrived at the site of Croisières Essipit in Côte-Nord. As I pulled into the parking lot, I saw people getting ready for our adventure by putting on warm pants, heavy sweaters and even windbreakers, just in case.
After I handed over my ticket, I was invited into the waiting area where I waited for about 30 minutes before departure. Excursion companies generally ask you to arrive at least 30 to 45 minutes in advance to give you time to put on the survival suit that will protect you during the excursion. My group dissolved into fits of laughter while suiting up!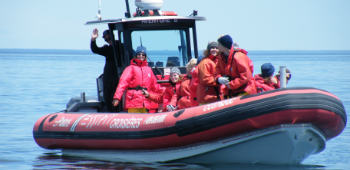 Zodiac excursions are so low in the water you can really get close to the whales!©Croisières Essipit
I was part of one of two small groups of about 10 people each who left the wharf in two Zodiacs. Ours, the Aventure 6, was piloted by Julie, our captain. After listening to her explain the safety instructions, we were off on an adventure in the Saguenay–St. Lawrence Marine Park. Right away, I appreciated the fact that Croisières Essipit operates small Zodiacs. Accommodating up to 12 passengers each, their vessels give everyone a good view. And our captain made sure she oriented the boat in such a way that everyone benefitted fully from the experience, wherever they were sitting.
The Excursion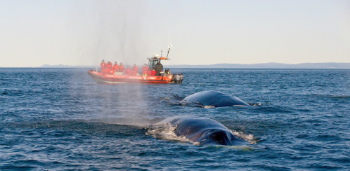 In the interests of respecting these noble animals, Essipit offers zodiac tours to tourists from all over the world©Croisières Essipit
Once in the water, we headed east first and travelled for several kilometres towards the south shore of the St. Lawrence. Already, we could see boats that seemed to be stopped in the water. As we got closer, we realized why: their passengers were calmly observing Blizzard, "the Marilyn Monroe of the St. Lawrence," as Julie put it. Blizzard is a humpback whale who has been visiting the St. Lawrence Estuary since 2009. We spent several minutes observing her and snapping lots of photos. Personally, I like taking a few photos, but at some point I'd rather stop and take full advantage of the opportunity to admire these magnificent animals.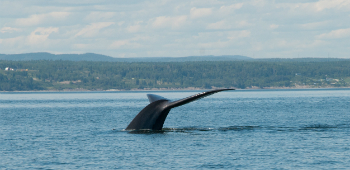 Experienced captains share their knowledge of whales and Innu beliefs©Croisières Essipit
We then began to retrace our steps. As we were about to join another group that seemed to be observing another whale, Julie spotted a blow in the distance and decided to head towards it instead. We were happily surprised to see the back of a fin whale, the second largest marine mammal found in the St. Lawrence. Unlike humpbacks, fin whales don't extend their tails out of the water when they dive. Soon after, the whale the other boat had been observing headed our way and we weren't sure where to keep our eyes as they both leapt out of the water at the same time! The second whale was Gaspar, another humpback. At one point, she dove close enough to the boat to startle us all. What a magnificent creature! It was such a magical experience to see these animals swim with such grace.
Obviously, all good things must come to end, so we eventually had to return to dry land. Along the way, we encountered two scouting belugas. As Julie explained to us, belugas generally live in pods, so these two were probably looking for food. When they found it, they would lead their pod back to enjoy a feast.
Back on land, we all beamed with happiness. Inside, the Croisières Essipit staff welcomed us warmly and directed us to the spot where we were to remove our survival suits (which provoked more peals of laughter). Heading back to my car, I realized how lucky we are to be able to enjoy such an exceptional experience, here, in Québec.
If you liked this article, you might also like...