The

Québec maritime Blog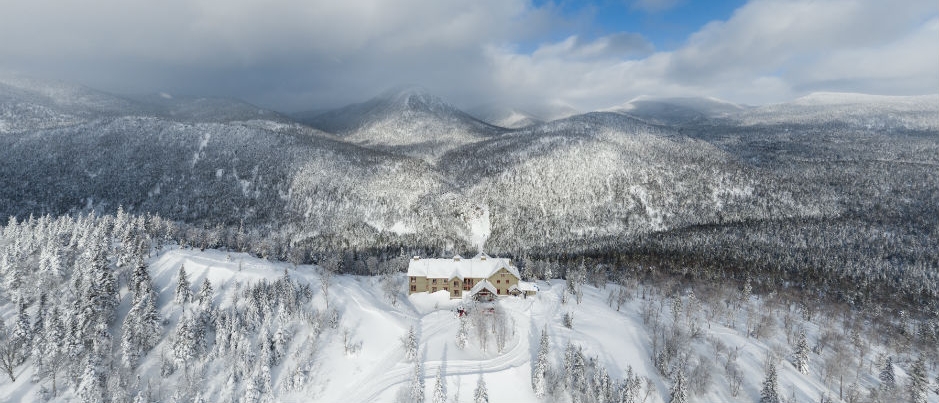 Auberge de montagne des Chic-Chocs
Jeff Bartlett
A Backcountry Skier's Perspective of the Auberge de Montagne des Chic-Chocs
My timing seemed magical. Just as I was boarding my flights across Canada, from Alberta to Québec, a massive storm was dropping nearly 100 cm (40 in.) of snow along the Gaspé Peninsula. While epic winter storms might discourage some travellers, it's exactly what I wanted. I'm an adventure photographer and I was travelling to Gaspésie to discover its backcountry skiing for the first time.
Over the next few days, I was surprised to learn the Auberge de montagne des Chic-Chocs isn't just Québec's premier backcountry ski lodge, but it's also one of Canada's best.
That last statement – that the Auberge is one of Canada's best backcountry ski lodges – isn't hyperbole. As soon as I arrived at the lodge, two things stood out: the backcountry skiing looked spectacular and the lodge was incredibly luxurious for an off-grid experience.
After three nights at the lodge, I also learned that it was the experience that truly makes the Auberge de montagne des Chic-Chocs a first-class destination.
Backcountry skiing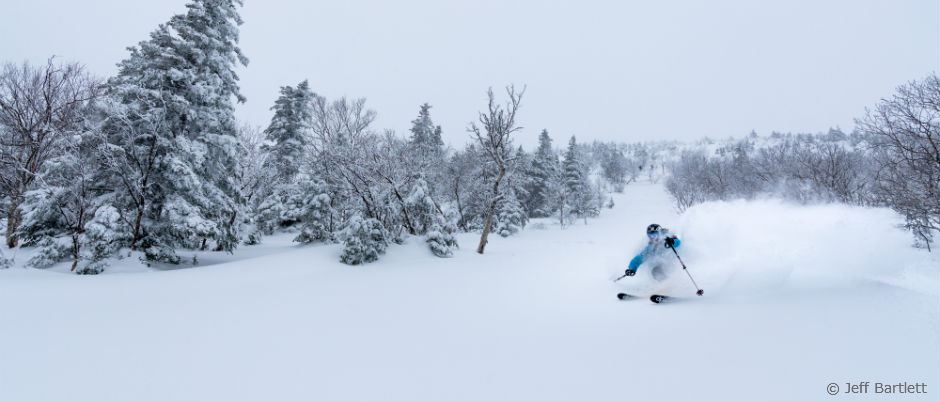 Simply put, the skiing was exceptional. We had powder snow conditions and, thanks to the guide team at the Auberge, we skied challenging terrain.
We spent our first afternoon skiing runs that began right at the lodge door, descending towards the 70-metre (230-foot) Chute Hélène waterfall. The following day, our ski adventure began with a 6- km (4-mi.) snowcat ride from the Auberge to the Refuge du Coyote, at the base of Mt. Frère de Nicol-Albert. The Refuge was our base camp for the day, providing a warm shelter to store extra gear, warm up and enjoy our lunch. The skin track started just outside, and each run totalled about 350 metres (1150 feet). Over six hours we skied multiple laps. Some guests skied just two, while others skied seven.
The following day, we planned a longer tour to Mt. Coleman. At 950 metres (3120 feet), it's one of the tallest mountains in the area. Ultimately, we never reached its summit, but we did ski multiple laps on its southeast shoulder. The runs were steep and open. By the time we returned to the lodge, we had four different ski descents, while ascending more than 1000 metres (3280 feet) over 10 km (6 mi.).
To put the skiing into perspective, I'll compare it to what I'm used to in Western Canada. The Chic-Chocs and the Canadian Rockies receive equal annual snowfall, averaging approximately 700 cm (275 in.) during the winter.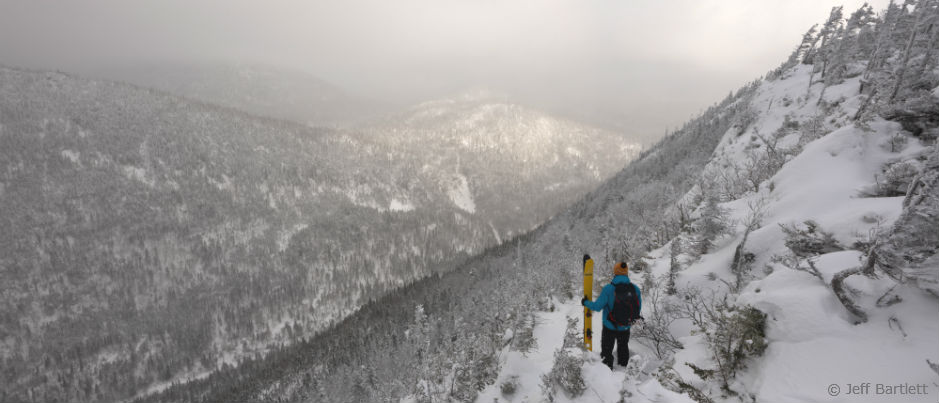 The landscape is different, yet the skiing proved quite similar. In high-hazard avalanche conditions, it's common practice to ski trees, because it's typically safer terrain. In Banff National Park, the tree runs are natural, and trees are spaced close together. It can be difficult to navigate. On Mt. Frère de Nicol-Albert, the Auberge guides spend their summers carefully glading five individual runs. The result is wide open tree skiing that lets advanced skiers truly ski with speed and confidence.
Surprise Pass, an iconic ski traverse near Lake Louise, Alberta, is surprisingly like our day on Mt. Coleman. The 16-km (10-mi.) trip includes 1000 metres (3280 feet) ascending and two ski descents. On Mt. Coleman, we climbed and skied more, but covered less distance.
The lodge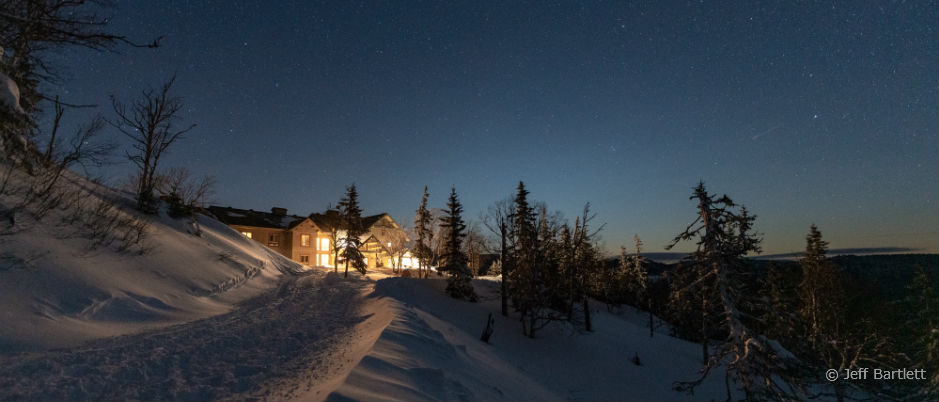 As an experience backcountry skier, I'll admit I was blown away. I had no idea this quality of snow and terrain existed in the East. At the end of each day, we returned to the lodge to relax, recover and relive the day's events.
It's easy to list Auberge de montagne des Chic-Chocs' amenities and services. It has private guest rooms, a living room with picture windows that look out towards Mt. Coleman, a self-serve bar (honour system) and a beautiful dining room, where an excellent chef team serve gourmet meals. After dinner, the guides list out three potential activities for the following day, typically ranging from long backcountry ski objectives to half-day snowshoe adventures. There's always something to suit all abilities and energy levels. To help relieve sore muscles, there are daily stretching sessions, an in-house massage therapist and an outdoor hot tub. The only reminder that this luxury backcountry getaway is in a stunning, remote mountain landscape is the welcome omission of both Wi-Fi or cell service.
But all those comfortable amenities aside, it's the experience that makes your stay at the Auberge so special. It begins with après-ski drinks and continues into the dining room, where meals are shared family-style, at four long dining room tables, rather than served at individual tables.
The experience
I shared each meal with different people. Over dinner, I learned about the Chic-Chocs from experienced skiers that live just a few hours away. They're passionate about the region and name their favourite runs. They've skied out west, too, but they love their backyard and its backcountry community. Another night, I swapped travel stories with two New Yorkers who had booked their trip based on a Warren Miller video clip, driven 13 hours from New York City and arrived at the Auberge. The day marked their first ever backcountry skiing experience. They might have been exhausted from the effort, but they absolutely loved it. And finally, I sat with the Auberge director, Guy Laroche, to learn about the lodge's history.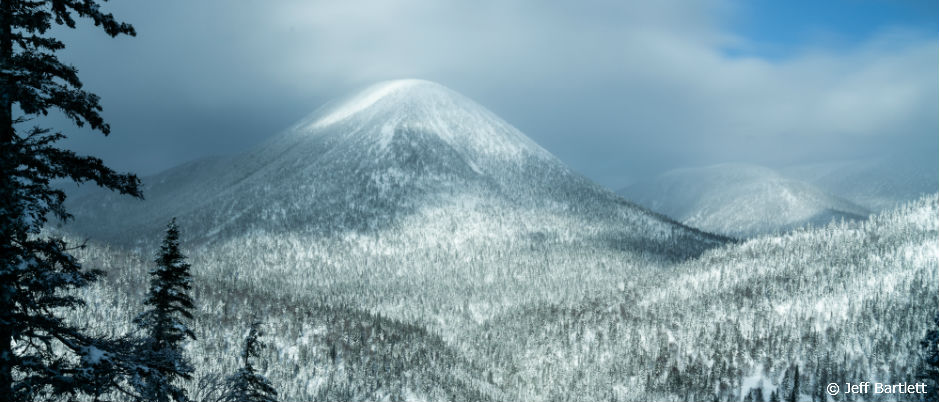 I'm the first to admit that, just like any ski trip, snow conditions were critical. With nearly 100 cm (40 in.) just prior to my arrival, I know conditions couldn't have been better. Coupled with the guide team and their intimate connection to the terrain, we truly maximized our skiing. But whenever I book a ski trip, I expect good skiing. The reason I long to return to the Auberge is the people.
Over four days, the community atmosphere thrived. Whether it was on the uphill skin track while skiing or over an après-ski beer, I shared conversations with nearly every guest at the lodge. We never once reached for our phones or wished we could get online.
We had all disconnected from our lives back home and spent the week exactly where we wanted: deep in the Chic-Choc wilderness.