The

Québec maritime Blog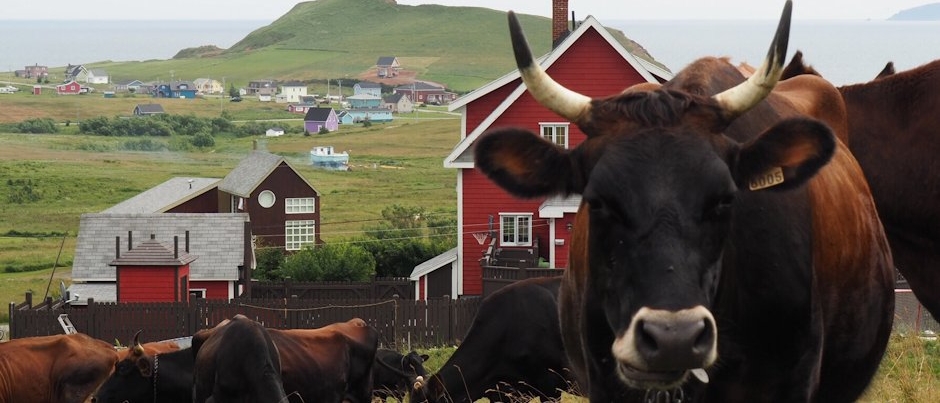 A Field with a View
I already knew that I liked Pied-de-Vent cheese, but Pied-de-Vent gelato? I still had vivid memories of Roquefort ice cream and other bizarre flavours I'd tasted over the course of my travels...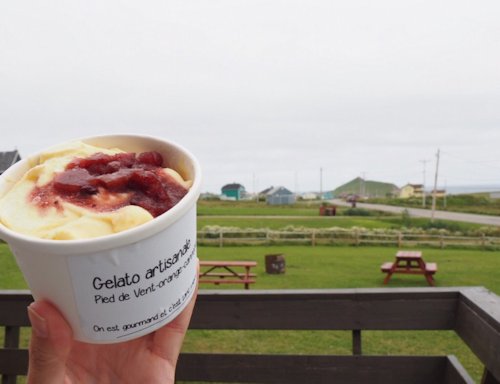 Pied-de-Vent gelato made by Gourmande de Nature© Marie-Julie Gagnon
The first mouthful didn't completely win me over, but by the third I was a convert. Pied-de-Vent gelato, flavoured with orange and made by Gourmande de Nature, is a unique taste experience. I tried to reproduce this perfect moment the following day by trying their other flavour, honey and wild roses, but the honey was too strong for my taste. (Disclaimer: I dislike honey and will only eat it if the flavour is masked by other ingredients.)
I liked Pied-de-Vent long before I visited the Îles de la Madeleine for the first time in 2012—in fact, it's one of my favourite Québécois cheeses. At that time, I was on a whirlwind trip and the boutique had been jam-packed with people.
Three years later, the boutique was still busy, but this time, I made it into the inner sanctum, where the cheese is made and packaged. (Don't you want to be surrounded by all those rounds of cheese too?)
From the barn to the fields
Dominique Arsenault© Marie-Julie Gagnon
Since last summer, Dominique Arsenault from Leo & Fils (the farm that produces the milk used to make Pied-de-Vent cheeses) has been offering guided tours of the farm several mornings a week. "Before, people dropped in at odd times and wanted a tour," he explained. "This sometimes disrupted our work, so we now have set times for visits."
As we entered the barn, we found ourselves in almost complete silence. Not a single moo interrupted our tour. The calves staring at me seemed instead to be wondering why I was there...
When I think of my childhood, it seems to me that we were always greeted by a chorus of mooing anytime we entered a barn. Does the gentle rhythm of the Islands also affect animals? Or are these cows really so accustomed to welcoming visitors? Maybe it's a bit of both.
This is the conversation I imagined they were having:
– Hey, gang! Visitors again!
– Bah! There's no need to wear out your vocal cords.
– Mooing is so passé anyway...
– Exactly! Shall we strike a nonchalant pose instead?
– OK. I'm going back to my sun salutation.
A bit of history
It was an agronomist who changed the vocation of this family farm, which up until then had been mainly raising beef cattle. During a visit to the archipelago, after tasting the local cream, Jonathan Portelance suggested that someone on the Islands should make cheese. This was back in 1997, when the fishing industry was in decline and agriculture was gaining ground. Portelance became a consultant and resource person for the new business. "It took a year for the dream to become a reality," said Dominique—and the rest is history.
Why did they choose Canadienne cows over Holsteins (the black and white cows you see everywhere)? Because while Holsteins are better milk producers, Canadienne cows' milk makes better cheese. To each their own, right?
Cows grazing on a hill© Marie-Julie Gagnon
Back to our tour… After our visit to the barn, we headed out to see the herd, which was grazing on a hill. Thanks to a rainy summer, the grass was lush and green, contrasting with the grey sky. On the horizon, colourful houses added touches of red, blue and purple to the gloomy day.
I kept glancing at the horns on the cows surrounding me. Even though, every now and then, they got a bit too close for comfort, not once did they make any sudden movements. They seemed so zen...
Here, the sea spray hits the fresh grass grazed on by these VIP guests. Despite their double shift (they're milked twice a day), they take advantage of this choice buffet with a view of the sea. If you're going to spend your life being milked, you might as well do it in a five-star location such as this!
Dominique Arsenault seemed completely at home in this landscape. I had no trouble believing him when he said he really loves his daily visits to the fields. In any case, he didn't just say it with words: everything about him was in harmony with his environment.
And when Renée Landry, the director of administrative services, affirmed that she eats Pied-de-Vent cheese every morning for breakfast, I had no trouble believing her either! As she explained how the different cheeses are made, her enthusiasm made us forget that she must have repeated this same story hundreds of times.
As for me, all I have to do is close my eyes while eating Pied-de-Vent cheese to enjoy that picture-perfect scenery all over again. Moooo!
Practical information
The Fromagerie Pied-de-Vent cheese factory became an economuseum in 2010. Tour the facilities to learn more about cheese making and watch the artisans at work. Five different types of cheese are made on site.
Rates for guided tours: $15/adult, $5/child, free for children under 6. Tours are offered in the summer at 10:30 a.m. several mornings a week.
The Pied-de-Vent gelato was made (in 2015) by Gourmande de Nature, a fantastic boutique which also offers culinary classes* (including one that will teach you how to take apart lobster so you don't waste any of the meat). The chef/owner, Johanne Vigneau, also works her magic at the La Table des Roy restaurant, one of my favourites on the Islands. Pied-de-Vent gelato is sold exclusively at the cheese shop. Gelatos are also available at Gourmande de Nature, including one made with chocolate and Grave du Café beer (from the À l'Abri de la Tempête microbrewery) and another made with caramel and peppery green alder.
Loose translation of "Pâturages avec vue" by Marie-Julie Gagnon
*These classes are offered in French only.
If you liked this article, you might also like...