The

Québec maritime Blog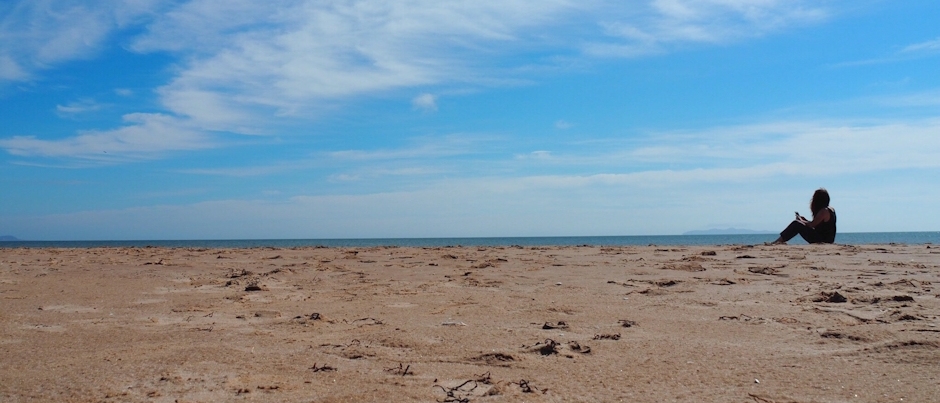 Martinique beach
Marie-Julie Gagnon
The Îles de la Madeleine in a Nutshell
The Îles de la Madeleine are an exotic destination right in the province of Québec: a complete change of pace and scenery less than four hours' away by plane (depending on your departure point and whether you fly there directly). The Islands are a great place to unwind: you will immediately adjust to the Islanders' slower rhythm of life. Here's some information about this destination, for anyone who wants to visit.
The main attractions
When you think of the Îles de la Madeleine, the first things that come to mind are the archipelago's spectacular red cliffs, colourful houses, nearly deserted beaches and of course delicious fish and seafood.
Magnificent sunsets belong on that list as well. I asked Marie-Christine Leblanc, from Tourisme Îles de la Madeleine, to share her three favourite places to photograph beautiful sunsets on the Islands. Take note, if you plan to visit: her recommendations were the L'Étang-du-Nord Lighthouse (lots of people) or wharf (fewer people) [on Cap aux Meules Island], Mounette hill on Havre aux Maison Island, and Corfu beach [also known as Dune de l'Ouest beach], a favourite destination for windsurfers and kitesurfers. Of course, the locals will be happy to share their favourite spots with you as well!
The Islands' windy climate is ideal for kitesurfing and windsurfing enthusiasts, but also for anyone who enjoys flying a kite. The Îles de la Madeleine are also a perfect destination for people who can't stand hot weather because it's rarely really hot in the summer. Despite the wind, cyclists can also enjoy exploring the archipelago.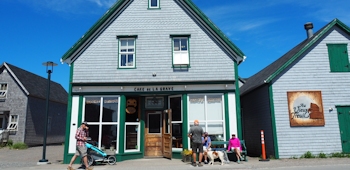 Café de la Grave© Marie-Julie Gagnon
The La Grave heritage site, which is where merchants used to meet fishermen to buy their catch, is the most touristic area in the Islands. The term grave refers to a pebble beach where cod was dried. Visit this site for a taste of local culture, to browse the shops and stop for a bite to eat in a café, and to visit the Atelier Côtier studio, where you can purchase unique souvenirs, including many made with local sand. It's really worth a visit!
You can also go on a boat excursion to see the Islands from another angle. On Rocher-aux-Oiseaux (Bird Rock), which is located 32 km (20 mi.) north of Grosse Île, you can observe cormorants, northern gannets and even Atlantic puffins. On Entry Island, which is still inhabited by a few families of Scottish and Irish descent, you will feel as though you have stepped back in time.
The Islands are also known for their good food and drinks. The À l'Abri de la Tempête microbrewery is definitely worth a visit, as is the Fumoir d'Antan smokehouse, where fish is smoked as it was in the olden days—it's just as interesting to visit as it is to taste their products. Every time I go there, I want to buy one of everything!
New and unusual activities
One place you must visit is the Fromagerie du Pied-de-Vent cheese factory, which is also an economuseum where you can learn all about how their cheese is made. I've been a huge fan of their cheeses and fresh cream for quite some time, but this year I discovered the Pied-de-Vent gelato made by Gourmande de Nature (which is owned by Johanne Vigneau, who is also the owner/chef of the La Table des Roy restaurant)—and what a revelation! Foodies, take note: Gourmande de Nature also offers various culinary workshops [in French only], including one that will teach you how to take apart lobster.
Over the years, tourists have taken to visiting Leo & Fils, the farm that supplies milk to the Pied-de-Vent cheese factory. As of last summer, Dominique, the friendly owner, started scheduling tours several mornings a week. During the tour, he explains why they chose Canadienne cows over Holsteins, the black and white cows you see everywhere. (The answer: because Canadienne cows' milk makes better cheese!) The tour also includes a visit to the fields, which offer a spectacular view of the Islands. Even if you've visited many farms before, this tour is worth is for the view alone and is especially recommended if you are travelling with children! [Read more about my visit to this farm in this blog post.]
Oh and in case you were wondering, pieds de vent [literally, "feet of the wind"] refer to sun rays peeking through the clouds. They are very common on the Islands, particularly in the fall.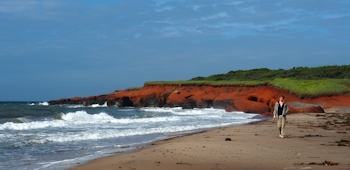 Grande-Entrée© Marie-Julie Gagnon
If you want to be active in nature, Grande Entrée Island is the place to visit. I have a weakness for this area, which is wilder than the rest of the archipelago. If you're looking for a vacation package on this island, La Salicorne offers several (one of which includes airfare with Pascan Aviation, as well as meals and a program of activities). If you want to try out unusual accommodations, La Salicorne now offers bubble tents (there's also a bubble tent package that includes airfare).
Even if you're not spending the night at La Salicorne, you must try their famous lobster nachos, an addition to their menu last year. For $25, you can enjoy a huge plate of nachos with coriander, green onions, bell peppers, lime, cheese and a whole lobster! This is what vacation tastes like!
Whether you stay at this resort or not, you can take advantage of their program of activities. Many excursions are offered, such as exploring caves, surf kayaking (a cross between kayaking and surfing!) and nature hikes with a guide, who will explain various features of the land and sea. (I loved the hikes I went on!)
One thing to keep in mind, however: if you're sensitive to noise, you'll want to pack earplugs because the rooms at La Salicorne are not very soundproof. (The building was originally built as an outdoor centre.)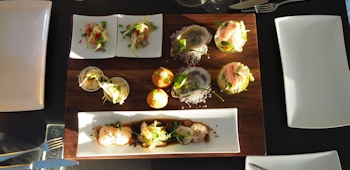 La Table des Roy© Marie-Julie Gagnon
In terms of culinary adventures, two completely different restaurant experiences delighted me: La Table des Roy (my mouth waters just thinking about their lobster and scallop bisque!) and Capitaine Gédéon, where the painter Takanori Serikawa (known as Taka) cooks up Japanese dishes that combine fresh local ingredients with Japanese specialties. At Capitaine Gédéon, you don't have to agonize over the menu: just sit back and enjoy a seven-course meal (bring your own wine), which includes fish and seafood as well as a seal dish with a unique taste. This is an opportunity to try something really different. The restaurant doesn't have a website or Facebook page; it relies on word of mouth only.
La Table des Roy is more classical in its approach, though not lacking in innovation. It's another one of my favourites, especially because local ingredients are really featured on the menu. For both restaurants, you'll need to make reservations well in advance.
A new restaurant that's getting a lot of buzz, but that I didn't have the opportunity to try is Quai 360 in Cap-aux-Meules. I also really like Les Pas Perdus, a restaurant, gallery and show bar. I had a delicious scallop ceviche with grapefruit as well as their irresistible Pied-de-Vent poutine.
The Ferme Les Biquettes en l'Air cheese factory has been making goat's cheese since last year. The best place to buy it, as well as many other local products, is the village market in Cap-aux-Meules, on Saturday mornings.
Practical information
If you're planning to visit the Îles de la Madeleine in high season, be sure to book your stay at least six months in advance, especially if you want to rent a house or cottage. On the other hand, it's sometimes possible to find last-minute deals at La Salicorne. September is still a good time of year to visit and it's much easier to organize a trip at the last minute. The weather is generally nice until the third week in September.
Camping is also an option worth considering. The campground in Parc de Gros-Cap offers spectacular views of the cliffs!
The ferry from Souris is not always full: even in high season, there's usually room if you avoid weekends. You can also take a cruise from Montréal aboard the CTMA Vacancier, which will introduce you to a different side of Québec. (I really loved the experience, even though it's not quite as comfortable as most modern cruise ships.)
Finally, you can also fly to the Islands with Air Canada or Pascan Aviation. Expect to pay somewhere around $800-$900 (round trip) [if you're flying from within the province of Québec].
For more information, visit the Tourismes Îles de la Madeleine website.
Loose translation of "Les Îles de la Madeleine en bref" by Marie-Julie Gagnon
If you liked this article, you might also like...