The

Québec maritime Blog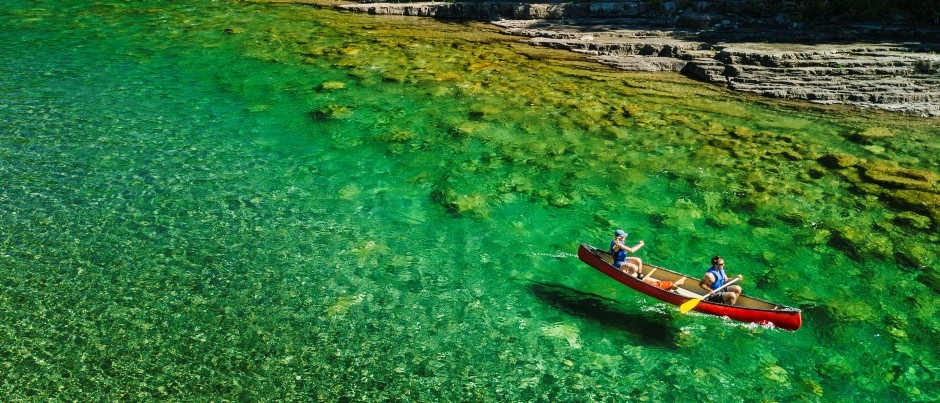 Bonaventure River
Dylan Page / Tourisme Gaspésie
Escapades on the Lakes and Rivers of Eastern Québec
Looking for an escapade in a natural setting? Want to get away from technology and commune with nature? Set off to explore the lakes and rivers in our regions! Bas-Saint-Laurent, Gaspésie and Côte-Nord are dotted with bodies of freshwater where you can enjoy various well-supervised water sports. Discover these magnificent sites that will make you see our destination in a new light!
Lake Témiscouata and the Touladi lakes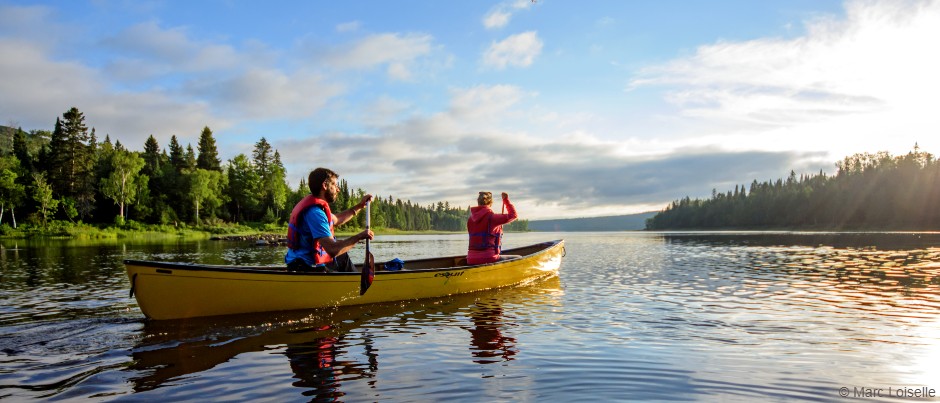 Did you know that Lake Témiscouata is the second largest lake south of the St. Lawrence? Visit the national park named after this lake in Bas-Saint-Laurent to admire this immense body of water, which is nearly 40 km (25 mi.) long! You can explore this lake as well as Petit Lac Touladi and Grand Lac Touladi by kayak or canoe (both available for rent in the park). This is an opportunity to follow in the wake of the Wolastoqiyik, a First Nations people who navigated these waters to get from the St. Lawrence to the Bay of Fundy, in New Brunswick.
Lac des Frères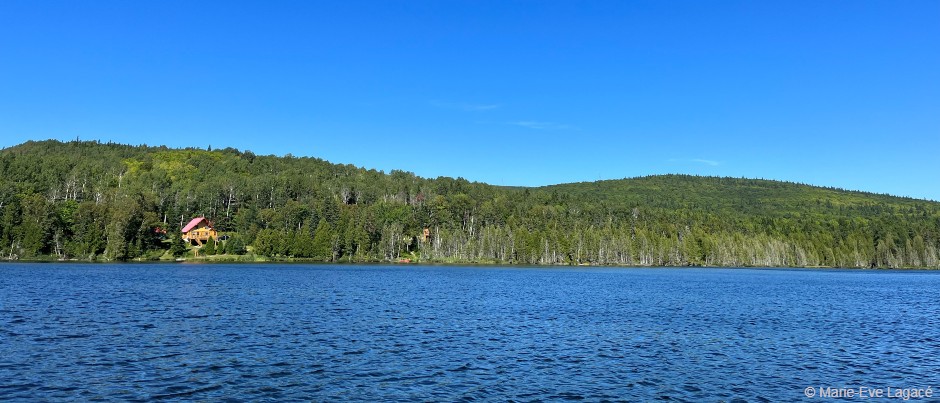 At the heart of an old-growth forest in Saint-Gabriel-de-Rimouski, in Bas-Saint-Laurent, you'll find Lac des Frères, bordered by the cozy log cabins at Domaine Valga. This family-run business invites you to explore this small lake by kayak or stand-up paddleboard (both available for rent on-site). While on the water, you're likely to spot other visitors enjoying the site's aerial adventure park, including the zipline that takes them soaring over the lake!
Rivers in the Matapédia Valley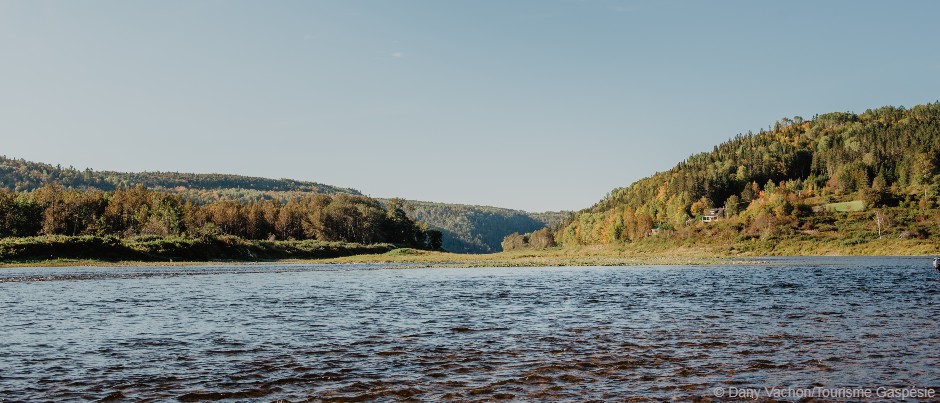 Following the advice of the guides at Nature Aventure or accompanied by one of them, explore one of the seven rivers found in this area of the Matapédia Valley, in Gaspésie (and even in some cases in New Brunswick): the Matapédia, Restigouche, Patapédia, Assemetquagan, Kedgwick, Upsalquitch or Causapscal. There's no shortage of activities to enjoy in this river paradise: you can go canoeing, canoe camping, kayaking, paddleboarding or even snorkelling with Atlantic salmon!
Bonaventure River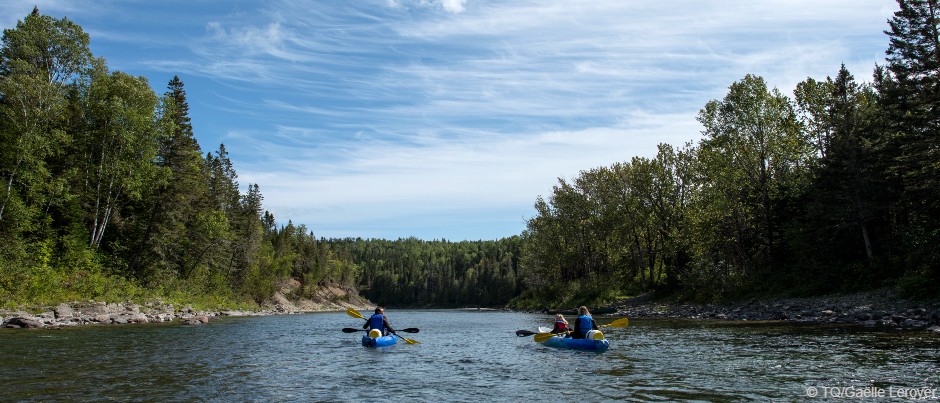 Famous for its crystal-clear waters and abundant salmon, the Bonaventure River in Gaspésie offers something for everyone. As you glide across the water in or on a Cime Aventures watercraft (canoe, single or tandem kayak, paddleboard or inflatable raft), you'll have the impression you're floating on air since this river is so clear! You can also go snorkelling or tubing down the river over a distance of 2 km (1.25 mi.).
Chesnaye Creek and Saint-Jean River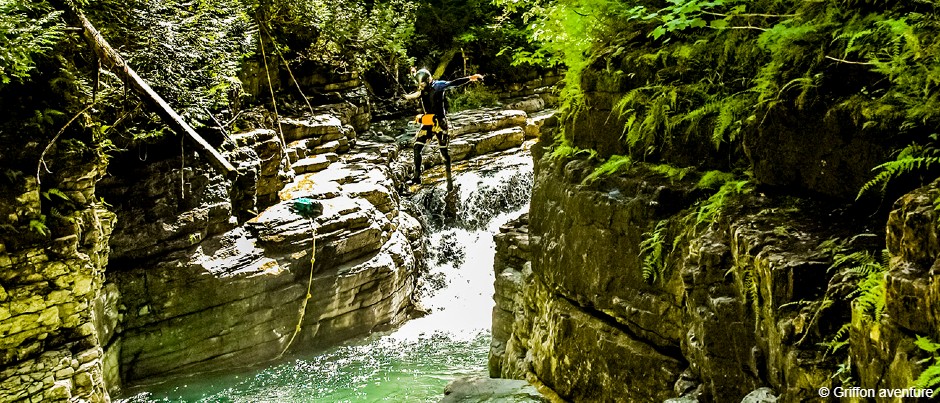 Are you familiar with canyoning? In Gaspé, you can enjoy this exciting water sport at a natural waterpark created by years of erosion! The guides at Griffon Aventure will take you to explore the Chesnaye Creek, a tributary of the Saint-Jean River, which features deep emerald-green pools. Enjoy sliding down natural waterslides, admiring waterfalls and even jumping off cliff walls! All the gear is provided—and thrills are guaranteed!
Lake Cascapédia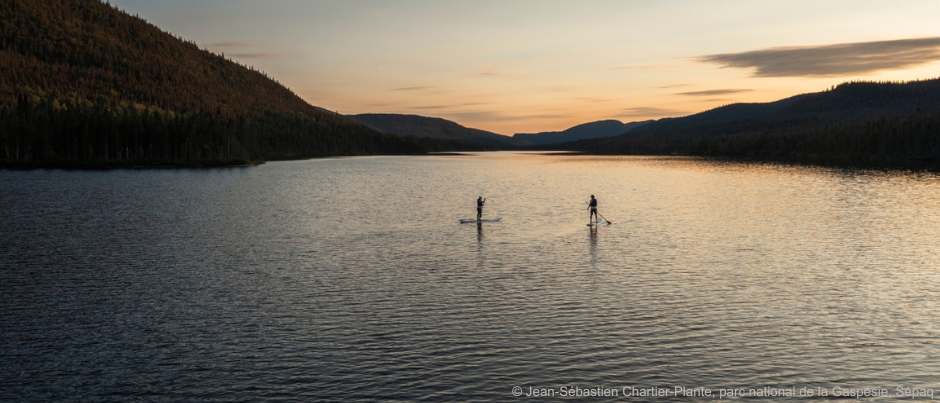 Lake Cascapédia, which is 4 km (2.5 mi.) long, is the largest lake in Parc national de la Gaspésie. Many aquatic species make their home here, but the lake also attracts other wildlife to its shores, including moose. You can rent various types of watercrafts in the park, including signle and tandem recreational kayaks along with canoes, paddleboards and pedal boats.
York River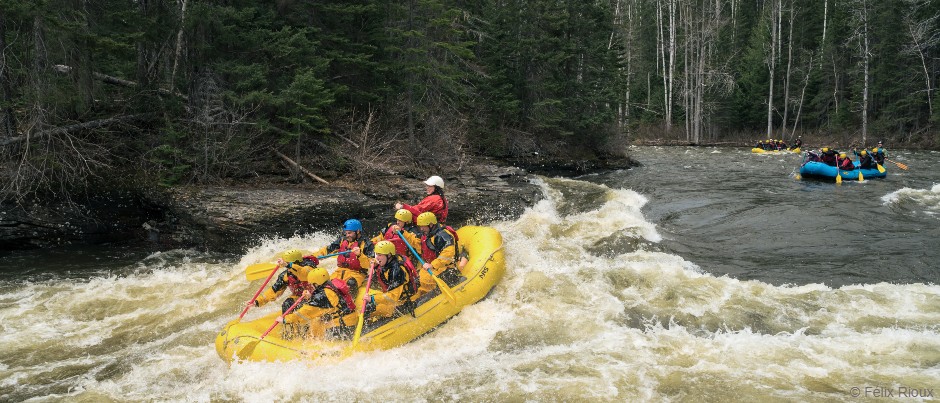 During the spring thaw, when water levels are high, discover one of the most beautiful rivers in Gaspésie, the York, which runs from the Chic-Choc Mountains to Gaspé Bay over a distance of nearly 100 km (60 mi.). Chic-Chac, an adventure tourism company, offers various customized rafting packages for an unforgettable experience on the river. Treat yourself to the perfect combination of adrenaline and breathtaking scenery! Be sure to dress warmly and bring an extra set of clothes to change into.
Ruisseau Castor (Beaver Creek)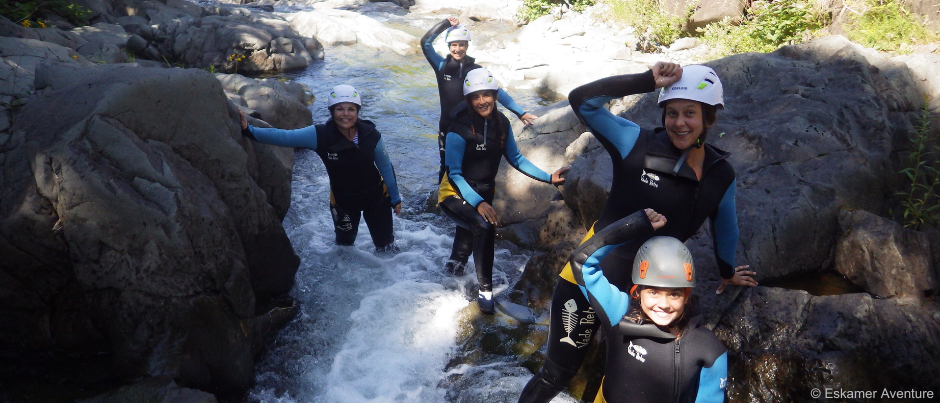 The Ruisseau Castor Canyon is located about 500 metres (1650 feet) from the Eskamer Aventure outdoor centre in Sainte-Anne-des-Monts. Accompanied by highly qualified canyoning instructors, slide down natural slides through remarkably clear water and jump into a multitude of deep pools from heights of up to 5 metres (15 feet)! If you're feeling even more adventurous, you can also participate in a trip to the Beaulieu Canyon or the Canyon des Sauteux.
Manicouagan Reservoir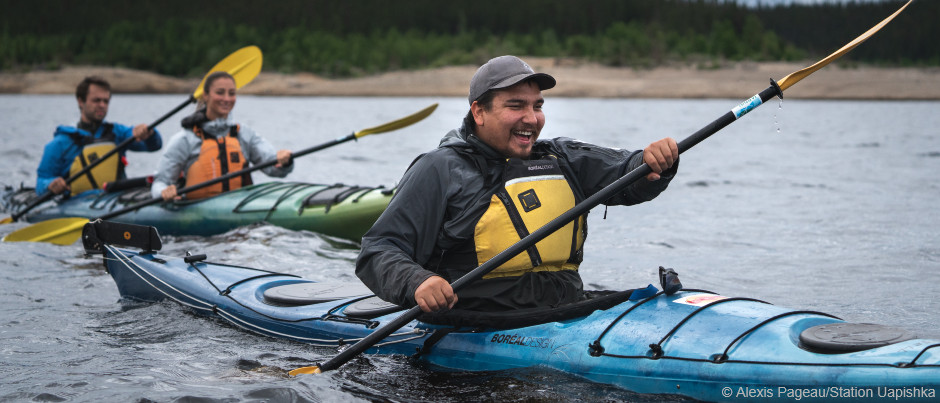 There's nothing quite like paddling on a body of water created by the impact of a meteorite that struck the Earth over 200 million years ago! Especially since this body of water, which is also known as Lake Manicouagan, also feeds the famous Daniel-Johnson hydroelectric dam. Located on the edge of the reservoir, at the heart of Nitassinan, the ancestral homeland of the Innu, the Uapishka Station offers kayaking and stand-up paddleboarding excursions to soak up the immensity of this lake in Côte-Nord while admiring the Uapishka (Groulx) Mountains from a different angle.
Lac des Rapides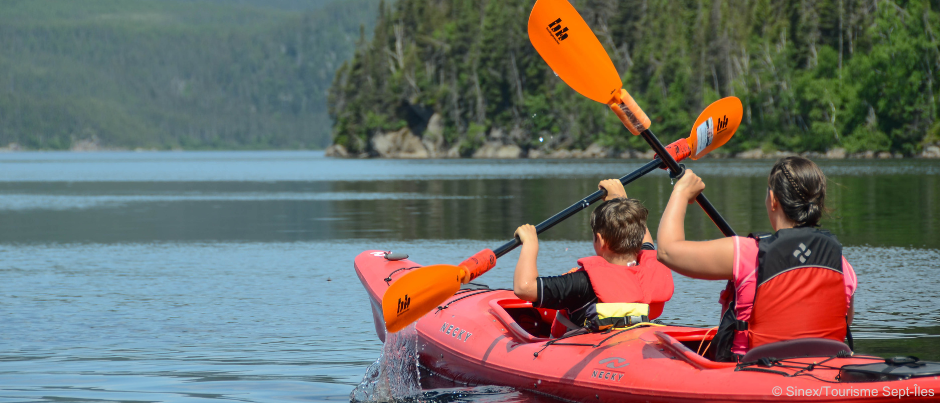 The whole family will find something to enjoy at the Lac des Rapides outdoor recreation centre in Sept-Îles, in Côte-Nord! This 7.8 km2 (3 sq. mi.) lake is ideal for canoeing, kayaking, pedal boating and paddleboarding (with watercrafts available for rent on site). A swimming area supervised by certified lifeguards is also available. Soak up the natural beauty of this area while having loads of fun!
Magpie River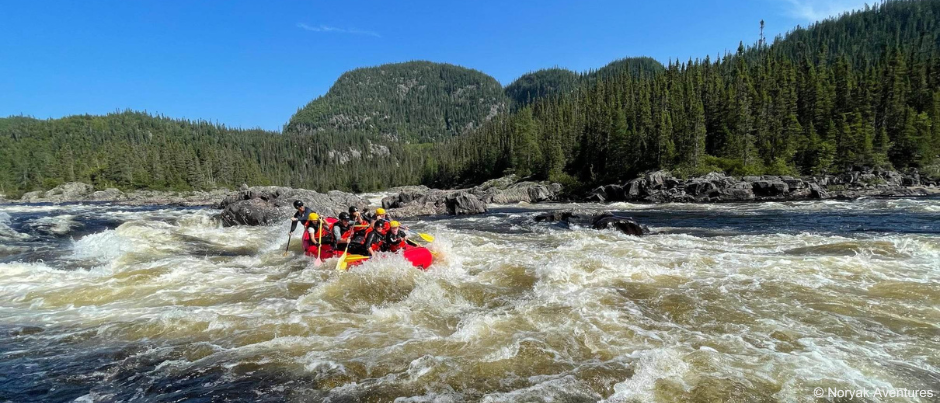 A world-renowned whitewater rafting destination, the Magpie River, which is known as Mutehekau Shipu to the Innu, is a natural wonder located in Côte-Nord. The specialized guides at Noryak Aventures will take you on an amazing 5-day rafting expedition to discover the region's backcountry. Packages include swimming, fishing and delicious meals made with local ingredients, which you will savour under the stars. The team also offers luggage transportation and meals for experienced paddlers travelling on their own.
This is just a sample of the many bodies of water found in Eastern Québec. The wildlife reserves in our regions also offer a host of recreational activities on lakes and rivers. As you discover these exceptional environments, stay safe by following water safety rules and enjoy making happy memories during your vacation in our regions!
If you liked this article, you might also like...