The

Québec maritime Blog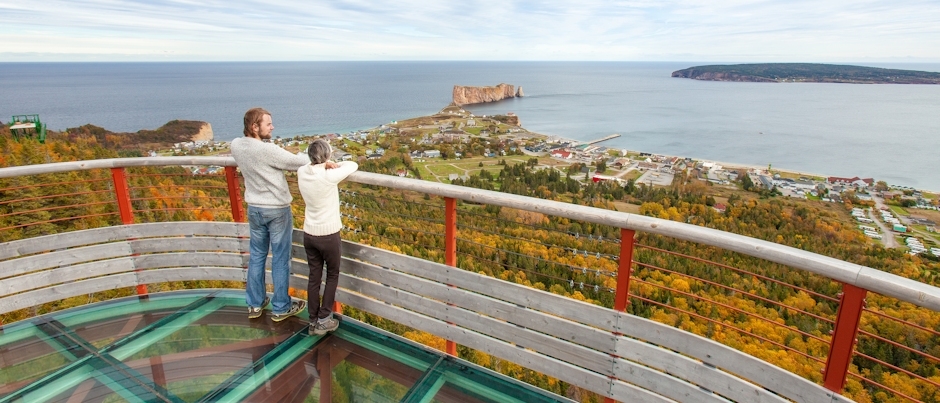 Percé UNESCO Global Geopark
Roger St-Laurent
Fall Hikes in Eastern Québec: What Not to Miss
Fall is an ideal time of year to hike in the regions of Québec by the Sea, as the leaves turn flamboyant colours, temperatures become milder, and you can spot wildlife as they go about their natural lives. Whether you opt to explore the coast, the forest or the mountains, you'll be surrounded by spectacular scenery! Here are a few suggestions of places to discover at your own pace in Bas-Saint-Laurent, Gaspésie, Côte-Nord and the Îles de la Madeleine.
Bas-Saint-Laurent
You'll be charmed by the region of Bas-Saint-Laurent, where the mudflats go from green to golden as the weather gets cooler, contrasting with the emerald green of the sea…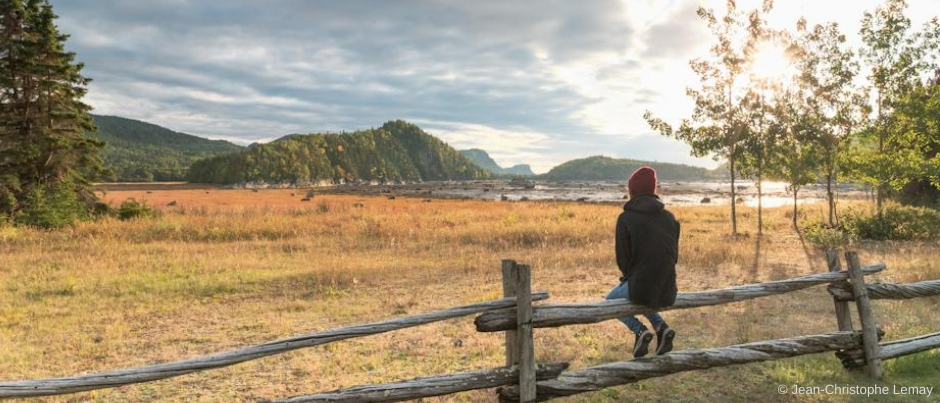 Two national parks welcome you in this region in the fall. Parc national du Bic, home to beautiful coves, bays, islands and capes, offers 25 km (15 mi.) of hiking trails as well as a wide area along the coast that you can explore on foot. Keep an eye out for seals and be sure to take in the amazing views from the Pic Champlain and Raoul-Roy lookouts!
In the heart of the forest, Parc national du Lac-Témiscouata offers 35 km (22 mi.) of hiking trails through the Notre-Dame Mountains—along the way, you can admire striking views over Lake Témiscouata and the Touladi lakes. The National Trail in Bas-Saint-Laurent, which runs from Trois-Pistoles to Dégelis, crosses through this park and is a must for trekking enthusiasts! Divided into 12 segments and going through 10 municipalities, this 144-km (89-mi.) trail will take you through a variety of environments: the shoreline, rivers, forests, lakes, agricultural areas, etc. Lodging is available all along the trail.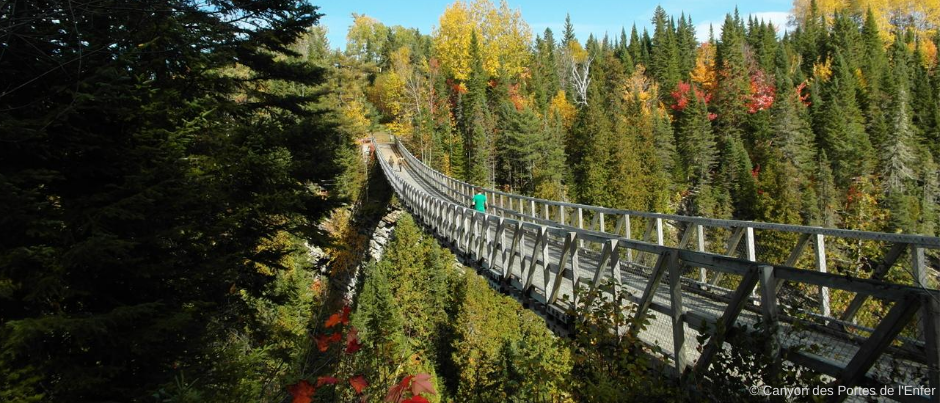 Bas-Saint-Laurent also has several other attractions that will appeal to hikers. For example, in Saint-Narcisse-de-Rimouski, you can visit the Canyon des Portes de l'Enfer (Hell's Gate Canyon). This site offers a network of 20 km (12 mi.) of trails that lead to the highest suspension footbridge in Québec (at 63 metres, or 200 feet, high), as well as to the 300-step "Descent to Hell" staircase, which will take you down to the Rimouski River. In Saint-André-de-Kamouraska, the SEBKA riverside park offers a 12-km (7-mi.) hike in the forest and along the St. Lawrence, which features several panoramic lookouts. Bird lovers will also want to visit the Parc côtier Kiskotuk in Cacouna, which offers over 10 km (6 mi.) of trails through the boreal forest and salt marshes. Be sure to bring your binoculars: herons, rails and ducks are frequently sighted in this coastal park.
Find out more about hiking in Bas-Saint-Laurent
Gaspésie
In the fall, the landscapes of Gaspésie turn bright shades of red, yellow and orange, much to the delight of hikers!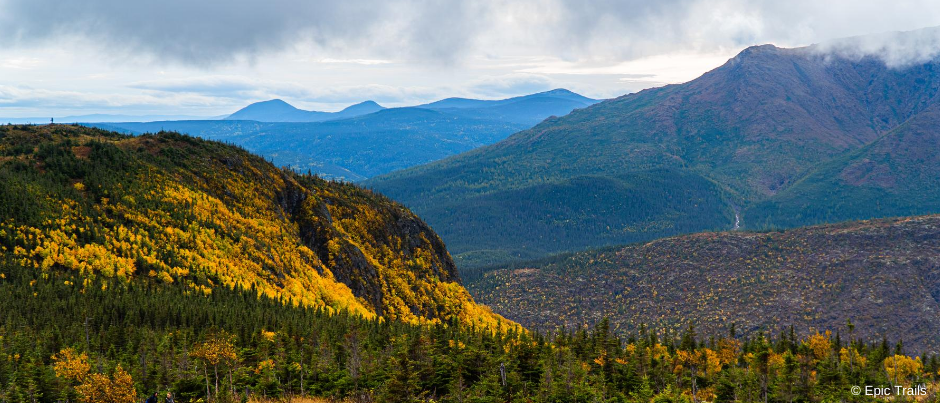 Home to more than 25 peaks over 1000 metres (3300 feet) high, Parc national de la Gaspésie is an ideal place to go hiking in the mountains. Several trails are open late in the fall, including the Lac-aux-Américains, Mont-Ernest-Laforce, Mont-Richardson and Mont-Joseph-Fortin trails. You can also explore the Mont-Olivine, Saillie, Lucarne, Chute-du-Diable, Chute-Sainte-Anne and Abri de la Serpentine trails, all of which are accessible year-round. Your options range from easy to expert and from about 2 km (1 mi.) to 12 km (7 mi.) in length. Keep your eyes peeled and you may spot moose, which are very numerous at this time of year!
The International Appalachian Trail (IAT-QC) also crosses through a segment of the park. Stretching from Matapédia to Forillon over a distance of 650 km (400 mi.), this trail will take you through the Chic-Choc and McGerrigle mountains as well as along the coast in several places. If you want to explore the IAT-QC, you have many options: you can hike for 1 to 40 days along segments that range in difficulty from easy to strenuous, on your own or with a guide, and with or without lodging. The IAT-QC is also the first hiking trail in North America to be recognized by the French Hiking Federation (FFRP) as a Grande Randonnée (long-distance hiking route).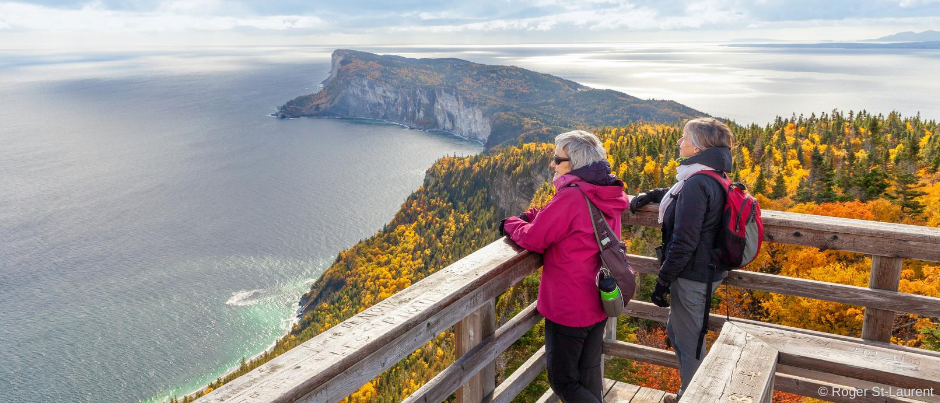 At the tip of the Gaspé Peninsula, Forillon National Park is home to spectacular sea and mountain scenery. Don't miss the Mont-Saint-Alban trails—the 360-degree view from the top of the Mont-Saint-Alban tower, at an altitude of 283 metres (930 feet), makes the hike particularly worth it! You'll be amazed by the colourful vegetation and the sea that stretches out as far as the eye can see—you'll really feel like you're at "Land's End"! To get to the tower, you can hike a 7.8 km (4.8 mi.) loop trail from Cap-Bon-Ami or a 7.2-km (4.5 mi.) loop trail from the Petit-Gaspé Beach (which is a gentler climb). Just a few kilometres away, the Percé UNESCO Global Geopark offers 18 km (11 mi.) of trails with unique views of Percé Rock, the village of Percé and Bonaventure Island. While you're there, you can also discover little-known geological sites, including a crevasse, a cave and the Magic Forest!
Are you passing through the Matapédia Valley, which is home to many colourful deciduous trees in the fall? You'll definitely want to visit the three lookouts that have been built in this area! Located in Saint-Alexis-de-Matapédia, Saint-André-de-Restigouche and Matapédia, they all offer breathtaking views over the valley's hills and rivers. The last two are also worth seeing for their unique architecture.
Find out more about hiking in Gaspésie
Côte-Nord
While the mudflats and marshes found along the shores of Côte-Nord subtly change colours, the fall sunshine gives a whole new perspective on the St. Lawrence in this region. Be sure to keep your eyes on the water as you hike: marine mammals can still be spotted at this time of year!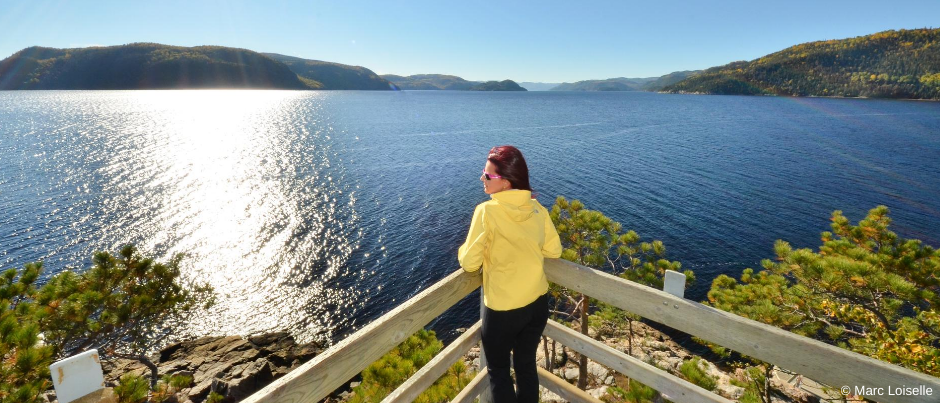 Near Tadoussac, Parc national du Fjord-du-Saguenay offers several options for hiking enthusiasts, who will enjoy contemplating the fjord from the cliffs. The park's Baie-de-Tadoussac and Baie-Sainte-Marguerite sectors offer trails at all levels. Don't miss the Halte du Béluga lookout, where you can observe belugas, which are small white whales.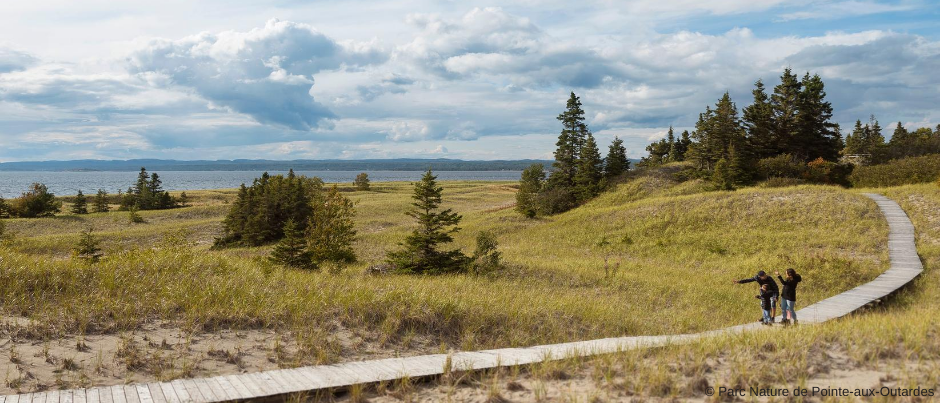 Further east, the Portneuf sandbar is a natural site that is ideal for hiking and bird watching. Several kilometres wide, it's easily accessible at low tide (inquire about the tide schedule). Be sure to bring your camera! You may also want to visit Parc Nature de Pointe-aux-Outardes, which protects nine different ecosystems. Enjoy a network of trails varying in length from 1 km (0.5 mi.) to 5 km (3 mi.) as you admire landscapes ranging from the boreal forest to mudflats, sand dunes and salt marshes. This is also one of the five best bird-watching sites in Québec, especially in this season: 255 species of birds have been spotted in this nature park!
From Baie-Comeau, Route 389 heads north through the Manicouagan-Uapishka Biosphere Reserve. The Groulx Mountains await you at the 51st parallel with their alpine landscapes and geology. Explore them on a self-guided hike (make sure you're well prepared!) and admire the Manicouagan impact crater from their summits!
In Sept-Îles, Parc Aylmer-Whittom is a local favourite where hikers can contemplate Conan Island and Sept-Îles Bay from two observation towers. Children will enjoy exploring the miniature village and be amused by the park's many squirrels! In Rivière-au-Tonnerre, the Chute Manitou trail, which is about 1 km (0.5 mi.) long, leads to the area's main attraction: an impressive 35-metre (115-foot) waterfall, whose name means "spirit" in the Innu language.
Côte-Nord is also home to many beaches where you can enjoy going for a stroll. In addition to the ones found in Tadoussac and Pointe-aux-Outardes, you can also visit beaches in Pointe-aux-Anglais, Pointe de Moisie, Havre-Saint-Pierre and Natashquan. This last beach, which is 7 km (4 mi.) wide, is a great place to take photos—a visit to this village will also immerse you in the world of local poet and singer/songwriter Gilles Vigneault, one of Québec's most famous artists.
Find out more about hiking in Côte-Nord
Îles de la Madeleine
Red cliffs, rolling green hills, dunes and golden-sand beaches… The Islands certainly offer a diversity of landscapes to admire!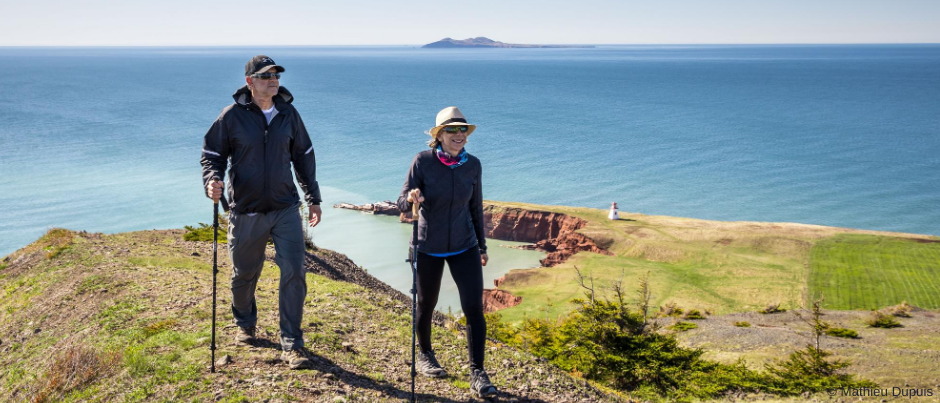 To discover the archipelago's seven main islands, explore the Sentiers entre Vents et Marées, a network of 230 km (145 mi.) of well-marked hiking trails that include natural and groomed trails, back roads and long stretches of beaches. The network is divided into 13 sections that range in length from 9 km (6 mi.) to 28 km (18 mi.).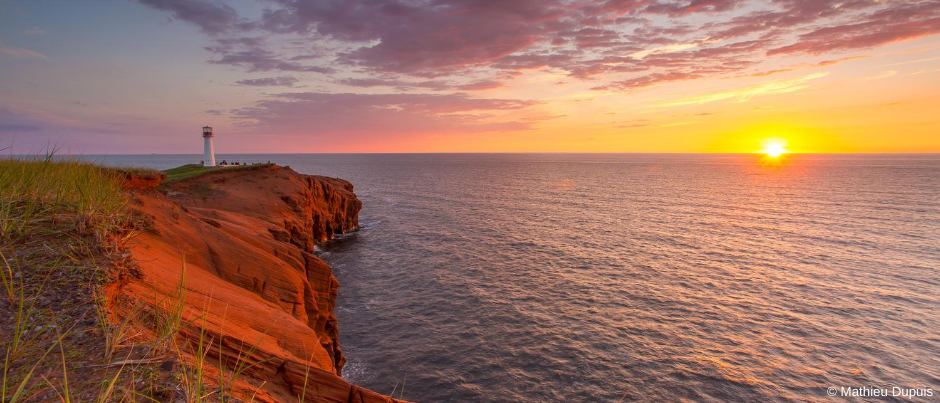 During your hikes, you'll discover various sectors, villages and attractions that have contributed to this region's popularity. For example, the Baie de Plaisance trail segment will take you to the La Martinique Beach (13 km / 8 mi.) as well as Les Demoiselles, a trio of hills that offer extraordinary views. Les Caps leads to the village of Fatima after a short detour to the Borgot Lighthouse, while the Old Harry trail segment will take you to the Pointe-de-l'Est National Wildlife Area. A unique experience awaits you on Entry Island, where you can explore the only inhabited island that's not connected to the rest of the archipelago. Be sure to climb Big Hill, the highest peak in the region, to admire a 360-degree view of the Gulf of St. Lawrence!
Find out more about hiking in the Îles de la Madeleine
Don't wait any longer: start planning your hikes in our regions today! And don't forget to pack good hiking shoes and clothing for all types of weather, so you can be sure to enjoy fall to the fullest in Québec by the Sea!
Are you interested in discovering the regions of Québec by the Sea this fall? Save 25% with Explore Québec on the Road packages offered by travel agencies, tour operators and receptive operators throughout the province. Find your package now in Bas-Saint-Laurent, Gaspésie, Côte-Nord or the Îles de la Madeleine.
If you liked this article, you might also like...