The

Québec maritime Blog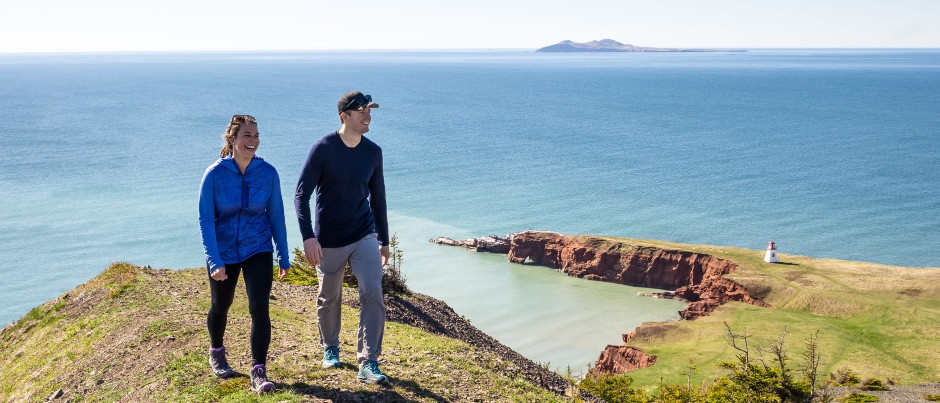 Explore the Îles de la Madeleine on Foot: Sentiers Entre Vents et Marées
Follow the Guide!
In this era of speed and instant gratification, if there's one place on Earth that resists this trend, it's the Îles de la Madeleine! It's as if the ever-present sea invites people to slow right down and truly relax. And what better way to change your pace, refocus and soak up the region's spectacular scenery than by walking? From gentle hills and bright red cliffs to endless beaches and bustling harbours, follow me to discover the famous Sentiers entre Vents et Marées trails, which were inspired by the Camino de Santiago.
A glimpse of what awaits you on your walk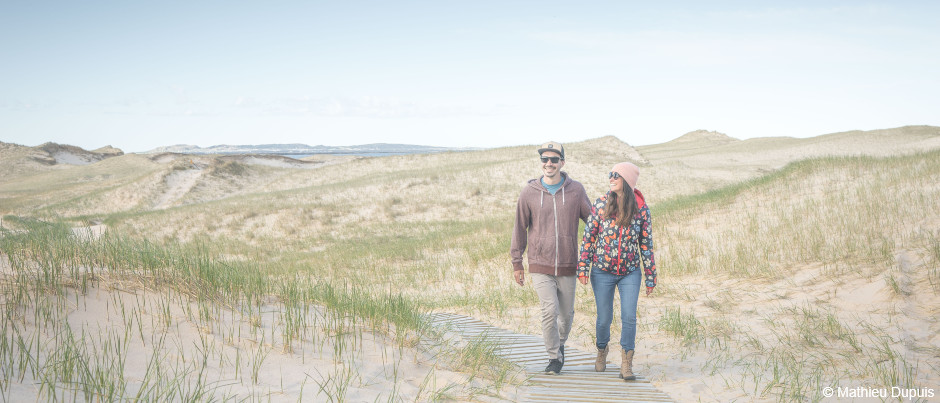 This network of trails, which is nearly 235 km (145 mi.) long, is divided into 13 sections, all of which take you through beautiful areas of the archipelago. The best time of year to walk these trails is between May 15 and October 15. The sections range in length from 10 km (6 mi.) to 28 km (18 mi.), with options for detours and shortcuts:
Section 1: Baie de Plaisance (27.1 km / 16.8 mi.)
Section 2: Bout du Banc (28.4 km / 17.6 mi.)
Section 3: Bassin (16.2 km / 10.1 mi.)
Section 4: La Martinique (21 km / 13 mi.)
Section 5: Les Caps (16.5 km / 10.3 mi.)
Section 6: Dune du Nord (19.4 km / 12.1 mi.)
Section 7: Grosse-Île (20 km / 12.4 mi.)
Section 8: Old Harry (10.2 km / 6.3 mi.)
Section 9: Grande-Entrée (16.6 km / 10 mi.)
Section 10: Dune-du-Sud (11.9 km / 7.4 mi.)
Section 11: Havre-aux-Maisons (18.3 km / 11.4 mi.)
Section 12: Île Centrale (Cap aux Meules Island) (18.7 km / 11.6 mi.)
Section 13: Entry Island (9.1 km / 5.7 mi.)
Detailed descriptions and maps of each section are available. In order to support the work of the passionate volunteers behind this project and enjoy your experience to the fullest, I recommend you purchase a copy of the trail guide, which comes with the Passeport du Louvoyeur (Wanderer's Passport), a souvenir booklet you can get stamped along the way. You can pick up the guide and passport at the Islands' tourist information office.
Two itineraries are also proposed (in French only) for treks that last 8 and 15 days. However, since walking is all about freedom, you can explore the sections you want. Let me share a few tips with you…
Exploring the trails…
On your own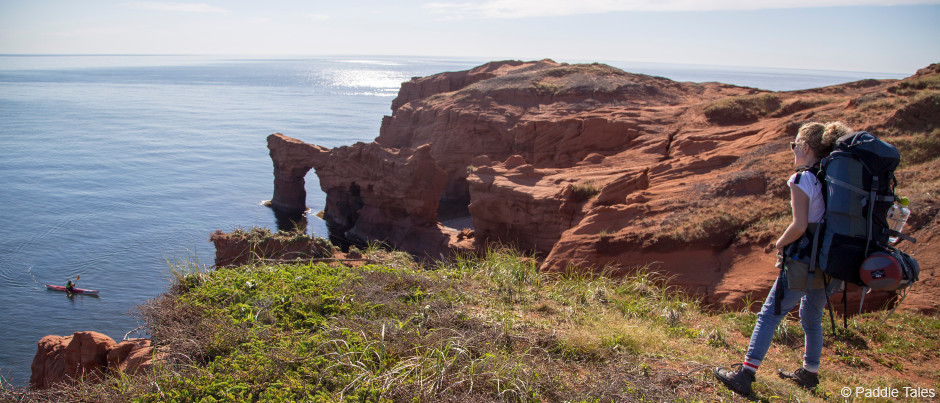 If you opt to walk the trails by yourself or with family or friends, you'll have to organize your whole trip on your own, including accommodations, transportation, supplies, etc. To fully immerse yourself in this experience, you'll need to plan everything in advance. No matter what accommodations you choose, make sure you book them beforehand, especially if you're going to be on the Islands in July or August. Some accommodation establishments offer transportation to the trails, so be sure to check with them. Otherwise, RÉGÎM provides public transit on the Islands (as well as in Gaspésie), and you can also take cabs or hitchhike. The Sentiers entre Vents et Marées Facebook group (in French only) is a good source of tips (and photos).
With a guide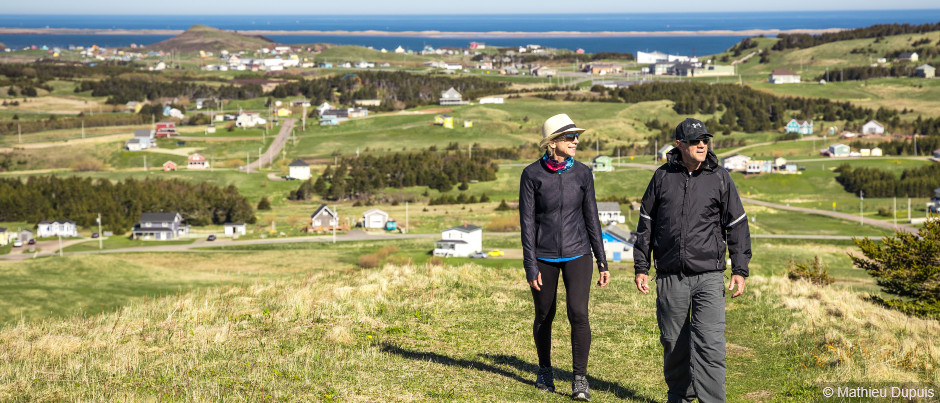 What if all you had to think about was making sure you have the right footwear while someone else takes care of all your trip logistics? If you join a guided tour, you can also learn all kinds of interesting facts about the Islands as you enjoy a hassle-free trek. Several companies offer guided tours, including Club Voyage Les Îles.
Why walk?

To be here now
Okay, but why walk around the Islands anyway? Everyone has their reasons and all of them are good! However, if you're drawn to this adventure, but you're not sure why, no worries, the path always provides answers! Dare to walk quietly and observe everything around you. At every turn on the trail, you'll be amazed by the presence of rare migratory birds, weird-looking seaweed, sweet-smelling plants, etc.
To make a difference
More and more people decide to combine their trek with a worthy cause. So why not take advantage of your expedition to support an inspiring project or a social or environmental cause that's close to your heart?
To honour the natural beauty of the Islands
As you may know from experience or common knowledge, the Îles de la Madeleine archipelago is incredibly beautiful. This natural beauty is both sacred and fragile: this environment is perpetually under threat from pollution, habitat degradation, storms, global warming, etc. Those who hike the Sentiers entre Vents et Marées are ambassadors of slow travel and have a key role to play in promoting respect for the Islands' environment. Understanding the archipelago, respecting the locals and following the principles of Leave No Trace are all ways to honour this unique region that brings us so much joy.
Tips to help you prepare for your trip
Every trek is unique. On the Islands, you'll do lots of walking on the sand, which requires greater effort than walking on a hard surface. (It will put your ankles and calves to the test!) You can prepare yourself with strengthening exercises (many examples of which can be found online). Also remember to pamper your feet three to four weeks in advance to avoid disappointment. For footwear, a good pair of hiking boots and a pair of sandals will do the trick. (Avoid shoes with mesh that will let in sand.) Don't forget to bring the traditional poncho, mosquito repellent (natural products are available) and/or a bug net, as well as a stiff hat with a string under the chin (the windiness of the Islands is not a myth!). Always travel with enough water and extra food, and don't forget to relax: you're on the Islands and there's no need to rush!
A huge thanks to the volunteers!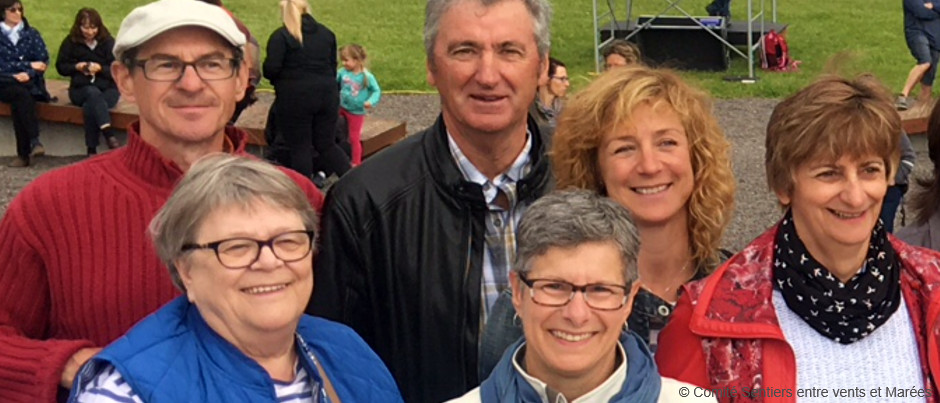 I couldn't end this article without mentioning the origin of these trails. The idea was born from a meeting in 2010 between Carole Turbide, an Islander, and three other trekkers on the Camino de Santiago. Carole talked about her beloved archipelago and invited her new friends to visit her. All were charmed by the experience and together they came up with the idea of creating a "mini Camino" on the Islands. Carole then contacted a few local hikers (all of whom had walked the Camino de Santiago) to set up a committee. In 2015, the first route was born. Two years later, thanks to the support of the Club de Plein Air des Îles (a local outdoor club), the trail was officially opened. As time goes by, the trail sections improve and become better known worldwide thanks to the hard work of an amazing team of passionate volunteers!
The Sentiers entre Vents et Marées (which literally means "trails between winds and tides") are so much more than walking trails. They're a way for Islanders to invite you to discover their beautiful region on foot and take the time to recharge your batteries. So, put on your hiking boots and see you on the trail!
If you liked this article, you might also like...