The

Québec maritime Blog
Gaspé: A Sea of Activities
The municipality of Gaspé encompasses 17 villages strung along the coast, from L'Anse-à-Valleau to Douglastown. Visitors are surrounded by exceptional marine vistas that invite enjoyment of water sports of all kinds. Whether you're a fervent adventure lover or just want to try something new, you're bound to find interesting activities of all kinds!
Sailing and sea kayaking
Considered by many to be a sailing paradise, Gaspé Bay benefits from sea breezes similar to those found in southern seas. At the marina located in the town centre, you can rent a dinghy, catamaran or keelboat to explore this magnificent body of water.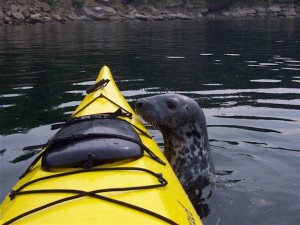 Meet new friends while kayaking © Cap Aventure
The local sailing school offers half-day or full-day classes in sailing basics to young and old alike.
Would you prefer to explore Gaspé Bay by sea kayak? This is a great way to encounter seals and seabirds up close. Expeditions lasting several days are occasionally available.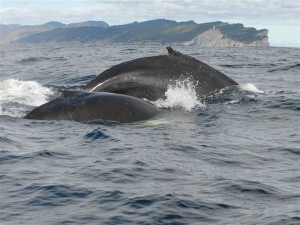 Whale watching © Croisières Baie de Gaspé
Whale watching
For an unforgettable experience, opt for a whale-watching excursion aboard the Narval III. Up to seven species of whales can be observed off the coast of Gaspé, including blue whales, the largest animals on the planet. Bilingual interpreter guides will tell you more about the species you encounter. Several departures are offered daily. Reservations are recommended.
Scuba diving
Gaspé is also a well-known scuba diving destination. Accompanied by seals, explore a mysterious underwater world. Experienced and accredited divers can choose from a wide variety of diving sites. Guided dives are also available.
Canyoning
Are you familiar with canyoning (known as canyoneering in the U.S.)? This sport is practised in sites that have been shaped by thousands of years of erosion. Canyoning combines following watercourses down deep gorges and climbing the sheer rock faces that surround them. Companies that offer this activity provide all the safety equipment required and guide you down these natural waterslides. If you're brave enough, you can even jump from the top of a cliff!
White water rafting and canoeing
The Gaspé region is home to many rivers. While the Dartmouth and Saint-Jean rivers are well known to anglers, the York River is one of the best salmon rivers in the country, with emerald green waters that run over nearly 100 km (60 mi.). In the spring, thrill seekers can go white water rafting down this river, which boasts impressive rapids. If you're not a fan of fishing or rafting, you can still enjoy these rivers in a canoe. This is a perfect way to soak up the beauty of the Gaspé backcountry at your own pace.
Swimming and sunning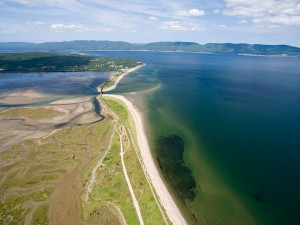 Haldimand Beach © Agence Plein Ciel
Sun and beach lovers will be delighted with the numerous beautiful beaches in this area. Many are located in Forillon National Park, but the most popular is Haldimand Beach, which is only 8 km (5 mi.) from the town centre of Gaspé.
For more information about these activities, visit www.cctgaspe.org (in French only) or inquire at the tourism information bureaus.
If you liked this article, you might also like...