The

Québec maritime Blog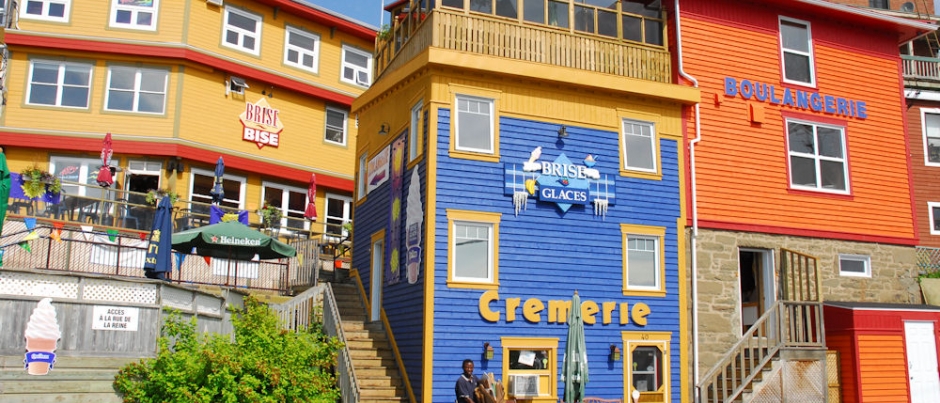 Gaspé
François Rivard/Tourisme Gaspésie
48 Hours… in Gaspé
Originating from the Mi'gmaq word Gespeg, which means "land's end," Gaspé is the perfect name for a town located at the edge of the world at the tip of the Gaspé Peninsula. A blend of wind, sea, mountains, arts, cultural events and outdoor activities, Gaspé is not only a lively and dynamic town, but also a great place to spend your vacation.
Forillon National Park
Before visiting Gaspé, stop at Forillon National Park, where you can spend your first night. The road coming from the north side of the peninsula winds through the mountains and along the seashore, offering breathtaking vistas at every turn. You may want to take the time to stop for a bite to eat at Café de l'Anse in L'Anse-au-Griffon or to buy some food at Les Pêcheries Gaspésiennes in Rivière-au-Renard. Both establishments are certified by Smarter Seafood, a program that promotes the sound management of marine resources by encouraging fish markets and restaurants to offer a greater variety of sometimes lesser-known marine products.
Forillon National Park is one of the gems of the Gaspésie region. A series of cliffs extending into the sea gives true meaning to the expression "Land's End." For your stay in the park, I recommend you try the new oTENTik tents. An ideal compromise between a tent and a cottage, an oTENTik tent gives you the snug comfort of your own bed, while you enjoy the fun of camping. Fully equipped, well designed and easily accessible, these tents really are a hassle-free option. And you'll have front row seats to the spectacular surrounding scenery!
Day 1 – Morning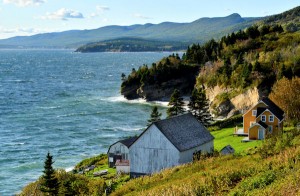 Forillon National Park
© Marc Loiselle
The Petit-Gaspé Beach is the perfect place to enjoy your morning coffee. A seal colony hangs out nearby and, if you get there early enough, you may have the opportunity to watch some of these cute marine mammals popping their heads out of the water to say hello. It's worth getting out of bed just for this!
Head out to sea… or not!
The Grande-Grave wharf, near the Petit-Gaspé Beach, is the departure point for whale-watching cruises offered by Croisières Baie de Gaspé. Seven whale species are found in the Gulf of St. Lawrence, including the blue whale, the largest animal on the planet. Watching these amazing creatures put on a show is truly the experience of a lifetime!
If you don't have sea legs, try your hand at mackerel fishing on the Grande-Grave wharf instead. Whether you're a beginner or seasoned angler, you'll quickly learn the tricks of the trade from local fishermen. No fishing licence is required.
Day 1 – Afternoon
In the afternoon, I recommend a unique activity: snorkelling with seals. Don't worry if you've never been snorkelling before—this is your opportunity not only to get acquainted with the seal colony living in Forillon National Park, but also to discover the many treasures hidden underwater. This will undoubtedly be one of the highlights of your vacation!
Day 1 – Evening
After a day in the great outdoors, head to Gaspé to explore its attractions. Learn more about the town through its heritage trail via information panels and a downloadable audio guide (available in French only). This interesting trail gives you the opportunity to discover some of the highlights of Gaspé, including some friendly places to go for happy hour. Once you're comfortably seated on one of the many terraces on Rue de la Reine, you'll see for yourself that Gaspé is bustling with activity!
To end this fun-filled day on a high note, head for the Maison William Wakeham to enjoy a tasty meal featuring regional products. After dinner, you'll only have to climb a few stairs to fall into a deep sleep in one of their comfortable heritage rooms. (Other lodging options are the Forillon International Youth Hostel and the cottages at Chalets du Bout du Monde.)
But what if you feel like making the night last a little longer? In that case, why not go to a Soirées Desjardins show! From early July to late August, this series of concerts given by local musicians on outdoor stages promises some great entertainment.
Day 2
It's time to head for the beach! Make sure you first stop at the Marché des Saveurs Gaspésiennes to pick up a few local treats for lunch. Many products sold here bear the Gaspésie Gourmande label from an association that promotes regional food products. And by the way, I recommend that you get your hands on their magazine before you leave on your trip, so you can plan foodie stops along the way and make some interesting discoveries.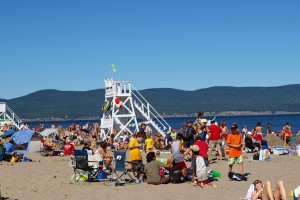 Haldimand Beach in Gaspé
© Chambre de commerce et de tourisme de Gaspé
Why not ride your bike to one of the most beautiful fine-sand beaches in Gaspésie, Haldimand Beach (20 km return trip on the bike path), which is close to the centre of town. If you don't have your bike with you, no worries—you can drive there in no time and there's lots of parking space. Haldimand Beach has a supervised area with lifeguards on duty, sanitary facilities and space to play Frisbee or beach volleyball.
Are you wanting a more active day? Several aquatic activities are offered all along the Gaspé coast. It's up to you to decide what kind of adventure you'll have!
Day 2 – Evening
With reddened cheeks, sun-kissed hair and the taste of the sea on your lips, you'll leave Gaspé thrilled by your visit to Land's End. One thing's for sure, your trip will be so memorable that you're bound to come back some day!

Are you ready for a vacation? Start planning your trip to Gaspé today!
If you liked this article, you might also like...