The

Québec maritime Blog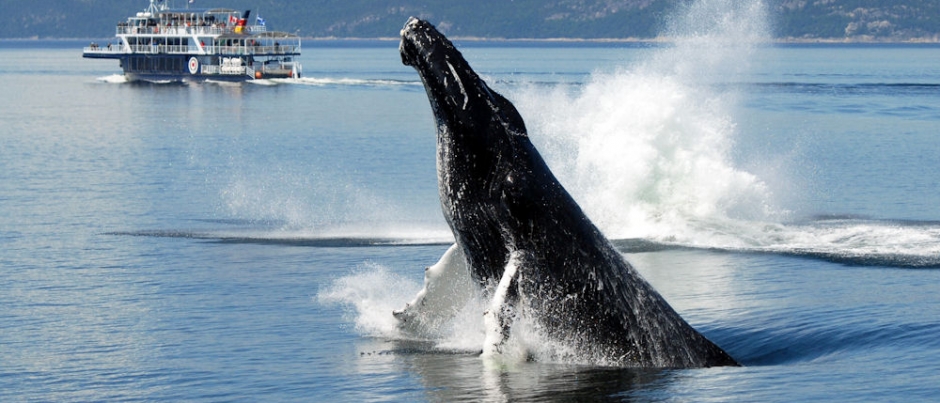 Whale-Watching Sites in the Maritime Regions of Québec
The maritime regions of Québec offer the best opportunities by far to watch whales and other majestic marine mammals. 13 different species can in fact be spotted (all the tips to identify them here).When planning your next trip to Eastern Québec, don't forget to include this activity in your itinerary. Watching whales is a thrilling experience that will delight visitors of all ages!
When and where to observe whales in the maritime regions of Québec
Beginning during capelin migration in mid-spring, many large whale species follow schools of fish to gorge themselves after several months of fasting in the subtropical waters of the North Atlantic. The whales thus spend the summer in the cold waters of the St. Lawrence and in subarctic waters to feed, and then migrate to warm temperate/subtropical waters to reproduce. During their migration, the whales travel far into the St. Lawrence, dispersing in the Gulf and continuing their journey into the Middle Estuary (to Rivière-du-Loup on the south shore and Saint-Siméon on the north shore). Some areas are rich in plankton and other tiny marine organisms that attract fish, which in turn are the whales' favourite prey. These ideal whale-watching locations were identified decades ago and can be found throughout the regions of Québec maritime.
Côte-Nord
Manicouagan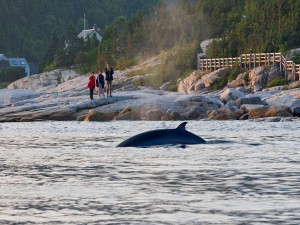 Whale watching from land near Cap-de-Bon-Désir © Marc Loiselle
With its high concentrations of whales and other marine mammals, the region surrounding the Saguenay Fjord, including the municipalities of Tadoussac, Les Bergeronnes and Les Escoumins, is the best observation area of the St. Lawrence Estuary. The seabed structure forces cold waters from the depths of the Laurentian Channel to rise to the surface, pushing up plankton and fish by the thousands, which attract large marine mammals near enough to the shore for people to watch them from up close. Several whale-watching cruises are available from Baie-Sainte-Catherine/Tadoussac with Croisières AML as well as from Les Bergeronnes with Essipit Cruises, Mer et Monde Écotours and Paradis Marin). Minke whales, fin whales, humpbacks, harbour porpoises and belugas are the most common species observed near Tadoussac and Les Bergeronnes. Even a few blue whales live in the waters of this spectacular maritime region of Québec.
Of course, you don't have to board a boat to see belugas and minke whales; you can spot plenty of them from the shore. The best places to observe these magnificent marine mammals in Tadoussac are Pointe-Noire (Baie-Sainte-Catherine) and Pointe-de-l'Islet (Tadoussac) at the mouth of the Saguenay Fjord, Tadoussac Bay and the top of the Tadoussac dunes (Saguenay–St. Lawrence Marine Park), as well as at the mouth of the Sainte-Marguerite River (Parc national du Fjord-du-Saguenay). To learn more about marine mammals, plan a visit to the Marine Mammal Interpretation Centre (CIMM).
A little further east, you can see spouts and whale backs (fin whales, humpbacks) just off Cap de Bon-Désir. Minke whales often swim up close to the shore, and blue whales, fin whales and humpbacks sometimes feed just a few hundred metres from the coast.
Duplessis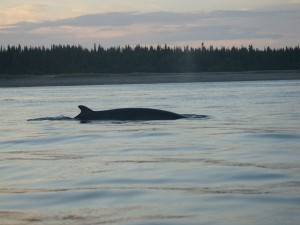 Whales are scattered all along the Côte-Nord and Lower North Shore coasts, from Les Escoumins to Blanc-Sablon, with a few clusters between Rivière-au-Tonnerre and Havre-Saint-Pierre (including in the Mingan Archipelago National Park Reserve, around Anticosti Island and in the Blanc-Sablon area). In June, you can watch minke whales feed near the shoreline along Route 138, 70 km (45 mi.) east of Sept-Îles.
Bas-Saint-Laurent
For whale-watching experiences just two hours from Québec City and four hours from Montréal, Rivière-du-Loup is your destination. Belugas swim along the south shore every day, and you can spot them from the marina and ferry wharf. You can also see belugas and minke whales around Île aux Lièvres (Hare Island). Croisières AML offers two daily excursions from Rivière-du-Loup aboard the Cavalier des Mers to observe whales in the St. Lawrence Estuary. To learn more about the Laurentian ecosystem and its whales, visit the St. Lawrence Exploration Centre in Rivière-du-Loup, where you can admire the skeletons of a minke whale and a beluga.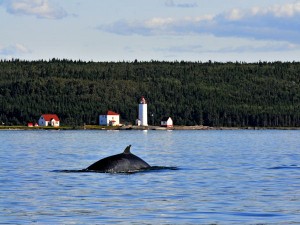 Whale near the Île Verte Lighthouse © Marc Loiselle
Île Verte (Green Island) is another great whale-watching destination in the Bas-Saint-Laurent region. During the summer months, minke whales feed just a few metres from the island's western point, accompanied by belugas and harbour porpoises. You can also spot minke whales near the Île Verte Lighthouse. Fin whales and humpbacks occasionally make an appearance here too. Nearby, along the island's south shore, you can learn all about the anatomy of whales and dolphins at the Musée du squelette (Skeleton Museum).
Gaspésie
The easternmost tip of the Gaspé Peninsula is another prime location in Québec for observing marine mammals. Forillon National Park and Parc national de l'Île-Bonaventure-et-du-Rocher-Percé are both excellent sites for watching whales and dolphins (long-finned pilot whales, Atlantic white-sided dolphins). You can hear whale blows (fin whales, humpbacks and occasionally blue whales) from Forillon National Park (Cap-Gaspé, Cap-Bon-Ami, Cap-des-Rosiers, Gaspé Bay) and from Bonaventure Island.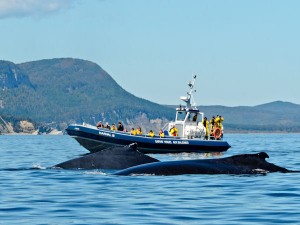 Whale watching in Gaspé Bay
© Marc Loiselle
Several tour companies organize whale-watching excursions from Forillon (Croisières Baie de Gaspé) and from Percé (Croisières Julien Cloutier, Les Bateliers de Percé). You might even encounter a few minke whales and white-sided dolphins on the boat ride from Percé to Bonaventure Island.
The maritime regions of Québec are by far the best whale-watching destinations in the world. From land or by sea, Québec maritime offers a multitude of opportunities to observe these immense marine mammals. Start planning your trip today!
If you liked this article, you might also like...