The

Québec maritime Blog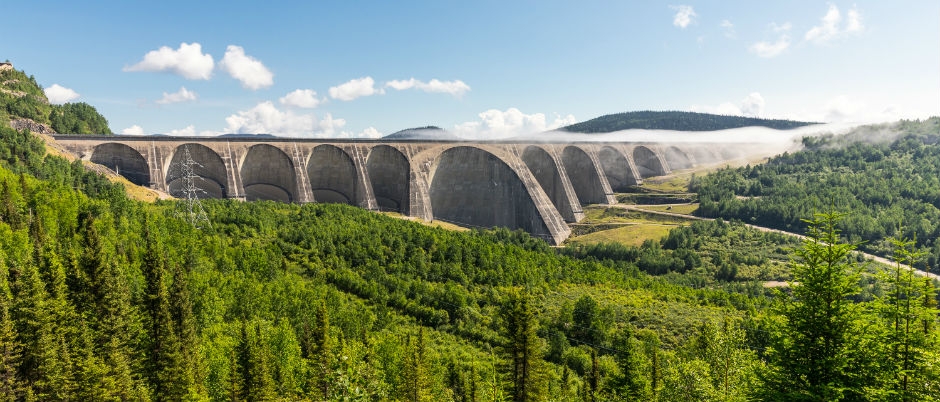 Manic-5 in Côte-Nord
Mathieu Dupuis
Giants Built by Humans
Did you know that over 97% of the electricity produced in Québec is from renewable sources? Natural elements such as water and wind are harnessed to generate electrical energy. Since such elements are abundant in the maritime regions of Québec, it's not surprising that there are so many large-scale energy projects here. During your stay in Côte-Nord, find out more about the history of electricity in Québec by visiting immense hydroelectric dams.
From Manic…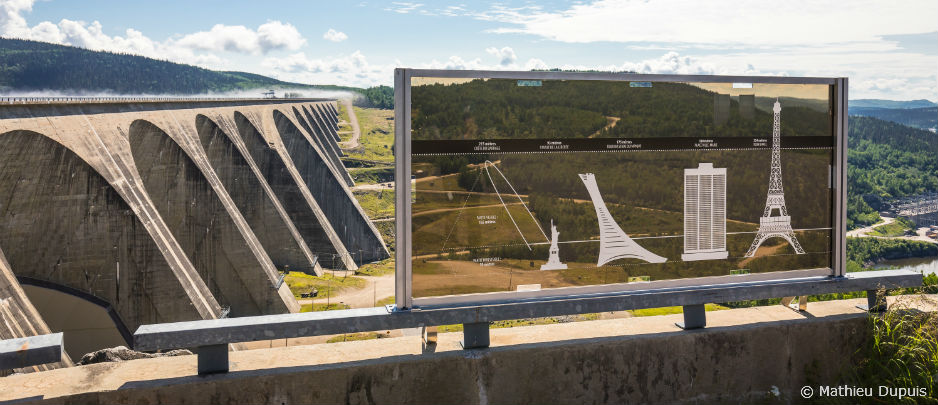 In 1944, the Québec government purchased the Montreal Light, Heat and Power Company and nationalized electricity, creating Hydro-Québec. Over the years, demand for electricity increased, and Hydro-Québec began building one of the largest multiple-arch-and-buttress dams in the world. Located on Route 389, 214 km (133 mi.) north of Baie-Comeau in Côte-Nord, Manic-5 (Daniel-Johnson Dam) took nearly 11 years to build and is an impressive 214 metres (702 feet) high!
At the height of the dam's construction, 3500 people were working on it day and night during the hottest months of the year. Three other dams were part of the same project: Manic-1, Manic-2 and Manic-3. As a result of the construction of these dams, the region thrived, workers flocked to the area, and a sense of pride was fostered not only in the local population but also in the province as a whole, since the project helped put Québec on the map.
Every summer since 1965, Hydro-Québec has offered free guided tours of the Daniel-Johnson Dam and the Manic-5 generating station as well as the Jean-Lesage generating station (Manic-2). Visit Manic-5 to discover a slice of Québec history and walk inside the dam as well as on its crest. Then visit the Jean-Lesage generating station (Manic-2) where you can see a generating unit in operation.
… to Romaine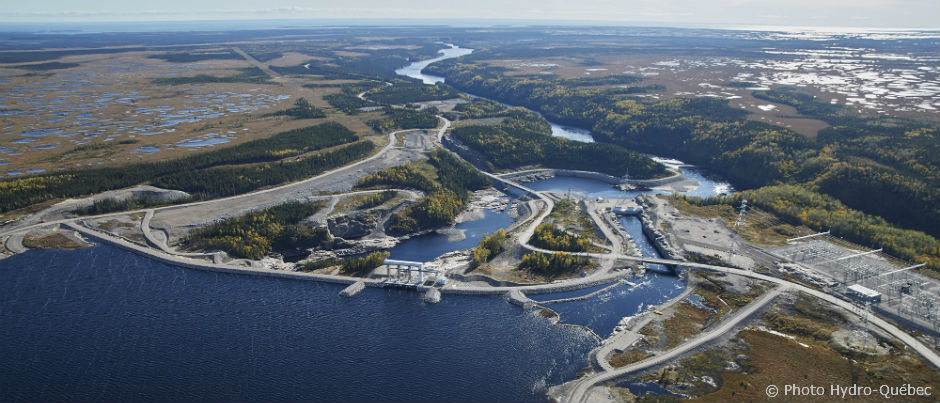 In 2009, Hydro-Québec launched a major new project near Havre-Saint-Pierre: the Romaine complex. Projected to be done in 2021, this project involves building four hydropower generating stations that will produce enough clean, reliable and renewable energy for 470,000 homes.
The Romaine complex is being built in harmony with the surrounding environment. In fact, over a dozen environmental follow-ups are carried out every year to assess the project's environmental impact.
Would you like to learn more about this large-scale project? Hydro-Québec offers guided tours of the Romaine-1 generating station during the summer (Sunday to Thursday, reservations required). On site, you can walk under a penstock and witness the power of water used to generate electricity. You can also walk on the dam, see the reservoir and admire a breathtaking view of the valley. You're sure to be impressed by this state-of-the-art power plant! Please note that tour registration and bus departures are from the Portail Pélagie-Cormier reception and interpretation centre in Havre-Saint-Pierre. (It takes about 30 minutes to get to the power plant.) This is also where you can visit an exhibition focusing on local environmental and heritage conservation, which will introduce you to the surprising world of the Romaine complex.
Are you fascinated by how electricity is produced and by its role in the development of the province of Québec? Be sure to visit the Manic-2 and Manic-5 hydroelectric dams and well as the Romaine-1 generating station during your next stay in Côte-Nord!
Written in collaboration with Paméla Minville, Eastern Québec Manager – Corporate Reception and Tours for Hydro-Québec.
If you liked this article, you might also like...