The

Québec maritime Blog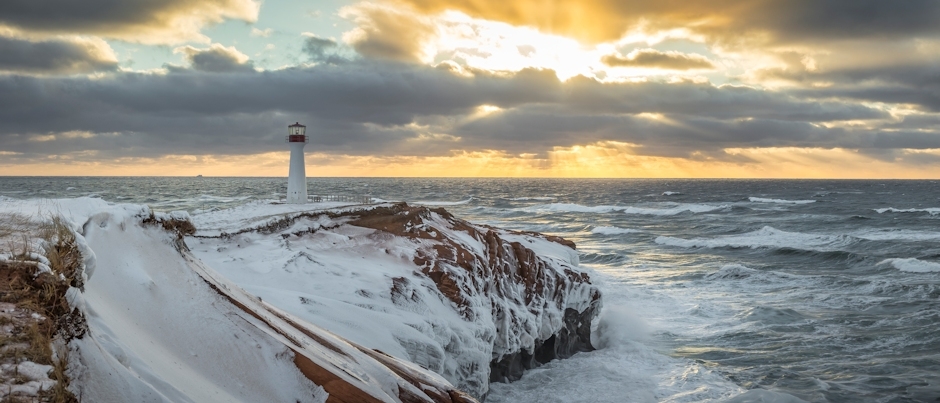 Borgot Lighthouse
Mathieu Dupuis/Tourisme Îles de la Madeleine
Greeting Card-Worthy Winter Landscapes of Eastern Québec
Discover the Captivating Beauty of Our Regions!
During the cold season, the maritime regions of Québec turn into a magical winter wonderland, full of wow-provoking scenery worthy of a greeting card. As the winter holiday season approaches, here are 8 examples that are sure to delight you!
1. A town (or village) covered in snow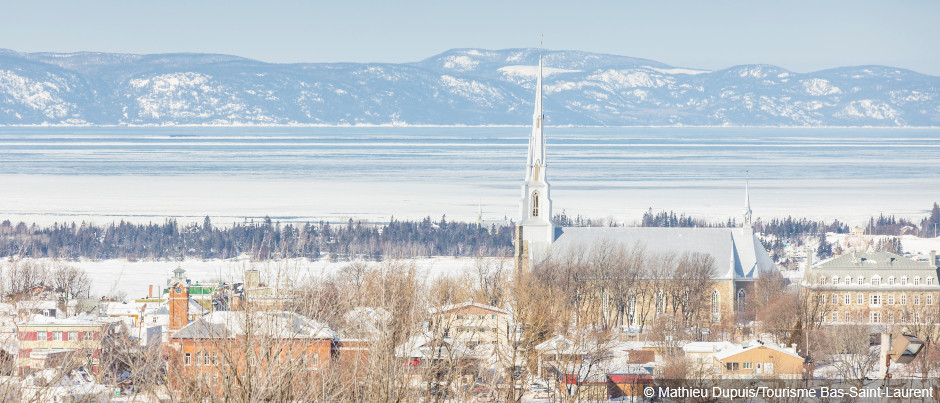 What could be more typical in our regions than a picturesque church standing proudly in the middle of a snow-covered town or village? You can admire this charming sight throughout our regions. This photo was taken in Rivière-du-Loup (Bas-Saint-Laurent), with the St. Lawrence in the background.
2. A lighthouse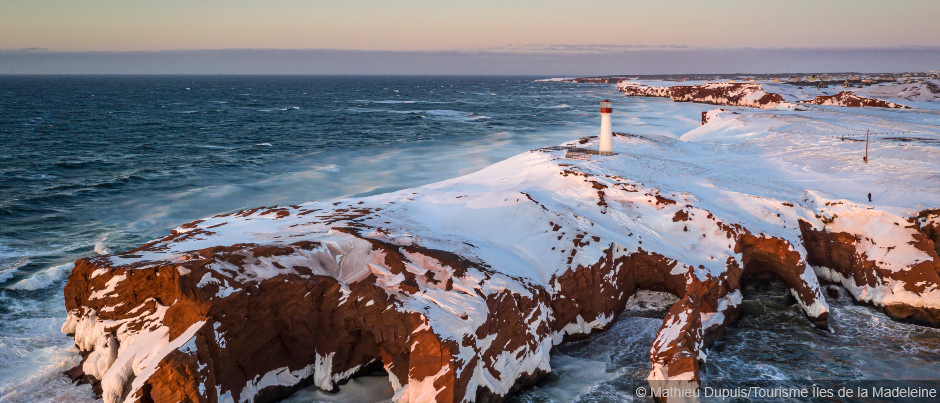 Whatever the season, the lighthouses that dot the shores of the St. Lawrence are worth seeing. Located on islands, along the shore or, in this case, on the edge of a cliff in the Îles de la Madeleine, they immediately add a touch of elegance to the landscape. Although you won't be able to visit any of them at this time of the year, you can still enjoy walking around them (and taking amazing photos!).
3. The majestic Saguenay Fjord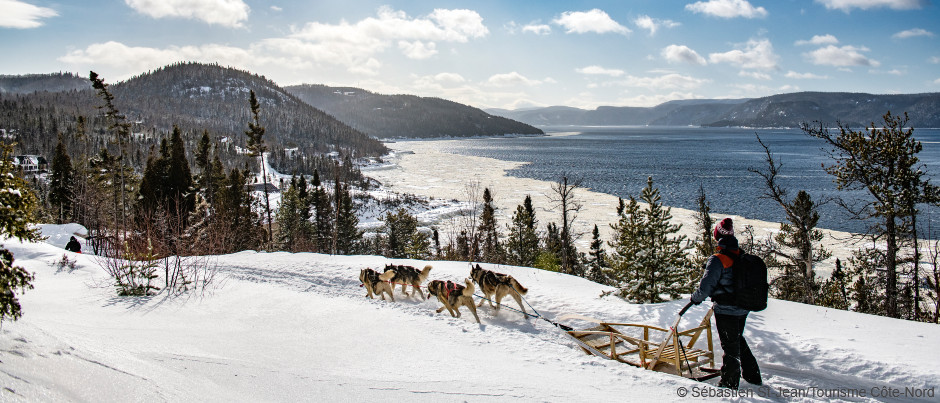 Winter holiday greeting cards are often illustrated with traditional winter activities in enchanting settings such as in this photo of a person dogsledding along the breathtaking Saguenay Fjord! This glacial valley in Côte-Nord was carved out over 175 million years ago and is now one of the longest and southernmost fjords in the world.
4. Snowy mountain peaks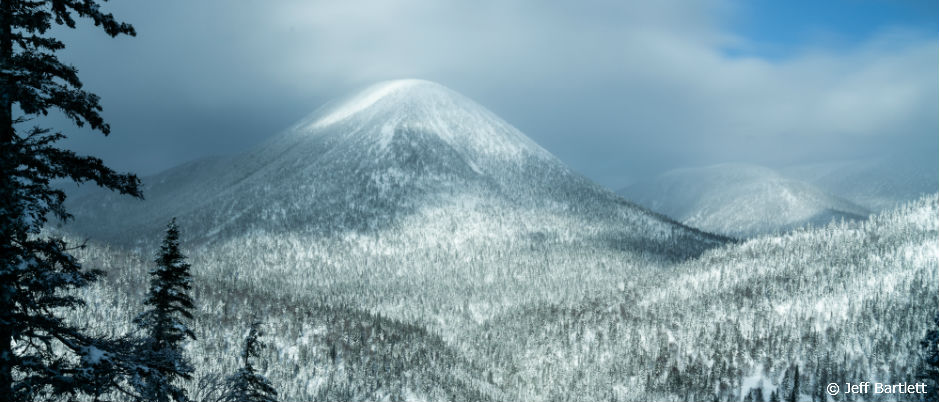 A popular destination for skiing and snowboarding enthusiasts, the mountains in our regions receive heavy snowfall every winter. Whether in Bas-Saint-Laurent, Gaspésie or Côte-Nord, these magnificent peaks would look great on a greeting card! Pictured here are the famous Chic-Chocs in Gaspésie.
5. A skating trail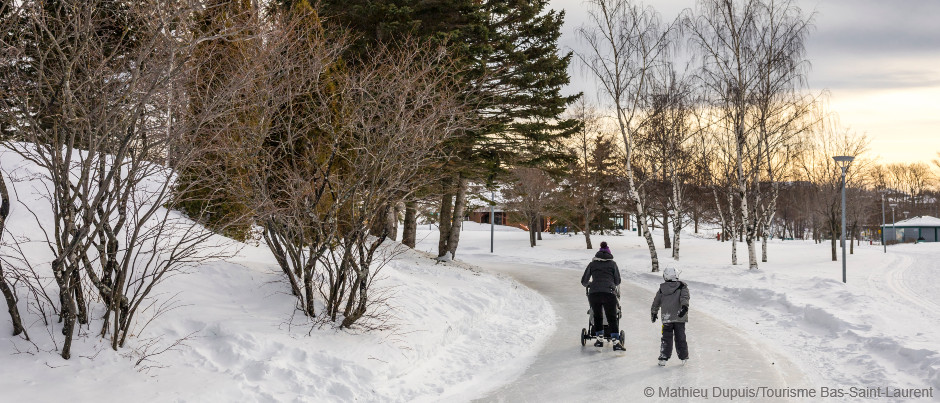 Ice skating is one of the most enjoyable winter activities available in our regions. On beautiful sunny days, people of all ages lace up their skates and hit the ice on the skating rinks and trails found throughout Eastern Québec, such as this one in Rimouski (Bas-Saint-Laurent). Don't miss out on this fun experience!
6. A coniferous forest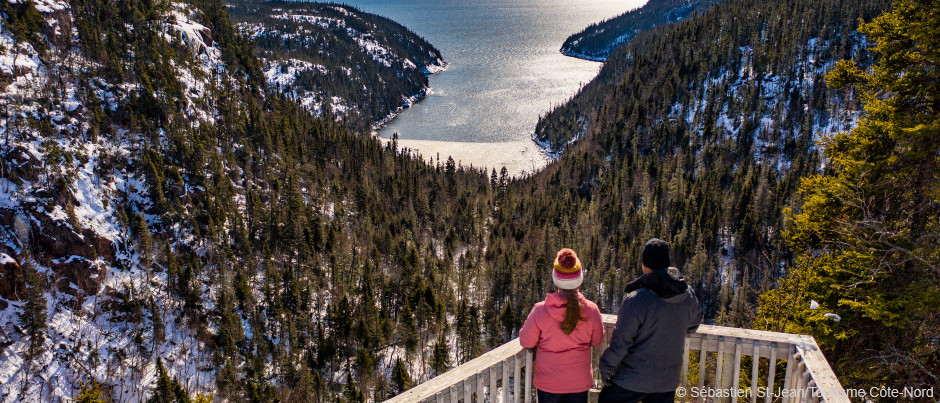 Our regions' vast coniferous forests are especially beautiful in the winter when the trees are covered in snow. And the perfect way to explore them is on snowshoes or cross-country skis in search of the most spectacular views, like this one from the lookout over Saint-Pancrace Bay in Côte-Nord. Wouldn't this photo make a great greeting card?
7. A fishing harbour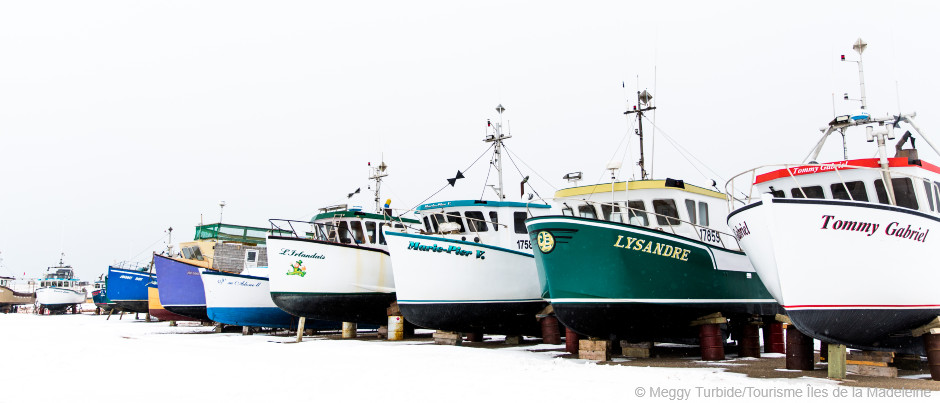 Although there's not much fishing happening in the winter, our harbours are still worth a visit! At this time of year, most boats are dry-docked and waiting for maintenance to prepare them for the next season. Take advantage of the tranquility of these sites to contemplate the colourful hulls and have fun reading the boats' names!
8. Legendary Percé Rock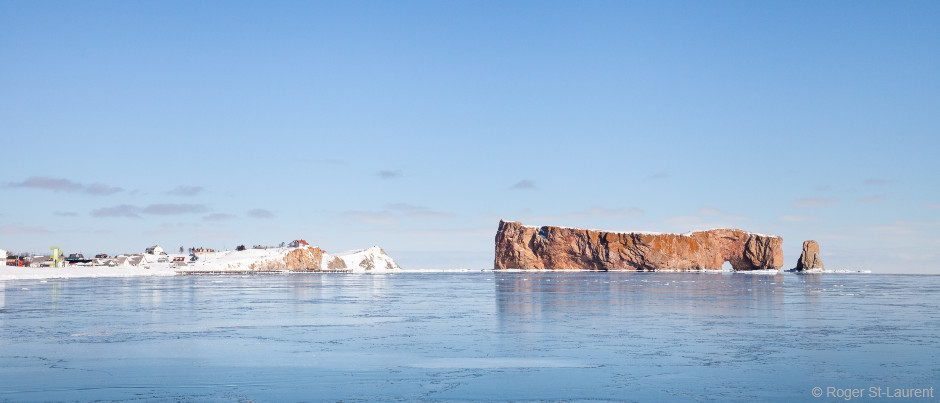 Famous Percé Rock is all the more magnificent when it's covered in snow and surrounded by ice! There are several good spots to admire this limestone behemoth in the winter: from the shore as in this photo, from the village of Percé or even from the top of Mt. Sainte-Anne. No matter where you go to see it, Gaspésie's most famous landmark is sure to impress you!
So what do you think? Which of these photos would you love to receive on a greeting card this holiday season? By the way, you can find lots of other great winter photos of our regions on Instagram. Check out the "Winter Souvenir Photos of the Maritime Regions of Québec" blog post to see a few amazing examples!
If you liked this article, you might also like...