The

Québec maritime Blog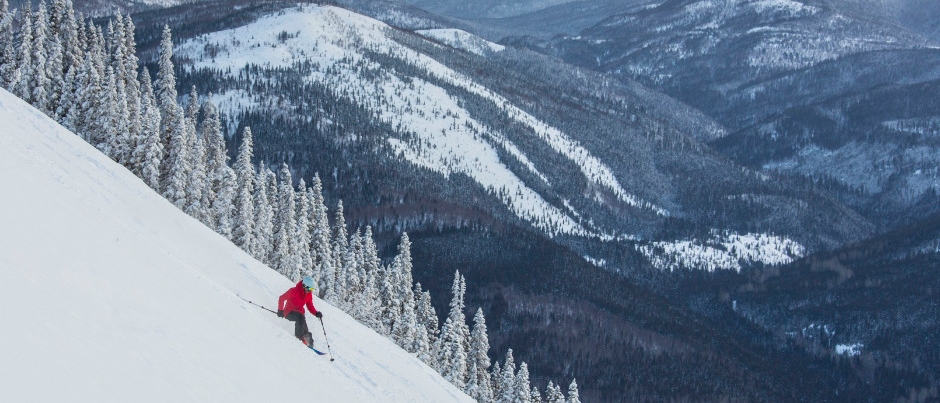 Parc national de la Gaspésie
Sépaq
The Chic-Chocs: Eastern Canada's Paradise for Backcountry Skiers!
Unforgettable Guided Ski Experiences in the Mountains
In the winter, Eastern Québec is covered in a thick blanket of snow, and backcountry ski enthusiasts are in heaven! The Gaspé Peninsula is home to the famous Chic-Choc Mountains, an extension of the Appalachian mountain chain and the skiing mecca of Eastern North America. To find out more about the adventures that await you here, we spoke with three backcountry ski enthusiasts who offer visitors memorable guided outings in the Chic-Chocs.
Given the current COVID-19 situation, the services offered by the establishments mentioned below may differ from preceding years. Please contact them directly for more details.
Ski Chic-Chocs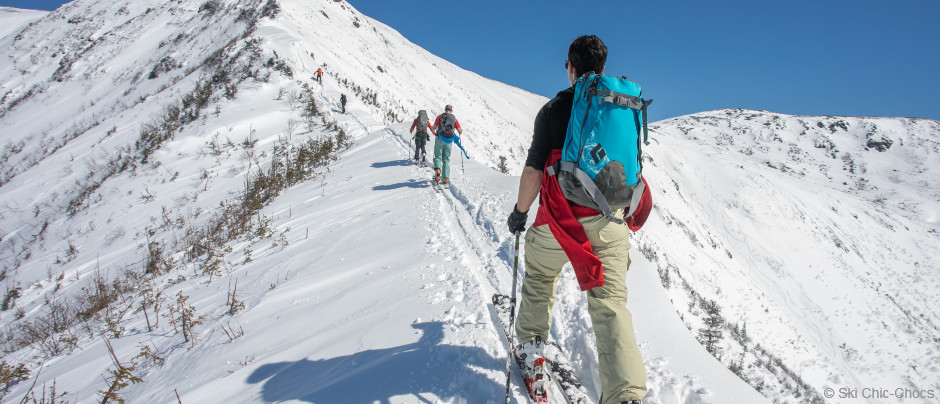 For Gabriel Gagnon, it's important to offer the clients who book a day with Ski Chic-Chocs more than just a skiing experience: he wants them to enjoy a memorable adventure in the mountains as well as learn to pay attention to this extraordinary environment. "Our team's experience and professionalism make all the difference. We offer private and personalized guide services, and we're committed to finding the best snow conditions for our clients on the day they're here," explains the co-owner of this family business.
The outings are therefore offered to small private groups only, and the guides plan the day's itinerary based on weather conditions and the stability of the snowpack (avalanche risks) while taking into account the clients' expectations for the day and their level of experience.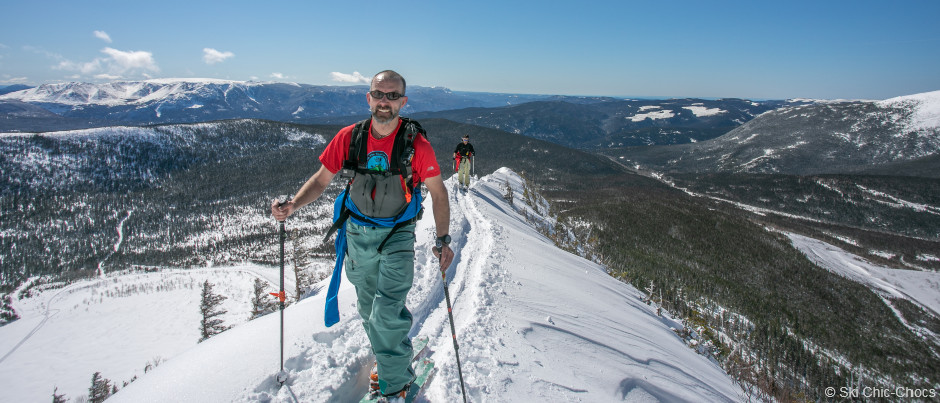 The territory available is large, since Ski Chic-Chocs guides visitors in the mountains of Parc national de la Gaspésie and the Réserve faunique des Chic-Chocs (including in the Madeleine Mines sector, which offers various types of terrain; the company is the only one to operate in this sector), as well as along the coast in Haute-Gaspésie. "Haute-Gaspésie has a distinctive environment combining sea and mountain scenery. You can soak up breathtaking views of the St. Lawrence while skiing in this area," says Gabriel.
Ski Chic-Chocs is committed to protecting and conserving the environment that surrounds them. This is why they don't offer any mechanized lifts; instead, ascents are done using climbing skins. The company also offers online and on-site training (avalanche safety, glacier travel and crevasse rescue, etc.).
Mountain School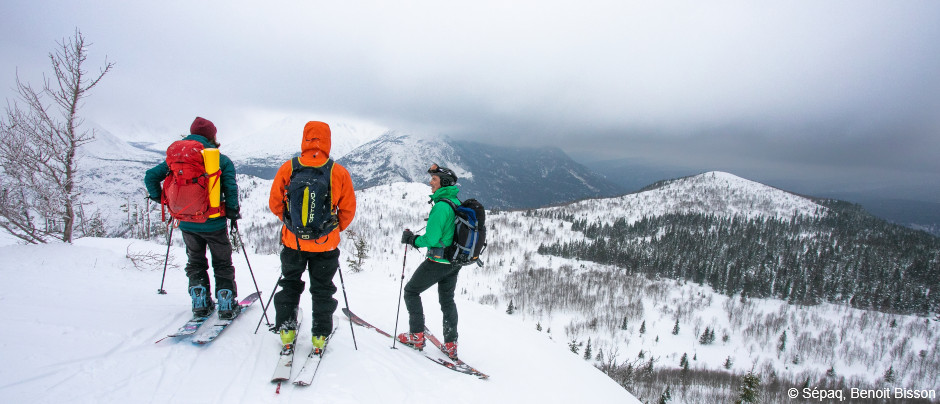 If you haven't done much backcountry skiing before or are looking for a new winter experience, the Mountain School at Parc national de la Gaspésie can teach you the basics while helping you heed the call of the mountains! And it's actually professional guides from Ski Chic-Chocs that accompany the groups. "The idea is to offer an introduction to backcountry skiing in the mountains. We help people learn how to use the gear and develop their skills in a safe environment. We always go skiing on the same mountain, which the group has the opportunity to descend once or twice during the day," says Gabriel.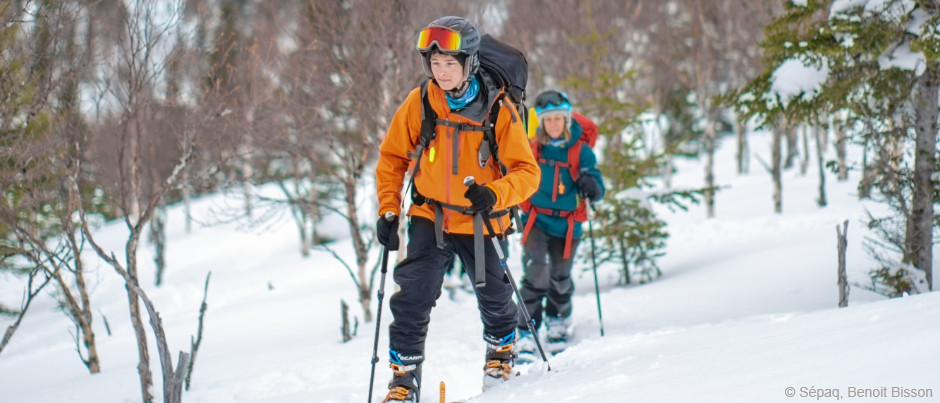 The mountain in question is Mt. Ernest-Laforce, which offers a fairly low vertical drop, a low-risk environment, a view of famous Mt. Albert and, under the right weather conditions, a magical setting of "ghost trees"!
Note that the Mountain School also offers guided snowshoeing outings and that you can rent all the gear you need on site.
Auberge de montagne des Chic-Chocs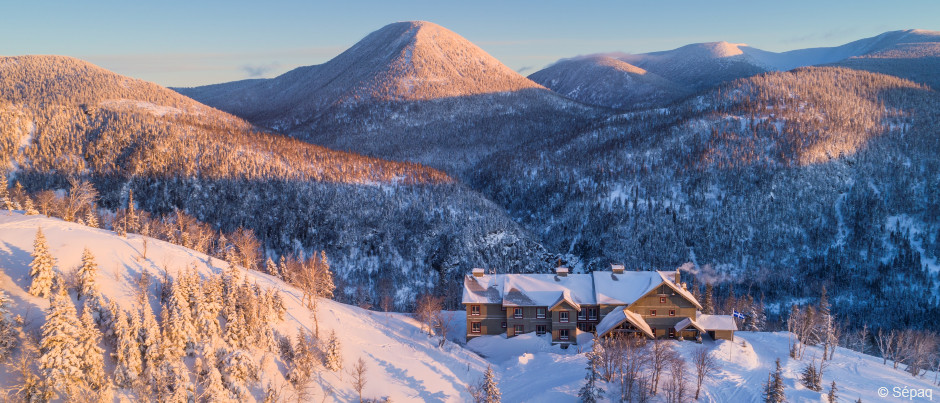 Located at an altitude of 615 metres (2020 feet) at the heart of the Réserve faunique de Matane, Auberge de montagne des Chic-Chocs invites you to enjoy a comfortable stay surrounded by nature. This mountain lodge is also the perfect place to enjoy your favourite winter activities in the company of experienced guides, including snowshoeing, backcountry skiing, Hok skiing and splitboarding.
Because the lodge can accommodate only 36 guests and offers them exclusive access to a territory of 60 km2 (23 sq. mi.), you'll have the impression you have the mountains all to yourself—including two 1000-metre (3300-foot) peaks! "We offer all kinds of places to ski for all levels," says the lodge's director, Guy Laroche, who heads out for a ski run himself at least a couple of times per week. "We have gentler slopes, where it's very open, which are ideal for people who are new to backcountry skiing, as well as much steeper slopes through the trees, for more experienced skiers," he adds. This is also great place to observe moose, with an average of 27 moose per 10 km2 (4 sq. mi.)!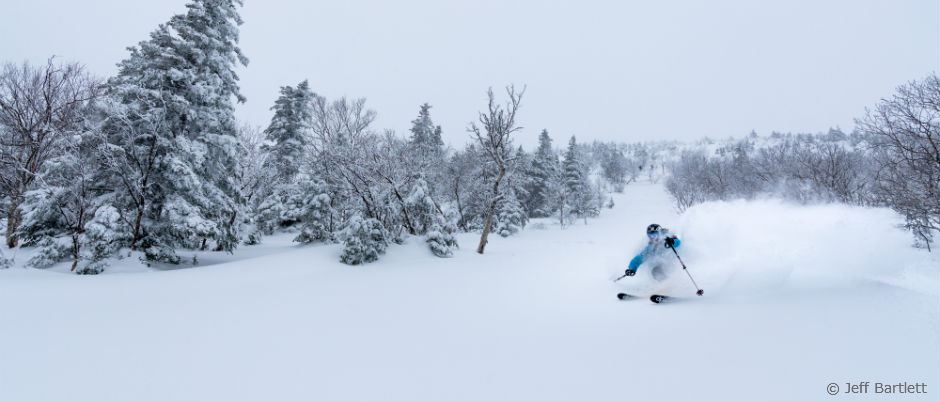 Depending on visitors' level of experience and the weather conditions, the guides propose three different activities for the day. "Most of the time, we leave directly from the lodge, whether going up or down the mountain, but on a few occasions we head to other mountains, which involves a 5-km (3-mi.) trip in a tracked vehicle," says Guy, who thinks the powder snow and breathtaking scenery in the Chic-Chocs is just as exciting as anything you'd find in Western Canada.
Everything is included in your stay (except alcoholic drinks): meals, lodging, transportation from Sainte-Anne-des-Monts, guide services and equipment. This is a hassle-free vacation in a warm and welcoming establishment!
Chic-Chac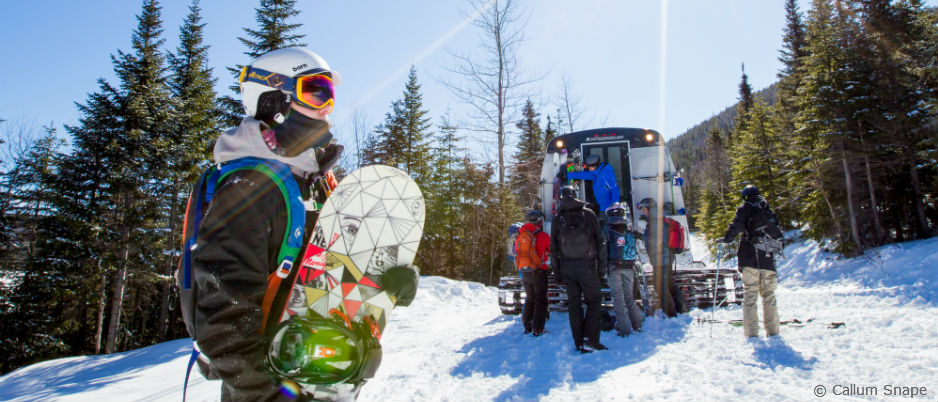 "Murdochville is the best ski town you can have in terms of terrain quality," says Félix Rioux, marketing director at Chic-Chac, a dynamic company that offers guided ski touring (using climbing skins) as well as guided catskiing and heliskiing. "There's a very authentic atmosphere here! We offer great terrain for all levels of experience, and we're here to guide you. From beginners to experts, we'll meet your needs," he adds.
For Félix, who was once a professional ski photographer and has travelled all over the world, what make the Chic-Chocs so attractive is the abundance of snow (about 7 metres, or 23 feet, yearly), not to mention the variety of mountains. "The advantage of coming to Chic-Chac versus bigger ski resorts is that we focus on quality and not volume. We don't get big crowds here, only small groups, and there are no waiting lines," he adds.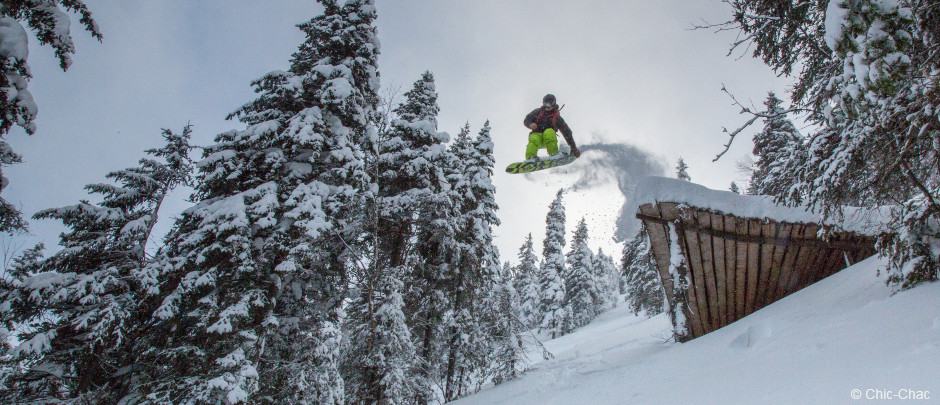 Within the Chic-Chac ski area is Mt. York, which the company is the only one to operate. This has allowed them to develop the terrain, creating glades and slopes as well as installing platforms that simulate small jumps in natural terrain. You'll also have access to Mt. Porphyre, which overlooks Murdochville and offers stunning panoramic views. Guided outings are also available on Lyall Mountain and Mt. Albert, among others. In recent years, the company has acquired Miller Mountain, which is an ideal place to try out powder skiing and improve your skills.
Chic-Chac never stops expanding its services, much to the delight of ski enthusiasts. In addition to offering accommodations in a lodge as well as a former presbytery, the company renovated the village church, which became the hub of its activities and includes a bar, restaurant and concert venue.
Are you hearing the call of the Chic-Chocs? Make sure you contact the companies above and discuss your expectations with them. Your guided outing through this "impenetrable barrier" (a translation of the Mi'gmaq word sigsôg) is an experience you'll never forget!
If you liked this article, you might also like...