Home »
Blog »
My Journey in Côte-Nord – Manicouagan: Exploring the Saguenay Fjord with Fjord en Kayak
The

Québec maritime Blog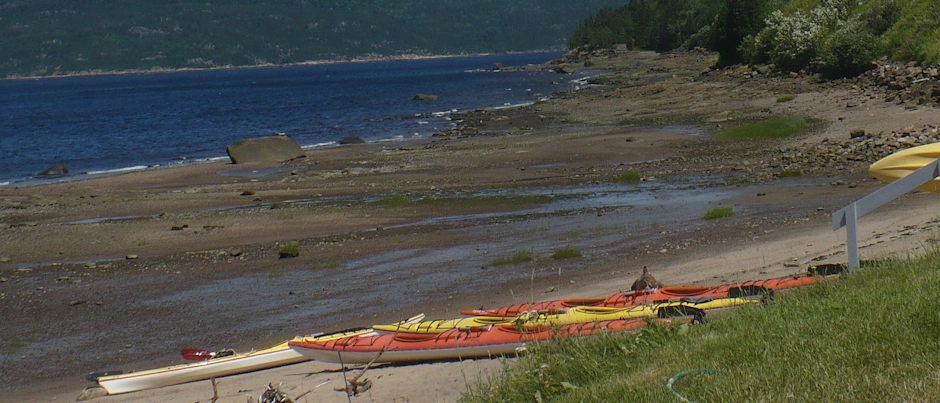 Sea kayaking with Fjord en Kayak
Le Québec Maritime
My Journey in Côte-Nord – Manicouagan: Exploring the Saguenay Fjord with Fjord en Kayak
I must admit I was a little worried about going kayaking. My previous experience goes back over 15 years ago and my mother, who was coming with me, was trying it for the first time. However, the attendant who greeted us at Fjord en Kayak reassured us: some of the other participants were trying kayaking for the first time as well. In any case, my goal was really to demonstrate that this activity is accessible to anyone!
After fitting us out with our paddling gear (provided by Fjord en Kayak), our guide, Antoine, took about 20 minutes to give us safety instructions and explain a few basic techniques so that everyone could enjoy the ride.
I am so ready for this!
And then we got on the water! Sitting at the back of a double kayak, it took me a few minutes to get used to the pedals controlling the rudder and to synchronize my paddling pace with that of my mother. The excursion lasted three hours: three hours of admiring the scenery and taking many breaks to enjoy the moment, three hours of "fighting" against the wind that generated some waves and made the challenge even more exciting!
Just before arriving in the fjord, Antoine told us that we were about to cross a section where two currents meet and that some extra effort would be required, but the views beyond were really worth it. The next few minutes passed in silence, our pace got a little jerky, but we finally got through the area of turbulence to face a stunning landscape, proud to have made it through smoothly! This was an emotional moment that is hard to describe.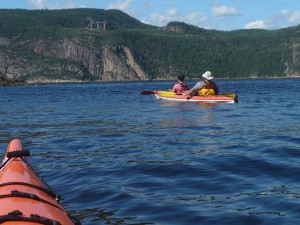 Some of the beautiful scenery in the Saguenay Fjord
At the end of the ride, I found myself wanting more! "Mom, would you come kayaking again?" She replied: "Yes, but only if it's your dad sitting in the back seat!" All right, I guess I'll have to find another partner!
For more details:
Fjord en Kayak
359, rue Saint-Jean-Baptiste
L'Anse-Saint-Jean (Quebec) Canada
G0V 1J0
Phone: 418-272-3024
Toll free: 1-866-725-2925
fjordenkayak.ca
If you liked this article, you might also like...