The

Québec maritime Blog
My Journey in Gaspésie: A 5-Day Snowshoeing Trip in Parc national de la Gaspésie
Part II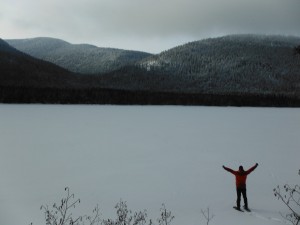 When we get up, we are literally in the clouds on yet again another windless day. We are roughly one kilometre away from Pic de l'Aube in Parc national de la Gaspésie, the snow is deep and we have to go up and down (and through) some good-sized snow drifts on the way. Trees are getting smaller and smaller as we get closer to the usually windswept peak. Those odd-shaped and totally frosted stunted trees look like fantastic creatures turned into statues by winter. It makes up for the nonexistent view today… only a small ice-covered sign confirms that we actually stand on Pic de l'Aube. Nonetheless, we take numerous pictures of this peculiar scenery.
Scenery Worthy of a Season's Greetings Card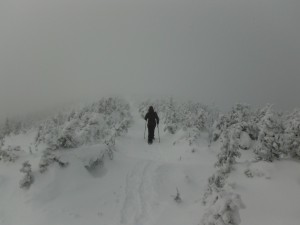 In the clouds, on Pic de l'Aube
© Jean-Pascal Côté
We stop at La Mésange for a short break and to pick up our packs, and we start our descent to the next hut, Le Huard. A snowmobile came along that wide trail a few days ago. The packed surface makes our strides easier, and I find myself daydreaming in these quiet surroundings where every angle would make a perfect shot for a holiday season's greetings card. Clouds break up offering views of nearby summits generously covered with snow. We get to the hut relatively early, where we spend a quiet afternoon – again, just by ourselves – saving our energy for our 21-km (13-mi.) route planned for the next day.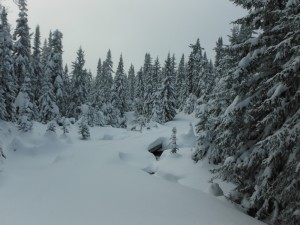 Worthy of a season's greetings card
© Jean-Pascal Côté
It's the longest distance covered in one day on this trip. The Sentier du Noroît trail follows a road suitable for cars in the summer. Here again, a few-days-old snowmobile track has packed the surface, and we are not the only ones to take advantage of it! Many moose tracks follow the snowmobile track, cutting here and there into the bush, to get back out farther on. A moose even allowed himself a crossing of Lake Paul. We stop for a while by the lake to have a bite and, once again, enjoy the landscape of rounded mountains with snow-loaded trees, the total silence and the absence of wind.
There are already two other people at the hut when we make it at the end of our long day. They too have their annual trip in the park during the holidays; it's their first night of a nine-day long ski trip. Ours is coming to an end and, the next day, all that's left for us to do is to snowshoe back down to the car and get back to civilization.
Read part 1 of our journey.
---
For more details:
Parc national de la Gaspésie
1981, route du Parc
Sainte-Anne-des-Monts (Québec) Canada
G4V 2E4
Toll free: 1-800-665-6527
www.quebecmaritime.ca/parcgaspesie
Top photo credit: Marie-Hélène Gonthier