The

Québec maritime Blog
My Journey in Gaspésie: A 5-Day Snowshoeing Trip in Parc national de la Gaspésie
Part I
The air is crisp and the weather couldn't be more wintery when we get to La Boussole parking lot, early morning on December 24, ready for our snowshoeing trip in Parc national de la Gaspésie, a holiday-season tradition for us. This year, my girlfriend and I will cover some 60 km (40 mi.) on snowshoes over five days. Taking advantage of the baggage transport service, we've prepared a box with all the essentials for a memorable Christmas dinner: fondue kit, meat, broth and, of course, a bottle of wine. So we leave our precious – and duly identified – cargo in the cabin at the trailhead where a park attendant will pick it up to bring it to the hut for us on snowmobile. Merely a few hundred meters after crossing the bridge over the Sainte-Anne River, we enjoy a complete silence, broken only by the crunching sound of our snowshoes on the snow. Prelude to the next five days.
Baggage Transportation: A Greatly Appreciated Service
Suddenly, we hear a snowmobile coming our way. Drawing level with us, the attendant cut the engine. I can see our box securely strapped on the rear rack. He confirms that we'll be by ourselves tonight at the hut. Marie and I look at one another, with a big smile.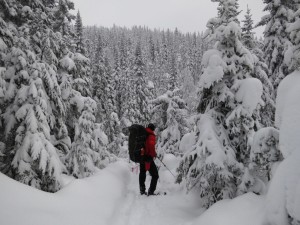 Snowshoeing in a lot of powder in Parc national de la Gaspésie
© Marie-Hélène Gonthier
We see him again on his way down about an hour later. "I've lit a fire in the stove in the hut, so it'll be warmer for you when you get there!" He takes off, waving at us, all smiles. Can good service be any better than this?
L'Hirondelle, our hut for the first night, is located on Lake Cascapédia. As I open the door, I can feel the sweet warmth as well as the smell and crackling typical of a good ol' wood-burning stove. As the sun hides behind the mountains in the distance, over the lake, we take our bottle of aperitif out of our "surprise box" and spend a beautiful Christmas Eve by candle light, savouring our delightful fondue and wine.
A White Christmas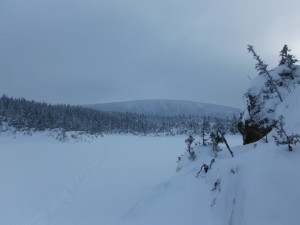 Crossing over a frozen lake
© Jean-Pascal Côté
A light snow is falling gently in the morning on Christmas day. Today, we're heading to La Mésange, a hut located at an elevation of some 850 metres, close to Pic de l'Aube, a beautiful peak offering a stunning view on the St. Lawrence River on clear days. We take the Sentier des Lacs trail, whose name implies we'll have to cross a few lakes, following orange and pink ribbons clearly visible in the trees. The amount of snow increases substantially as we gain elevation. The trail is lined with frosted trees loaded with snow, looking like ghosts. By late afternoon, the sky clears up creating a lovely contrast between the blue sky and the glittering white snow. Once again, we're all by ourselves at the hut for the night… and I'm more than happy to take on my task as stove attendant once again. We'll save our side trip to Pic de l'Aube for the next morning.
Check out part 2 of this adventure.
---
For more details:
Parc national de la Gaspésie
1981, route du Parc
Sainte-Anne-des-Monts (Québec) Canada
G4V 2E4
Toll free: 1-800-665-6527
www.quebecmaritime.ca/parcgaspesie
Top photo credit: Jean-Pascal Côté