Home »
Blog »
My Journey in Gaspésie: Travelling Back in Time at the Site historique national de Paspébiac
The

Québec maritime Blog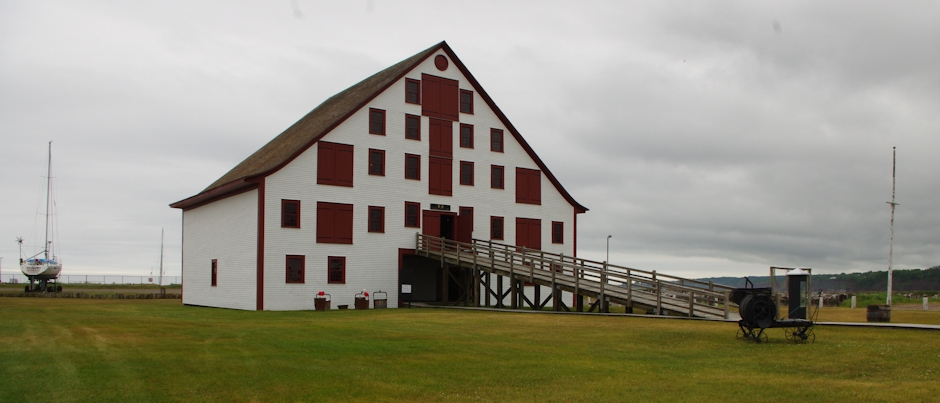 Le Boutillier Brothers warehouse in Banc-de-Pêche-de-Paspébiac Historic Site
Le Québec maritime
My Journey in Gaspésie: Travelling Back in Time at the Site historique national de Paspébiac
Upon my arrival, Sylvie and Lucette greet me in the cook-room at the Site historique national de Paspébiac. The wood stove emits a gentle heat, much appreciated on this cool day. Sylvie shows me the map of the site and explains me the sequence of the visit. She leaves me in the good hands of Lucette for the visit.
I first meet with the blacksmith who makes a square nail from black iron right in front of me. I look at the hot iron, red hot at first, taking shape at every hit of the hammer. The blacksmith tells me that, besides nails, they were also making horseshoes and all the hardware required for the construction and repairs of ships and buildings.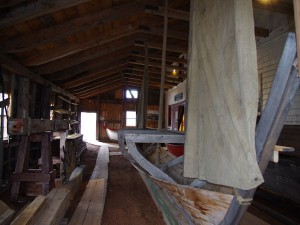 Inside the shipyard © Le Québec maritime
I move on to the ship yard. How impressive! The shipbuilder explains me all about the different ships and components that were built on site. Aside from frames, sails and pulleys were also made here. Wandering around the building, I notice some small-scale models of ships on wood plates. The tradesman says that, back then, companies provided small-scale models to the shipbuilder for quotation purposes and the models even served as contracts between the builder and the company. Once the quotation was agreed upon, the builder prepared the plans from the small-scale model. Really amazing!
All along the visit, Lucette tells me stories and talks about life in Paspébiac, yesterday and nowadays. She tells me that, before the site was designated as a historic site, the government thought of moving the Le Boutillier Brothers warehouse on the near hillside, closer to the main road. When you'll see the five-storey high building, the tallest wood-framed building in Canada, you'll realize that it's an almost impossible undertaking, as quickly noticed the government representative who came on site! Fortunately…
I really enjoyed my visit at the Site historique national de Paspébiac. I've discovered another aspect of Gaspésie; I hope it will be the same for you as well! Don't hesitate to visit it as well as the other sites that are part of the historic route "The Way of the Gaspé Cure".
For more details:
3e Rue
Paspébiac (Quebec) Canada
G0C 2K0
Phone: 418-752-6229
http://www.quebecmaritime.ca/bancpaspebiac
If you liked this article, you might also like...