Home »
Blog »
My Trip in Bas-Saint-Laurent: The Onondaga Submarine at Pointe-au-Père Maritime Historic Site
The

Québec maritime Blog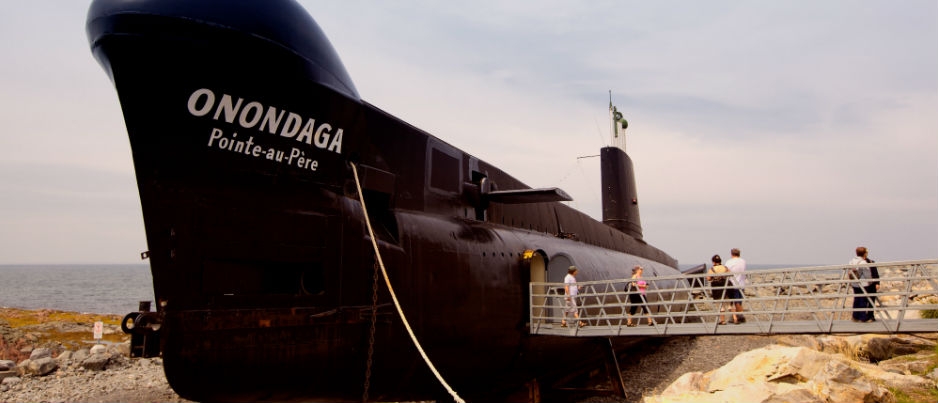 The Onondaga Submarine
Robert Baronnet-SMQ
My Trip in Bas-Saint-Laurent: The Onondaga Submarine at Pointe-au-Père Maritime Historic Site
I feel privileged this morning to visit the Onondaga submarine at Pointe-au-Père Maritime Historic Site. Anyone can visit the submarine, but what makes it so exciting to me is that it's the only submarine open for visits by the public in Canada.
The submarine, which was in service from 1967 up to 2000 for the Canadian Navy, is open to visitors since 2009. The towing of this mastodon from Halifax to Rimouski ended up being quite a saga, which was documented by a team of Monster Moves, broadcasted on Discovery Channel. Click on the video below to watch a short version.


It's only when I get close to the Onondaga that I realize its size: the submarine is 90 metres long and can carry a crew of up to 70 people. The starting point of the visit, easy to follow thanks to the audio guide, is right outside the submarine. Along the 23 audio comments, I learn a lot more about the life in a submarine, the different command posts and the equipment used on board. And, as a bonus, the guide includes some funny stories! There's another version of the audio guide which focuses more on the mechanical aspects of the submarine. I'm sure that it will be of interest to many, but the life of the submariners was more fascinating to me!
Slepping onboard the submarine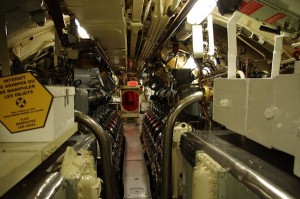 Inside the Onondaga submarine at Pointe-au-Père Maritime Historic Site © Le Québec maritime
Did you know that you can take the experience even further? You can spend a night aboard the Onondaga! I haven't gotten the chance to try it, but I spoke with my friend Mélissa to get insight of such an unusual experience:
Tanya: How does the night unfold?
Mélissa: We arrive on site at about 7:30. We gather in the Onondaga Pavilion where we get all the instructions and are assigned a role as a submariner. After that, we get onboard where a crew member explains in full details the operation of the various devices. We must listen carefully because, in an emergency situation, we must take on our responsibilities, even if it's just a simulation!
Tanya: Tell me about one of the best moments of the night.
Mélissa: Apart from the visit itself, we can test our skills through different activities. My sister and I especially enjoyed the game where we had to put on a deep-sea diver suit as fast as possible. We laughed so much! The look fit us perfectly!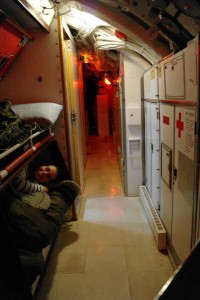 Mélissa dans sa couchette sur l'Onondaga © Mélissa Richard
Tanya: What was your favourite one?
Mélissa: It's a bit of a cliché, but we enjoyed everything! It was such a privilege to be able to explore all the nooks and crannies of the submarine, at our own pace. And we met some great people among the apprentices onboard with us (there are only fifteen people in total)! I strongly recommend this to anyone with a curious mind… who is not claustrophobic. I must point out that, to fully experience the life of a submariner, people can't get out after the doors have been closed!
After my conversation with Mélissa, I realize that spending a night aboard the Onondaga sounds just like a roleplaying night in an interactive museum!
Would you like to live this extraordinary experience as well?
For more details:
Pointe-au-Père Maritime Historic Site
1000, rue du Phare
Rimouski (Quebec) Canada
G5M 1L8
Phone: 418 724-6214
If you liked this article, you might also like...